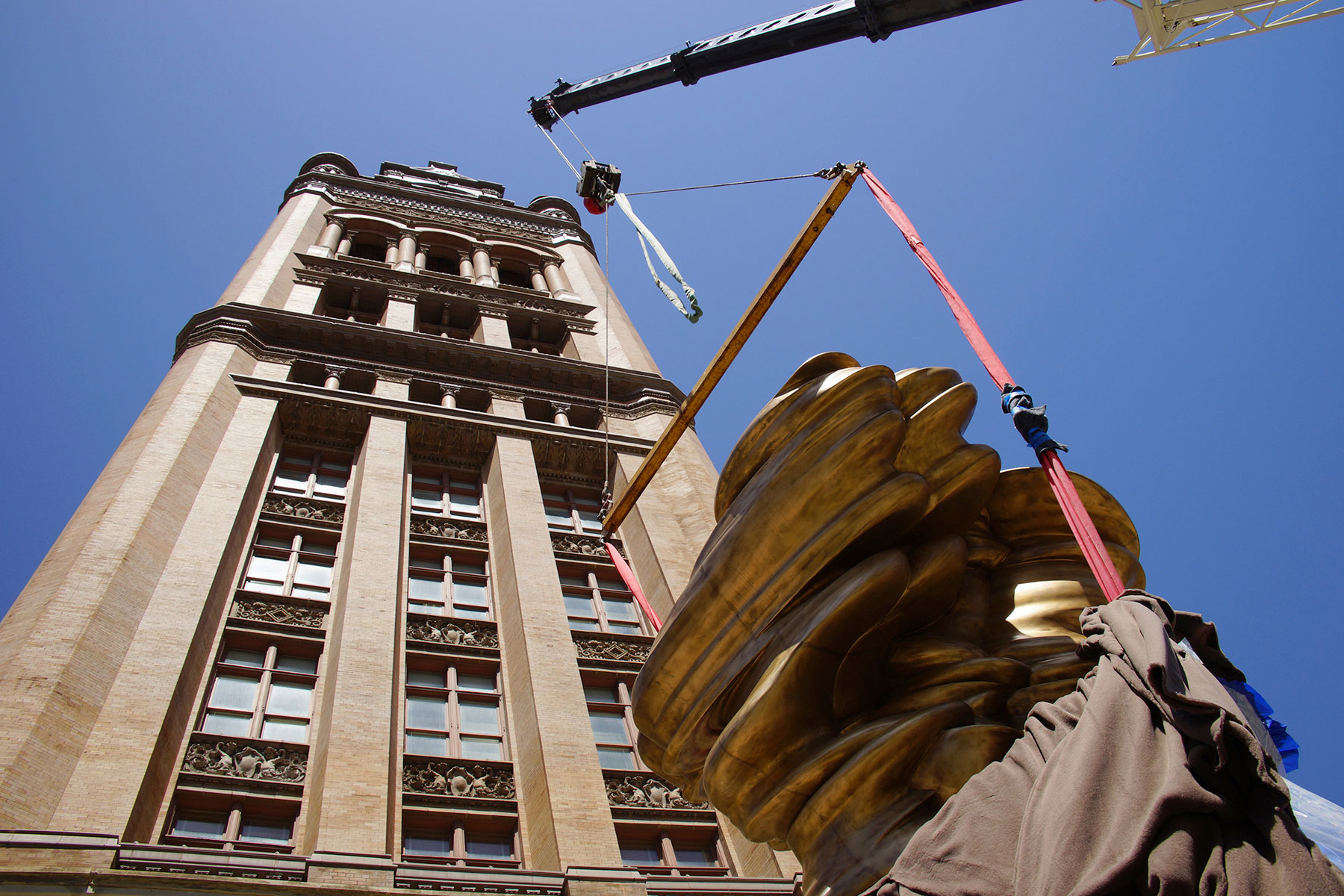 The "Mixed Feelings" abstract sculpture by internationally acclaimed British artist Tony Cragg was lifted into place by crane at the south entrance of Milwaukee City Hall, by the northeast corner of Wells and Water streets, on April 30.
The installation was coordinated by Russell Bowman, an art consultant based in Chicago and former Director of the Milwaukee Art Museum. Bowman is currently serving as art advisor of Sculpture Milwaukee. An anonymous donor provided a grant to the Milwaukee Downtown BID #21 to acquire "Mixed Feelings" and donate the art to the community.
"It will be interesting to see how people respond. There was certainly a very positive reaction last year when it was part of the Sculpture Milwaukee display," said Bowman. "People realize these days that making art part of the environment of the city is a plus for the city, and a plus for the people living in it. I think a lot of people have seen that happen in other parts of the country, and now in Milwaukee. And there is a tradition of sculptures being placed here too."
Mixed Feelings is an immense glowing monument, formed by two intertwining bronze towers, pushing together and pulling apart as they spiral towards the sky. As the viewer circles the piece, human profiles come into and out of focus. Each tower of feeling exerts a gravitational pull on the other, creating a unique, pulsating form of energy.
It was on loan to Sculpture Milwaukee in 2017 courtesy of the Marian Goodman Gallery, New York. The piece is 216 1/2" x 92 7/8" x 88 3/16" and made of bronze. Methods & Materials of Chicago installed the sculpture in cooperation with the Department of Public Works, with all costs covered by the donor through the Greater Milwaukee Foundation.
"Working with the donor, it has been amazing to see somebody make a decision like this. It is a huge and generous gift given to Milwaukee just because they believe that the city should have important and lasting Art," Bowman added. "And to see that belief system carried out to this level is pretty extraordinary just to be a part of it."
These images show the effort that went into the installation process, including the painstaking precision of aligning the abstract shape for maximum affect as viewers see the artwork while traveling travel north along Water Street towards City Hall.