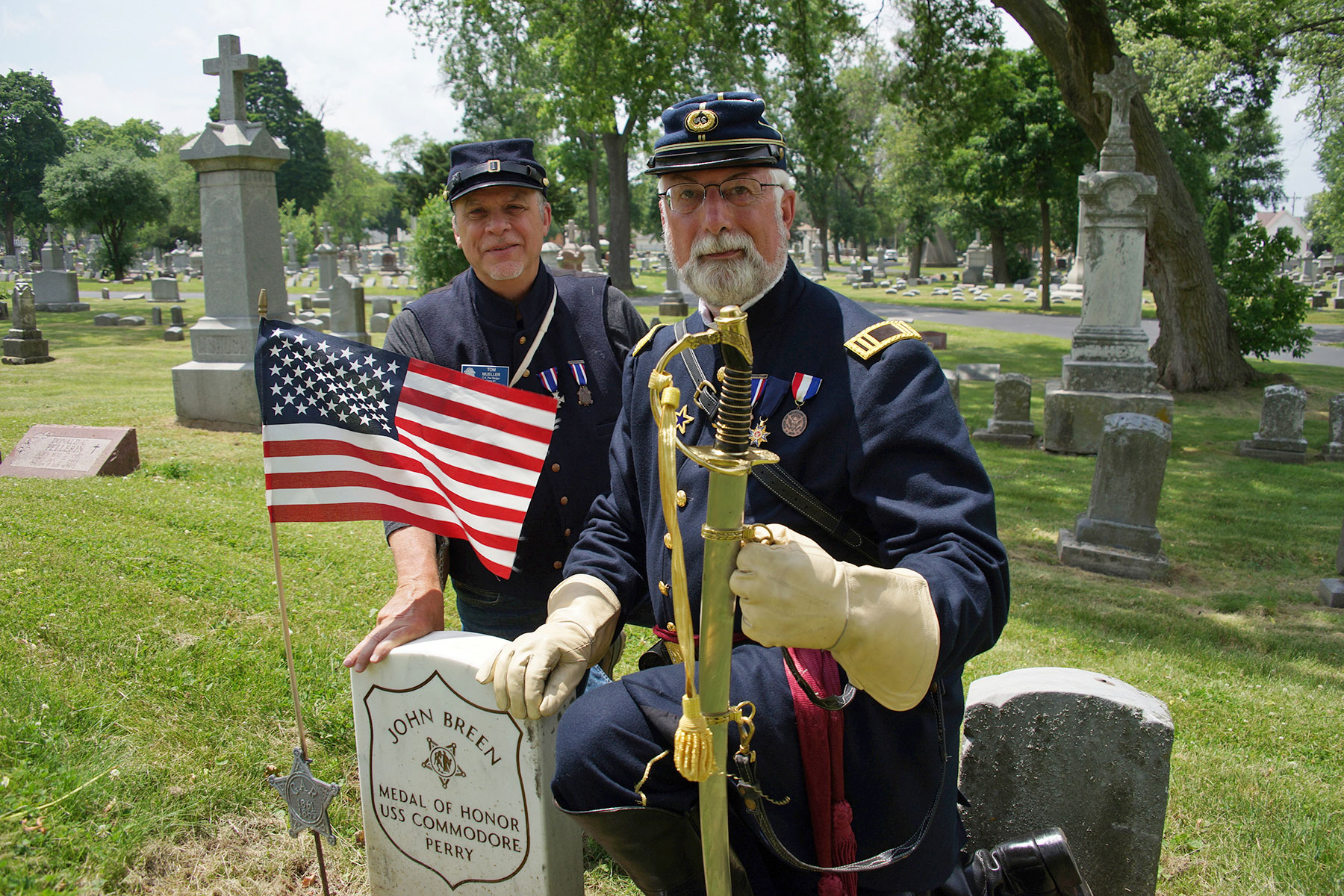 The Milwaukee County Historical Society dedicated a special marker on July 1, the 155th anniversary of the start of the Battle of Gettysburg, to commemorate the three hundred Union Civil War veterans buried at Milwaukee's Calvary Cemetery.
The historical sign was placed at the landmark 1897 Gothic Revival gatehouse, at the entrance to the cemetery at 5503 W. Bluemound Road. Archbishop Jerome Listecki delivered the dedication invocation. Listecki is also a retired United States Army Reserve Chaplain, lieutenant colonel. Calvary is a Milwaukee Archdiocesan cemetery that was consecrated in 1857, by the Most Reverend John Martin Henni, first archbishop of Milwaukee. The dedication included reenactors who participated in the ceremony wearing Civil War era regulation uniforms or period attire. A rifle salute and playing of Taps concluded the ceremony.
"This marker honors the memory of 300 Union Civil War veterans buried in Calvary Cemetery, including two Medal of Honor recipients: Boatswain's Mate John Breen (Navy) of the USS Commodore Perry who fought valiantly against Confederate shore batteries on October 3, 1862, near Franklin, Virginia and Private Edward McGinn of Company F, 54th Ohio Infantry who led the gallant charge of a volunteer storming party against Confederate positions at Vicksburg, Mississippi on May 22, 1863," said Deacon Dean Collins, Chaplain, Sons of Union Veterans of the Civil War, C.K. Pier Badger Camp One.
The Battle of Gettysburg was fought by soldiers in wool uniforms, beginning on July 1, 1863 at a recorded temperature of 76°. On its anniversary in Milwaukee for the dedication event, the high for the day was 91° and uncomfortable for those dressed in vintage clothing. A common myth holds that the 3-day battle endured record breaking heat in excess of 100°, when in fact the temperature was never above 90° and rain proved to be a bigger problem.
"We determined that more than a dozen of the veterans buried here at Calvary fought at Gettysburg," said Tom Mueller, past president of C.K. Pier Badger Camp."Three of the solders were wounded at Gettysburg, 1st Lt. Conrad Grode and Pvt. John Ludwig Gross of Milwaukee, 26th Wisconsin Infantry and Pvt. Michael McMahon of Madison, 2nd Wisconsin Infantry."
C.K. Pier Badger Camp # 1, Auxiliary 4 and the Woman's Relief Corps compiled the 300 names of Civil War veterans based on research done by historians Marge Berres and Tom Ludka. The C.K. Pier Camp was founded in 1901 and has held Memorial Day observances at Calvary annually since 1927. The historical marker at Calvary was funded by the Camp, Auxiliary, a national memorials grant from Sons of Union Veterans of the Civil War, the Wisconsin Commandery of the Military Order of the Loyal Legion of the United States, and American Legion Milwaukee Police Post 415.
"I want to thank the Sons of Union Veterans of the Civil War for being an enthusiastic and determined organization of individuals, who see to the preservation and legacy of those who worked to save the Union," said Mame McCully, Executive director of the Milwaukee County Historical Society. "This group's leadership in recognizing our history is an asset to Milwaukee, and they have truly heard what Lincoln instructed, and lived out the great task that still remains before us – that from these honored dead we take increased devotion to that cause for which the soldiers gave the last full measure of devotion."
The Calvary marker is the third erected by the Camp in recent years – the others are at the site of General Rufus King's home in downtown Milwaukee and at Forest Home Cemetery. The organization has 'camps' throughout the United States, with the goal to perpetuate the memory of the Grand Army of the Republic (GAR), by caring for the graves of Union Civil War soldiers and sailors.
"The Sons of Union Veterans of the Civil War is composed primarily of direct descendants of Union Civil War veterans although we also have non-lineal members. We also have a ladies Auxiliary," added Deacon Collins.
About John Breen
John Breen was a U.S. Navy Medal of Honor recipient and Civil War veteran who distinguished himself "by his gallant conduct during a siege by Confederate troops on his ship in the Blackwater River in Franklin, Virginia."
His remains went unnoticed in Calvary Cemetery for almost 120 years with no grave marker. As a result of research by historians Marge Berres and Tom Ludka, a white marble headstone was dedicated at the final resting place of this Navy Medal of Honor recipient on October 2, 2004.
John Breen was born in Ireland in 1827, the son of William and Margaret Breen. In 1852 he found his way to America and enlisted in the U.S. Navy in May of that year under the name of Charles Mercer, "a prank of a young man." After serving three years he was discharged and married Ellen Grant at St. Joseph's Church in New York City later that year where they lived and John continued to earn a living as a sailor. The couple had five children. None survived until adulthood.
Breen enlisted in the U.S. Navy again when the Civil War commenced in 1861. He was assigned to several Navy vessels including the U.S.S. Brandywine, U.S.S. Seymour and U.S.S. Commodore Perry. It was aboard the Commodore Perry, a side wheel steamer, where Boatswain's Mate Breen earned his Medal of Honor on October 3, 1862. He battled Confederate troops who were on the shore bluffs of the narrow Blackwater River shooting at the Union vessels. Under constant fire from 5:45am to 2:30pm, several ships of the U.S. Navy, including the Commodore Perry, repelled boarding attacks and maneuvered through felled trees meant to block their progress. Lt. Commander C.W. Flusser recommended John Breen for the Medal of Honor for his gallant conduct in the battle. He was honorably discharged in July, 1864.
In 1872 John and his wife Ellen moved to Milwaukee and lived in what is now the city's Historic Third Ward. Living near Lake Michigan made it easier for him to continue working as a sailor. He died of acute pneumonia in 1885. His brother Walter assisted his wife Ellen in finding a respectful resting place in Calvary Catholic Cemetery on Milwaukee's west side.