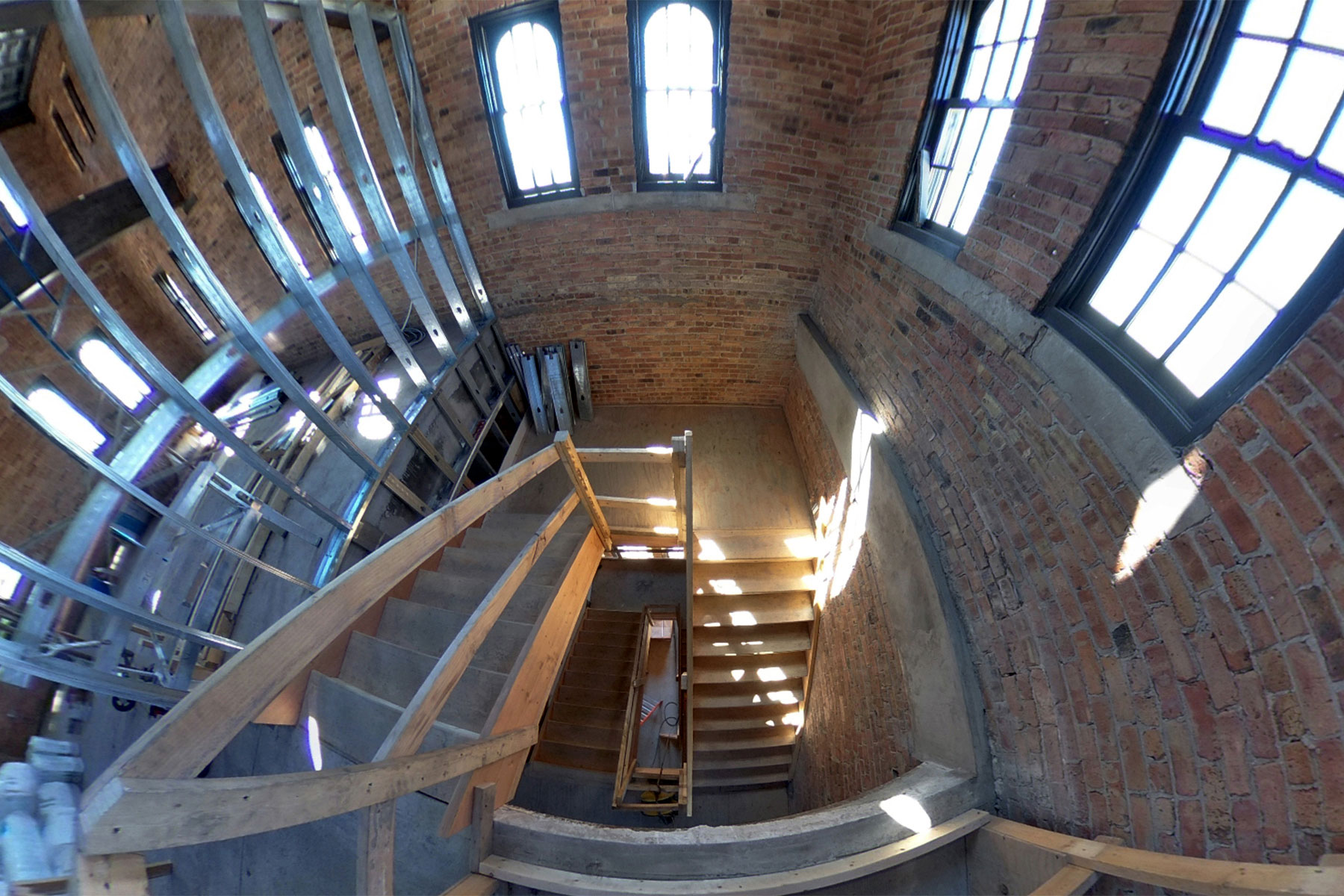 The Milwaukee Fortress, one of the city's most recognizable historic buildings, has nearly completed its unique transformation into a center for apartments and business offices in the Brewer's Hill neighborhood.
A recent media tour hosted by the Alexander Company highlighted the significant progress of renovation within The Fortress since the previous visit on March 29, when the public was given a first-look inside the iconic brick-masonry structure.
The Madison-based Alexander Company has been rehabilitating the six-story, roughly 193,000 square-foot building in an adaptive reuse project to create a new community along the Milwaukee River.
"This is the largest historic adaptive reuse project in the State of Wisconsin right now, based on cost. Our rehabilitation of the Milwaukee Soldiers Home is second," said Joe Alexander, President of the Alexander Company. "Of the 132 different apartments in The Fortress, each one has unique historic features. There are 42 different types of layouts, so nothing about this building is cookie cutter."
The Alexander Company is already showing apartments to lease for a January occupancy. Some of the building's indoor and outdoor amenities include community spaces, a fitness studio, fenced-in dog run, roof deck, and maker space. The 11,000 square-feet of commercial space on the first floor has yet to land a tenant, and the developer hopes to attract a café or restaurant, or a tech startup.
Originally built in 1892, the Fortress has seen several additions in the years leading up to 1912. The resulting architectural flourishes are reminiscent of a medieval fortress. The exterior has been virtually untouched since its construction ended.
The building's original tenant was the F. Mayer Boot and Shoe Company. At its peak, the manufacturing produced over 9,000 shoes per day. Given Milwaukee's proximity to fresh water, port access, and volumes of livestock, it became one of the largest tanning producers in the world.
With its rapid business growth, the company expanded to encompass the entire city block. The Wisconsin Historical Society noted that the "F. Mayer Boot and Shoe Company represents one facet of the giant tanning industry which made Milwaukee a leader in the country."
"Some people don't realize the built-in clientele the space offers, with Schlitz Park across the street, the upper-level residential spaces, and the high-density Brewers' Hill neighborhood," said Andrew Schmidt, Principal Broker of the Alexander Company. "An added benefit of the commercial space is the access to building amenities for business owners and their employees. It's a great talent acquisition and retention tool."
Of particular interest for the tour that the Milwaukee Independent joined was access to The Tower for the first time, with its elevated view of the area which once thrived with brewery activity from the nearby Schlitz workers.
This photo essay combines traditional snapshots with 360° images to experience an immersive VR view of the space, along with aerial pictures for a unique perspective of the landmark building.