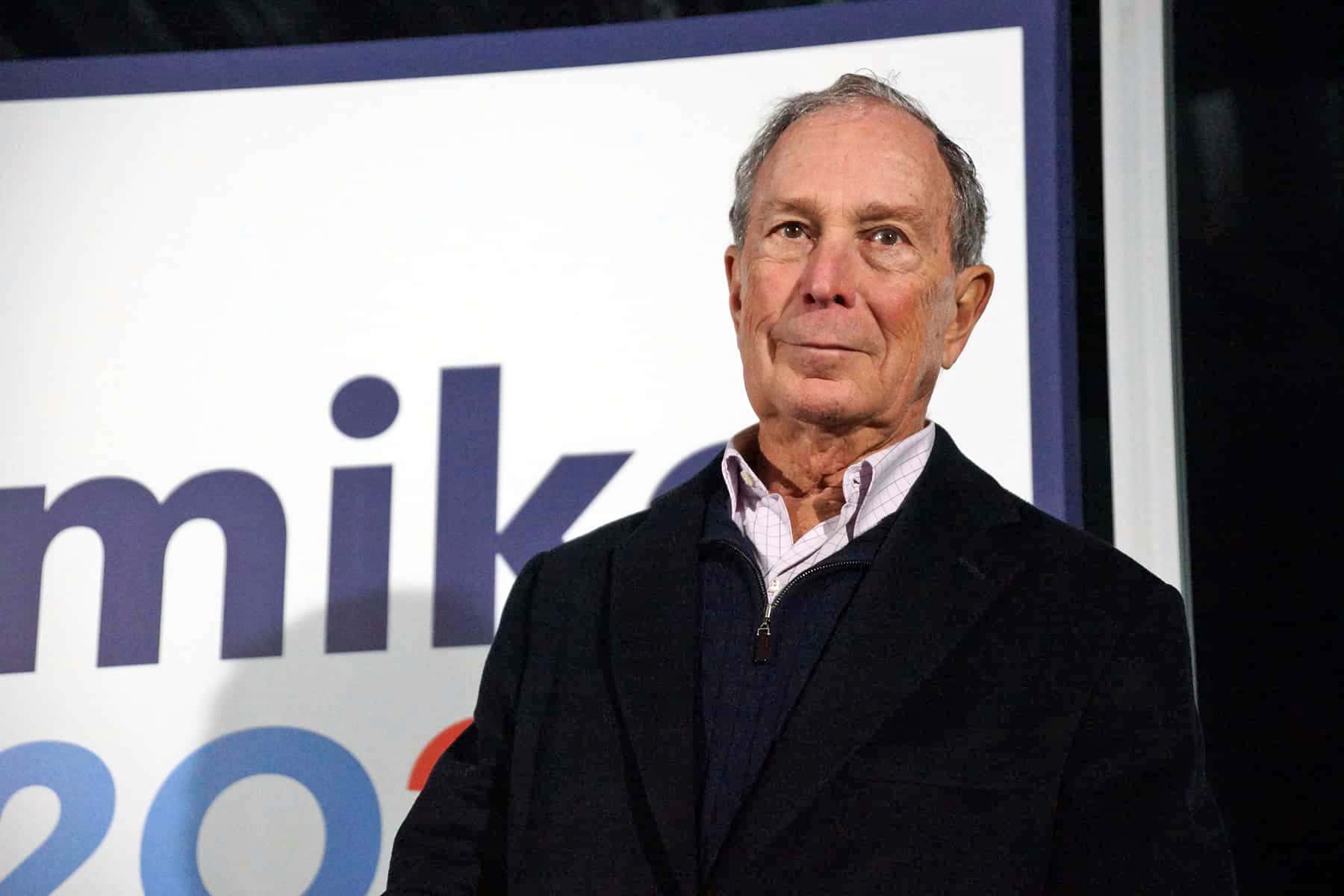 This is a special year for Wisconsin, with Milwaukee hosting the Democratic National Convention. As the city takes its overdue step onto the world stage, the world will learn about Milwaukee's ongoing "renaissance."
Closer to home, it provides an opportunity for local residents to reflect on the challenges that continue to exist in the majority-minority city. The 2020 U.S. Census and approaching national election also shines a light on Milwaukee's struggles with segregation, income inequality, and homelessness, just like many other cities. Therefore, it is important to understand the policies and positions of those individuals who are running for our nation's highest office.
The Milwaukee Independent wanted to produce a Q&A series early in the primary season, around the Iowa Caucus. An identical batch of editorial questions were sent to the national campaign offices of Bernie Sanders, Elizabeth Warren, Michael Bloomberg, Pete Buttigieg, Andrew Yang, and Joe Biden. Only Michael Bloomberg has responded with answers. As others reply, their Q&A will be published.
Editor's Note: The interview answers were provided by an authorized representative of Michael Bloomberg's campaign, speaking on his behalf.
Q&A with Michael Bloomberg
Milwaukee Independent: What steps would you encourage Milwaukee to take in order to reverse decades of its segregated social and economic structure?
Michael Bloomberg (Campaign Spokesperson): Mike recognizes that Black Americans have been disproportionately incarcerated, politically disenfranchised and subject to systematic discrimination. The enduring legacy of discrimination is reflected in the fact that the typical Black family has one-tenth the wealth of the typical white family.
The Milwaukee metro area ranks third in the United States among cities with the lowest percentage of households where the primary owner is black, according to U.S. Census Bureau data. Just over 7 percent of the Milwaukee area's African-American population owned a home in 2017, according to the latest data available. The median household income among African Americans in Milwaukee is $28,928. Last year, the Brookings Institution found Milwaukee was the most racially segregated metro area in the U.S. In addition, the city is infamously home to the nation's most incarcerated zip code, 53206.
In January, Mike announced the Greenwood Initiative a plan to help create generational wealth for Black Americans, drive economic empowerment, close the economic gap between white and Black Americans, and address systematic discrimination against Black Americans. The Greenwood Initiative lays out a path to the creation of 1 million new Black homeowners and 100,000 new Black-owned businesses in the next day. It also includes a $70 billion investment in the country's 100 most disadvantaged neighborhoods.
In addition, Mike is focused on bringing better jobs to the people and communities that have been left behind by President Trump. In his All-In Economy agenda, Mike will make education and training a national priority, modernizing systems and programs to equip millions of people with valuable skills for good jobs and careers. Mike's plan also will invest in research, talent, and infrastructure to create the jobs of the future and help position communities to be the engines for tomorrow's economy, building on their strengths legacies, and aspirations.
The All-In Economy will enhance the Earned Income Tax Credit, increase the minimum wage to $15 an hour, indexed to inflation, ensure affordable child care, paid family leave and the right to sue employers for harassment and discrimination. And, his plan will grant all workers – including gig, contract and franchise employees – the right to organize and bargain collectively. Mike's plan will also tap into the job-creating energy of entrepreneurs by setting up "Business Resource Centers" across the country to help entrepreneurs access capital, navigate bureaucracy and take advantage of federal programs.
Milwaukee Independent: As the fastest growing demographic and economic engine for the city, how would you support Milwaukee's Latino population?
Michael Bloomberg (Campaign Spokesperson): Donald Trump dangerously vilifies Latinos, but the contributions of Latinos to America cannot be underestimated. Latinos have $1.5 trillion of buying power and have revitalized cities and rural communities from east to west, north to south. Latinos serve in our military, enrich our arts, and make our nation stronger.
For many Latinos in Milwaukee, and across the nation, worries and insecurities come daily in the form of discrimination, financial struggles, and a lack of access to health care, affordable housing, and quality education. Parents, many of whom have made great personal sacrifices, worry that their children may not thrive in today's America.
That's why Mike launched his plan "El Paso Adelante" (The Path Forward) in El Paso, Texas, the site of a mass shooting targeting Latinos killing 22 people and wounding 24 more. It is representative of the daily threat Latinos face in Trump's America, where they are dehumanized and vilified in both rhetoric and policy.
As president, Mike will take a holistic approach to investing in Latino communities. His plan will eliminate the college completion gap between whites and Latinos within 10 years, double the number of Latino businesses with employees in 10 years, reduce the gap between Latinos and whites for chronic diseases that disproportionately impact Latinos, and clear the naturalization backlog and create a path to citizenship for the 11 million undocumented immigrants.
Mike's record as Mayor of New York City shows he is a champion for Latino communities, ensuring their safety, freedoms, and their ability to thrive. As the grandson of immigrants who fled persecution, Mike has made it a priority to fix America's broken immigration system and support the long-term prosperity and economic security of the Latino community.
Milwaukee Independent: How would your proposals for reducing economic inequity apply to residents of the Milwaukee area?
Michael Bloomberg (Campaign Spokesperson): Mike's plan ensures that economic opportunities are more evenly distributed across the country instead of wealth and good-paying jobs being concentrated to just a few communities. In cities like Milwaukee, Mike's All-In Economy agenda ensures that career training and retraining opportunities exist to equip millions of adults with valuable skills for good jobs and careers. The plan does this by investing in states, community and technical colleges and others to build career-training systems and programs providing skills and credentials employers identify as priorities for hiring for good jobs.
In addition, the Greenwood Initiative's focus on investing in 100 of the most disadvantaged neighborhoods will offer communities a menu of evidence-based programs in areas including health, education, infrastructure and justice. More broadly, his policies will expand access to opportunity across the country, by addressing disparities in early childhood, schools, higher education, skills and training, employment, health and environmental conditions. Mike's focus on supporting Black entrepreneurs also lowers the barriers to entry for many Black Milwaukeeans seeking to start a business and achieve financial independence. This all amounts to new opportunities for the next generation of Milwaukeeans and provides a new level of support for Black residents who have held behind from pursuing the American Dream.
Milwaukee Independent: For local citizens who feel disenfranchised with the political system because of the Republican controlled legislature in Madison, what would you say to offer them hope?
Michael Bloomberg (Campaign Spokesperson): Mike is a problem-solver with a track record of taking on the toughest fights against some of the most powerful special interests and winning. He's a doer, not a talker, who will get results on behalf of the people of Wisconsin. Mike's unique set of experiences in business, government, and philanthropy will enable him to both win and to lead. Mike is focused on getting results, not playing the typical political games people in Wisconsin are fed up with seeing in their own statehouse. Those who feel disenfranchised should know that Mike is everything that Trump is not, he's a uniter and not a divider, a pragmatist and not a partisan. Mike is someone who will deliver calm leadership and not the hysteria of the last four years. This all comes together in a campaign that can defeat Donald Trump, and a president who can put the nation back on track.
Milwaukee Independent: Do you have a message for the residents of Milwaukee as the city prepares for the Democratic National Convention?
Michael Bloomberg (Campaign Spokesperson): Mike looks forward to attending the National Convention in Milwaukee and is already eager to return to the city in the weeks following the convention as Democratic nominee for President.