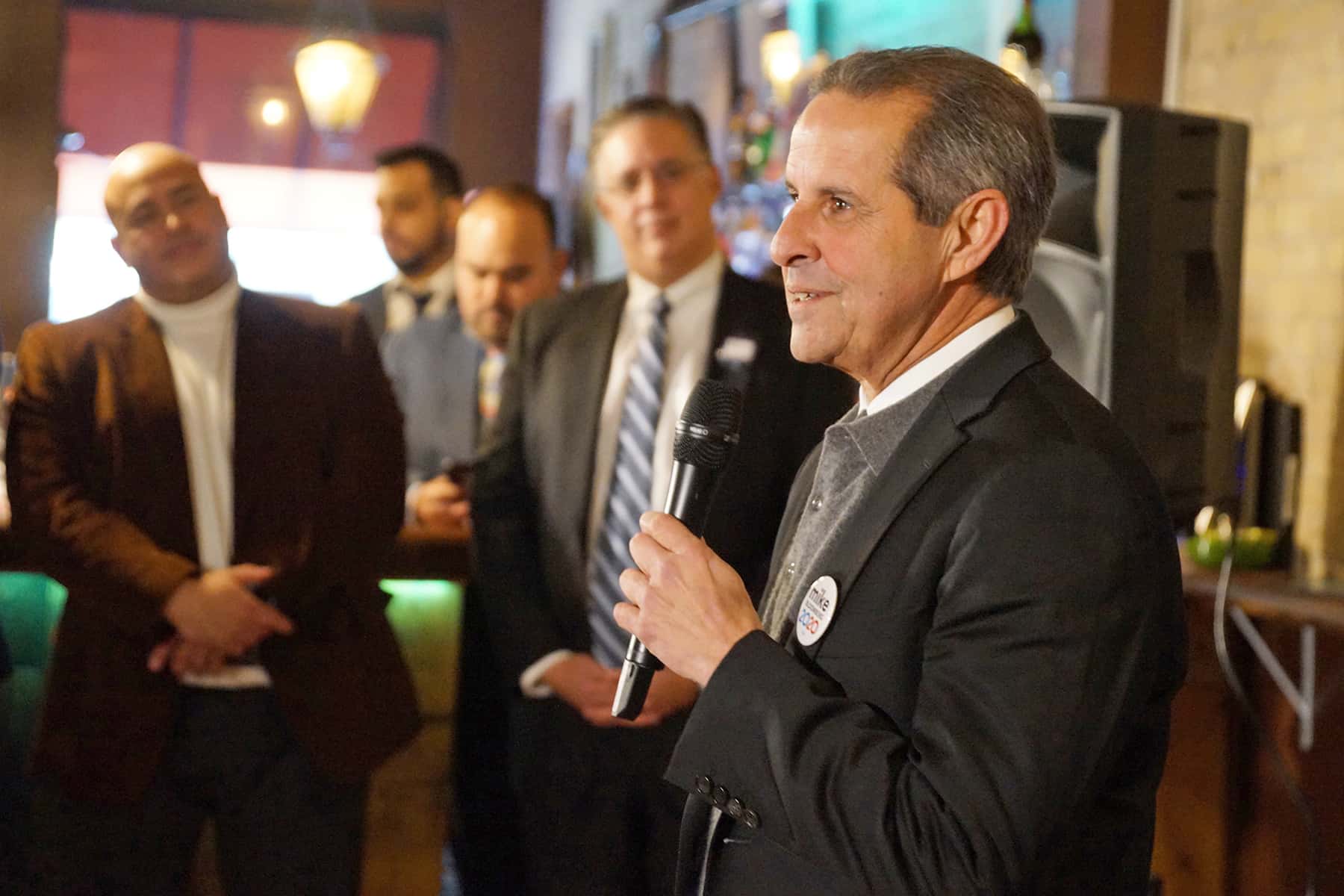 Manny Diaz, former Mayor of the City of Miami and National Political Co-Chair for Mike Bloomberg's presidential campaign, visited the Latino community of Milwaukee on January 28 as part of his multi-state tour to connect with Hispanic voters.
Diaz served as the Mayor of Miami for two terms from 2001-2009 and led the U.S. Conference of Mayors as President in 2008. Under his leadership, Diaz developed a vision for Miami as an international city that embodied diversity, economic opportunity, effective customer service, and excellent quality of life.
During his two-term tenure as Mayor, Diaz was recognized for transforming the City of Miami and launching nationally innovative programs in urban design, sustainability, and education – all of which are cornerstone issues of the Bloomberg campaign.
"I came to the United States when I was six-years old, on a freedom flight, sitting on my mother's lap. My mother, as many did before her, came to America searching for freedom and a better life because she saw this country as a beacon for hope and a land of boundless opportunity. At every turn of my life, especially in my youth, I benefited from a partnership with a government willing to invest in me," said former Mayor Diaz. "Today, I question whether America is still willing to invest in people and provide the same access to opportunity to all. We need leaders who can blend vision, reason, and courage and commit to the ideals of a just and a fair society; leaders who dream of a better life for all Americans. Mike is that person, and his leadership is exactly what this country needs because he believes in that promise of America where everyone has access to the American Dream."
Bloomberg visited Milwaukee on December 21 to open his first campaign office in Wisconsin. On January 11, the Wisconsin for Bloomberg 2020 team hosted a Milwaukee canvass as part of the nationwide campaign to defeat Donald Trump. Organizers and volunteers canvassed local neighborhoods knocking doors and speaking to voters.
"Wisconsin is so committed to beating Donald Trump and making Mike Bloomberg the next president of the United States that organizers and dedicated volunteers turned out in a snowstorm to canvass neighborhoods and join hundreds of others in 27 states to kickoff Bloomberg 2020's national campaign," said Jorna Taylor, state director of Wisconsin for Bloomberg 2020 State Director. "Mike has taken on our country's toughest fights — and won. Wisconsinites support Mike because they know that as President, he will do the same."
The campaign has already demonstrated organizational strength with more than 500 staff in more than 30 states, activating networks of supporters.
Bloomberg's Plan For Latino Empowerment
America doesn't work for anyone if it doesn't work for everyone. And under President Trump, our nation is not working for too many of the 60 million Latinos who call the U.S. home.
Latinos are woven into the fabric of our national life and our shared history and culture. More than 3 in 10 Latinos in the U.S. are under the age of 18, an indication of additional economic clout as a new generation enters the workforce. Latinos have revitalized cities and rural communities from east to west, north to south. They serve in our military, enrich our arts and make our nation stronger. Yet despite a long, dynamic and successful history as Americans, Latinos are under attack — from coarse White House rhetoric, from mass shootings. For many Latinos, gnawing worries and insecurities come daily in the form of financial struggles; a lack of access to health care, affordable housing and quality education; and discrimination. Climate change — experienced as drought, poor air quality and wildfires — threatens health, homes and livelihoods. Parents, many of whom have made great personal sacrifices, worry that their children will not thrive in today's America.
As president, Mike Bloomberg plans to ensure that the Latino community feels fully embraced by the American family. That path forward rests on four goals:
Eliminate the college completion gap between whites and Latinos within 10 years.
Double the number of Latino businesses with employees in 10 years.
Reduce the gap between Latinos and whites for chronic diseases that disproportionately
impact Latinos.
Clear the naturalization backlog and create a path to citizenship for the 11 million
undocumented immigrants.
Milwaukee Independent is an award-winning and advertising-free daily news magazine that advocates for inclusive social understanding by publishing positive news content that covers a wide range of topics as a catalyst for community development. Our content is open to the public, with no access restrictions. As a nonprofit news organization, we are supported through charitable contributions from organizations and individuals in order to produce our activating, engaging, and solution-focused coverage of news in Milwaukee. Please consider supporting our work or making a donation.