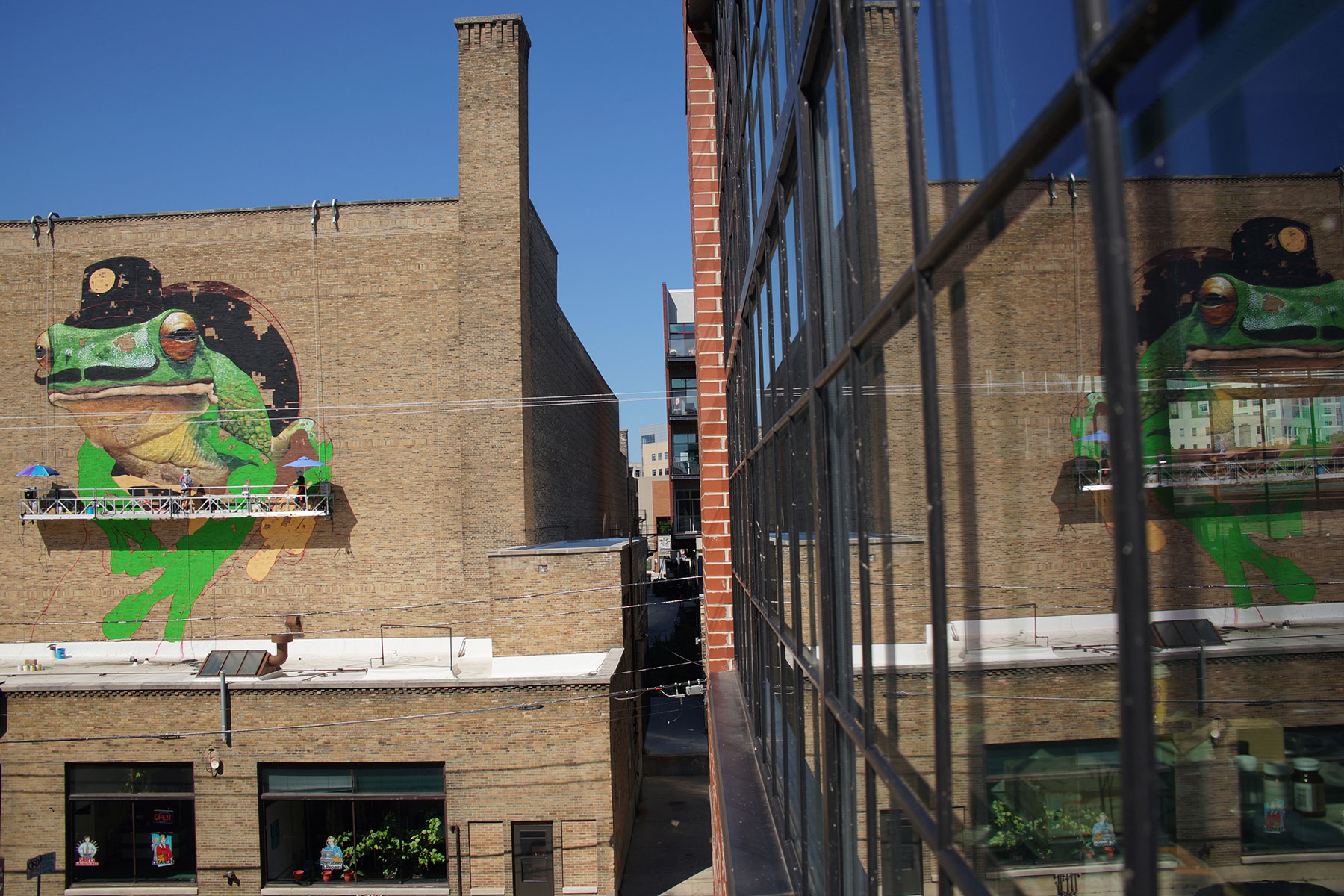 A foundation for the Milwaukee street art movement, built on a frog.
Black Cat Alley held a fundraiser on July 21 on the patio level of the UWM Kenilworth Apartments to kick off its September project, when ten artists will paint murals that transform the alley between Farewell and Prospect Avenues.
Because the Kenilworth Campus borders the alley, which was originally envisioned as a school project to be painted by art students, Black Cat got its name in reference to the UW Milwaukee Panthers. The gala event was also organized to help Milwaukee understand the organization's vision for developing street art in the city.
"Our main event is in September, when we have ten murals going up all at once, and that is what we need to build funds for," explained Stacey Williams-Ng, program director for Black Cat Alley. "MTO is kind of our headline artist, and we had the idea to bring him in early to paint his mural so everyone can see what this art movement will be. It's meant to inspire, but also drive donations for September."
The evening of art and entertainment was attended by more than a couple hundred visitors, who gathered to support the project and enjoy watching the live mural painting. From a scaffolding along the south side of the Oriental Theater and wearing a heavy respirator mask, artist MTO dodged occasional rain showers and endured Milwaukee's unusual humid heatwave, to complete the Black Cat Alley signature mural.
"MTO" took his artist name as an acronyms of Mateo, and later stated his amusement at learning that the initials also belonged to a graffiti cleaning company.
His large-scale painting style is known for featuring music and film celebrities, using a palette of only black and white paint with a hint of color for accent. The full color frog that he chose for the Black Cat Alley mural is a completely abstract subject and departure from his monochromatic look.
"The murals will drive dialogue and opinion, and that's what art is all about," said Williams-Ng. "Painting is just another form of expression like music or writing. Even if a paperback novel was a runaway bestseller, not everyone is going like it."
Jeff Redmon, who is regarded for his large-scale murals and founding Bay View Gallery Night, will be part of the ten artists contributing to the September installation.
"I think its going to have a huge impact on the entire city," said Redmon. "The mural movement is starting to surge, and this project is going to magnify that effort. Having this foundation of street art will attract people to visit the alley, which will bolster the businesses that serve the area."
The East Side alley has been a dark and quiet space in urgent need of a makeover. The street art murals will utilize an overlooked location and turn it into an asset that enhances the community, by inspiring tourists and stimulating the local economy. In addition, the painted alley will be part of a broader cultural trend towards self expression through public art, which was regarded years ago as graffiti by clandestine artists.
Street art has become a real global movement taking place in every major city, from Singapore to Barcelona. Nearby Chicago, for example, recently installed 40,000 square-feet of murals within the urban landscape.
A large-scale painter herself, Williams-Ng has participated in mural efforts around the country. People will ask her, "do you have anything like this in Milwaukee. And sadly, my answer is usually no. So we decided to do a festival style mural celebration here that mimics many of the ones I have seen in other cities."
Starting the week of September 11, the seven-day mural installation will conclude with a mural arts festival hosted by the East Side BID on the weekend of September 17 and 18. It has also been included as a Doors Open location by Historic Milwaukee Inc.
"Even though we technically don't have doors," said Williams-Ng, "they are willing to have us as part of the event."
To find Black Cat Alley, which runs from Kenilworth Place to Ivanhoe Place, look no further than the big frog on Farwell Avenue.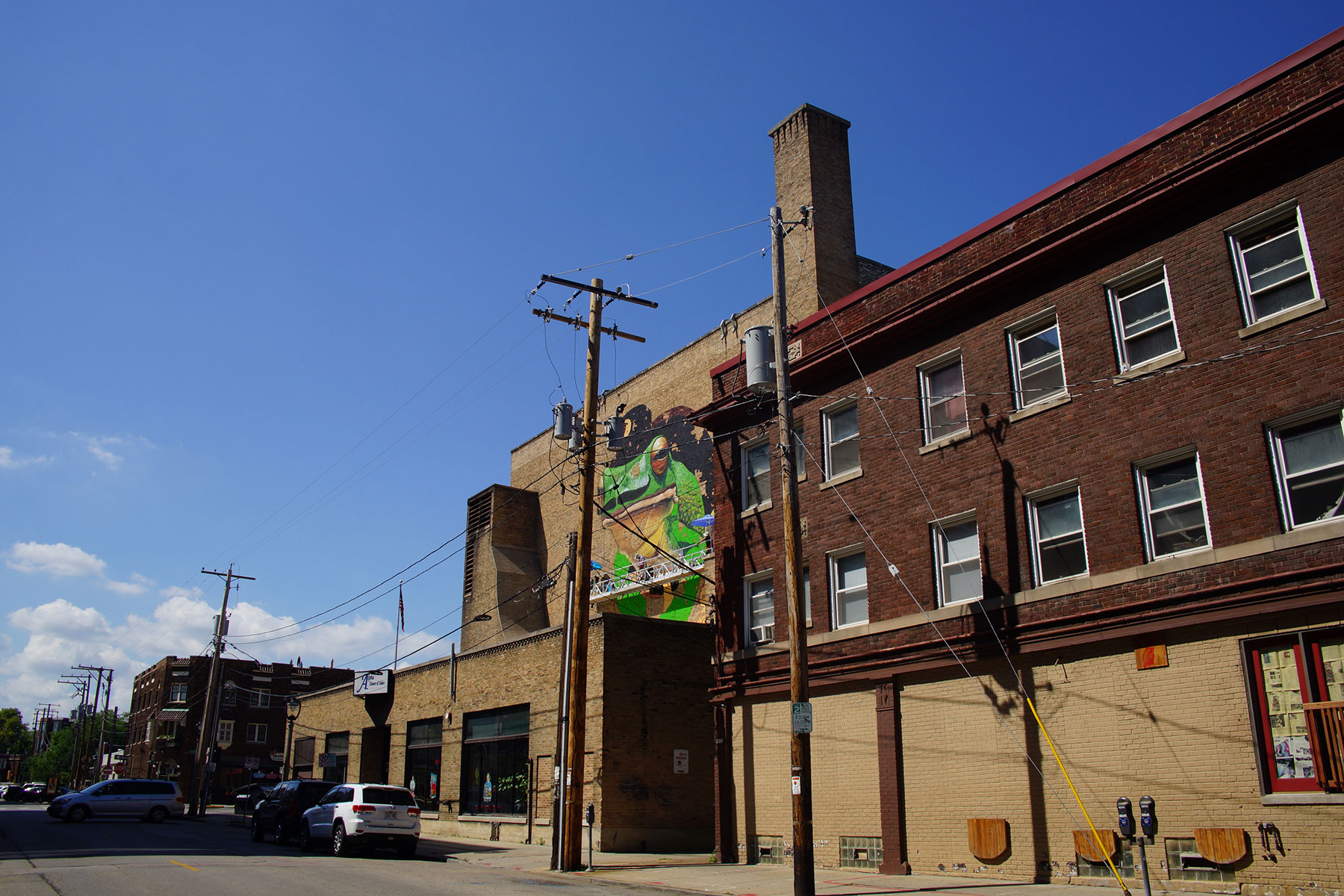 Read the article and view the photo essay that were produced as companion features for this news report.