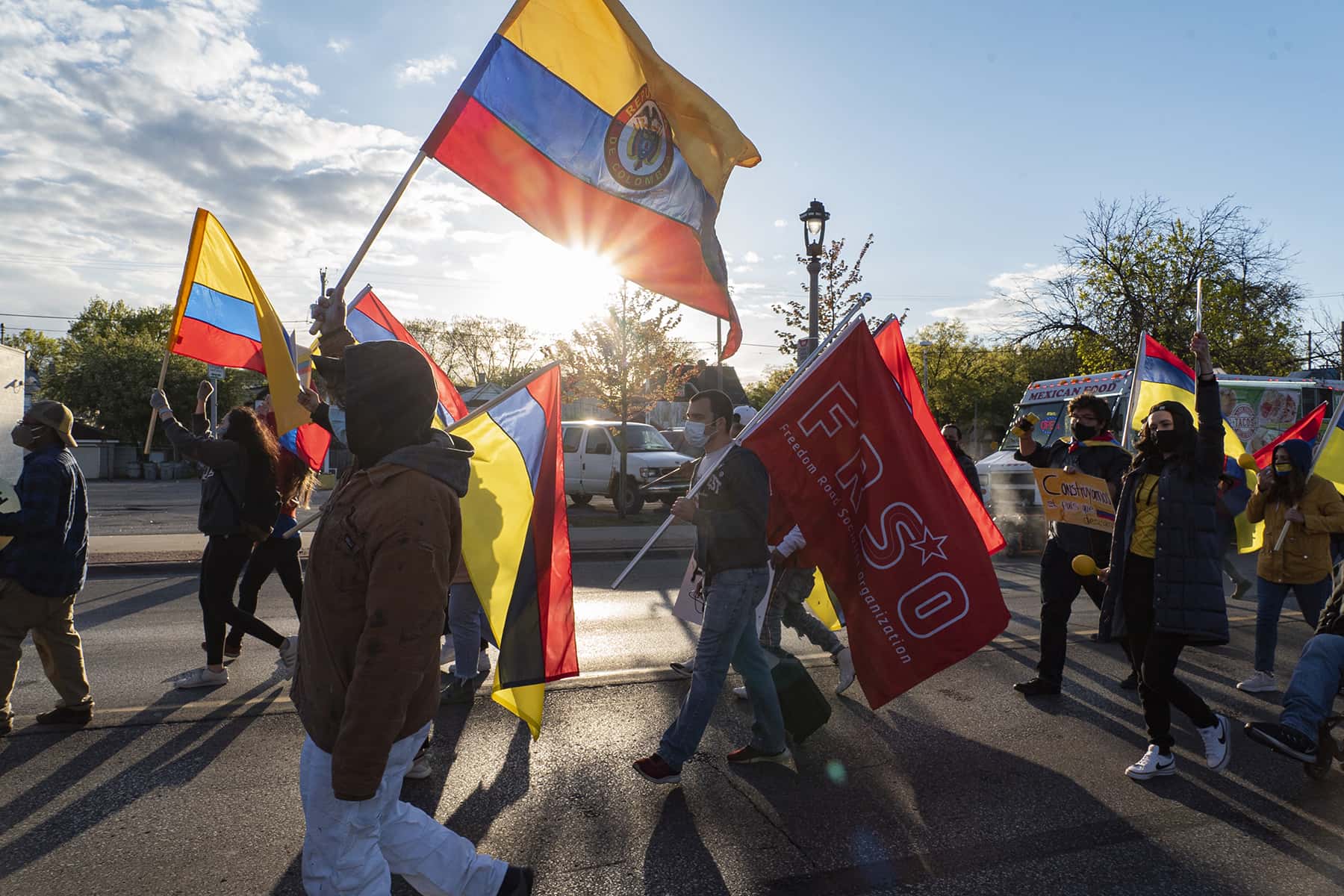 Milwaukee held a rally and march May 10 in solidarity with activists in Colombia who are being massacred by the police and paramilitary forces after days of labor protests.
A national strike took place in Columbia on April 28, organized by trade unions against a proposed tax hike. The government quickly moved to repress the action across the country, deploying massive acts of violence to break the work stoppage.
Columbians have continued to march each day in cities across their nation, and have been met with a consistent escalation of aggressive suppression. The Colombian military and police have been documented shooting expired tear gas – which turns into deadly cyanide, directly at the faces of peaceful protesters. Security forces have also cut electricity in poor and working class urban areas.
At least 31 Colombian activists have been murdered by government forces. More than 56 activists have disappeared, along with 9 confirmed cases of sexual violence perpetrated by police since the National Strike began.
Activists and supporters in Milwaukee joined a worldwide effort to march in solidarity of the Columbian struggle. The march began at Walkers Square Park, and was organized by Colombians in diaspora known as the Red Condor Collective. The local group has been supporting Colombia prior to the massive uprising, having raised $25,000 to help the activist movement in their home country.
"Dozens of Colombians have been abused, murdered, and disappeared," said Eric, an organizer with The Red Condor Collective. "It is important for people in the United States to stand in solidarity with Colombia because the United States government provides the political, military, and financial support which makes this violence possible."
Critics around the world are demanding an end to U.S. military aid to Colombia, an end to the repression, and the prosecution of the government officials who gave the orders to attack peaceful demonstrators. They are also demanding a guaranteed annual income for every Colombian so that millions no longer would have to live in poverty.
Columbians are asking the international community for support, in light of the humanitarian crisis. And even with democracy failing in America, they still have hope for a voice and fair political representation in their own country.
The Colombia Solidarity March #SOSCOLOMBIA was co-sponsored by The People's Revolution, Red Condor Collective, Milwaukee Alliance Against Racism and Political Repression (MAARPR), Freedom Road Socialist Organization (FRSO), Our Wisconsin Revolution, and FTP Drumline.