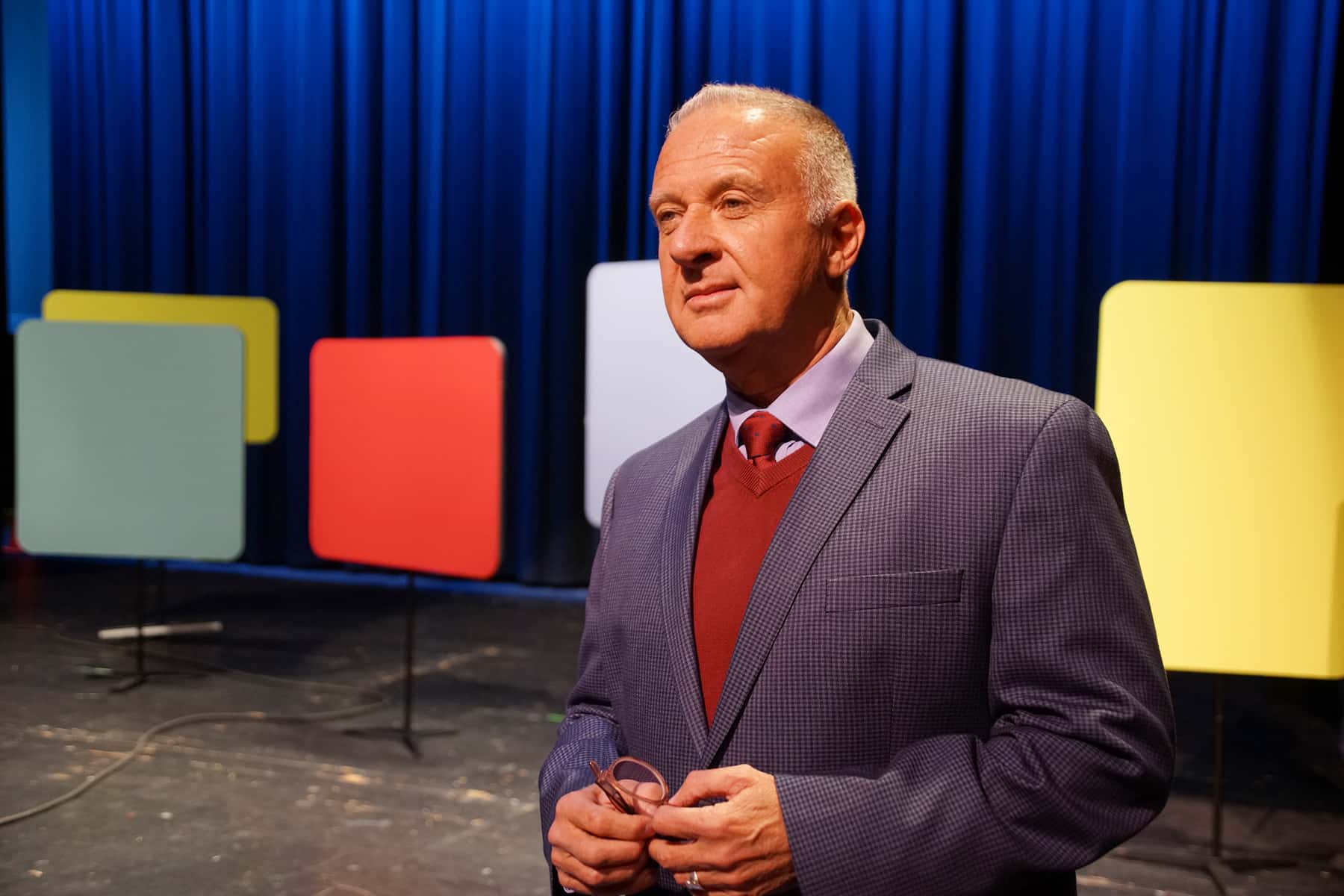 A new season and format for the Milwaukee PBS show "Next Avenue Community Conversations" began production on April 11 under the direction of the creative team responsible for the nationally syndicated Emmy-award winning program "Around the Corner with John McGivern," which has been a backbone of keeping WMVS-TV as one of the highest-rated PBS affiliates in America.
Next Avenue is public media's first and only national journalism service for America's booming 50+ population. The 2019 series is being produced and directed by Lois Maurer, the producer and director of "Around the Corner." John McGivern is hosting the new talk-show configuration.
"It's a totally different format for us," said Maurer. "We usually take one camera and four crew to bop around a city, and talk to people one at a time. John doesn't need to think about where he is on camera, he just talks to people."
The new style requires a stage, rehearsal with different cameras, and a studio audience. Previous seasons of "Next Avenue" were produced "live-to-tape," meaning that the entire program was shot start to finish as a live program without edits. Maurer felt that was not the right format for John McGivern's personality and what audiences expect from him.
"I have edited John for eight years, and I know how to edit the conversations that he has. To get people comfortable, sometimes it takes a longer. So because we will edit, we have the luxury of letting him talk and watch the interaction play out," said Maurer. "I think it's going to end up being a better conversation for the TV show."
After "Around the Corner with John McGivern" began to air nationally on January 7, 2018 it rocketed in popularity and continues to rank as one of the most popular PBS shows in the nation. Known for being a good conversationalist and with an expansive fan base, Maurer hopes that Next Avenue episodes with McGivern will generate more public attention. She wants to see awareness spread outside of Milwaukee when the programs air statewide, and help draw people to the Next Avenue website with its vast resources.
But McGivern's involvement was not part of the original plan. When Milwaukee PBS assigned Maurer as producer of "Next Avenue," between her production break with "Around the Corner," her first idea was to develop the show without a host.
"I was telling John about it, and just brainstorming about what I should do – because John is my best friends," Maurer explained. "But then John got excited about the ideas and said that if I was in, then we'd do it together. We would make it fun, make it good, and make it more impactful."
The first episode filmed in Ripon, Wisconsin was the test ground, to see how the process worked and tweak it where needed. "Alzheimer's Effect on Families" covered questions from the onset of Alzheimer's and dementia, and followed the process from getting an official diagnosis, to finding medical help, and what it takes for home care.
"I'm moderating this show, which is so different than what usually do," said McGivern. "It's a topic-driven audience show, and our subject for the first episode it about Alzheimer's. We have five experts to speak with, so I'll be able to ask them a range of questions."
McGivern's introduction for the episode began with his heart-felt sharing of a personal story, about a dear friend under 50 years old who recently and suddenly became incapacitated by Alzheimer's.
"My hope is that all our shows are informative, with an entertainment value as well, and that people are able to say at the end of watching that it was enjoyable, and they were glad they learned something," added McGivern.
Ripon College was also where McGivern, as a freshman in high school, earned a big award in forensics. It proved to be a transformational experience that set the path of his career. One of the episodes in "Around the Corner" for season 8 was filmed in Ripon. So McGivern and Maurer were happy to return to the city, as part of the show's mission to connect with communities outside of Milwaukee.
"I hope the topics that we bring to the communities, that these conversations keep going," added Maurer. "This show is meant to be a jumping off point. We are also doing a resource fair as part of the program as well, for people from this community to talk about this issue. So, when they leave here they will continue those conversations between themselves."
For the Alzheimer's show, McGivern hosted a conversation with local and regional experts on the issue, including: Richard Gauthier, MD, family medicine; Kristen Dorsch, Green Lake County social work; Jill Wenzel, population health and care transitions; Lisa Kirker, home care, hospice and palliative care; and Punit Kumar, MD, internist and palliative care.
The Helen Daniels Bader Fund, a Bader Philanthropy, generously funded the Next Avenue series for this upcoming season of community conversations. Future programs will also focus on subjects with lighter tones like volunteerism and how to live the kind of life people want. Next Avenue broadcasts on Milwaukee PBS Channel 10.1, and the Alzheimer's program filmed at the Ripon High School Auditorium will premiere on May 16 at 7:00pm.