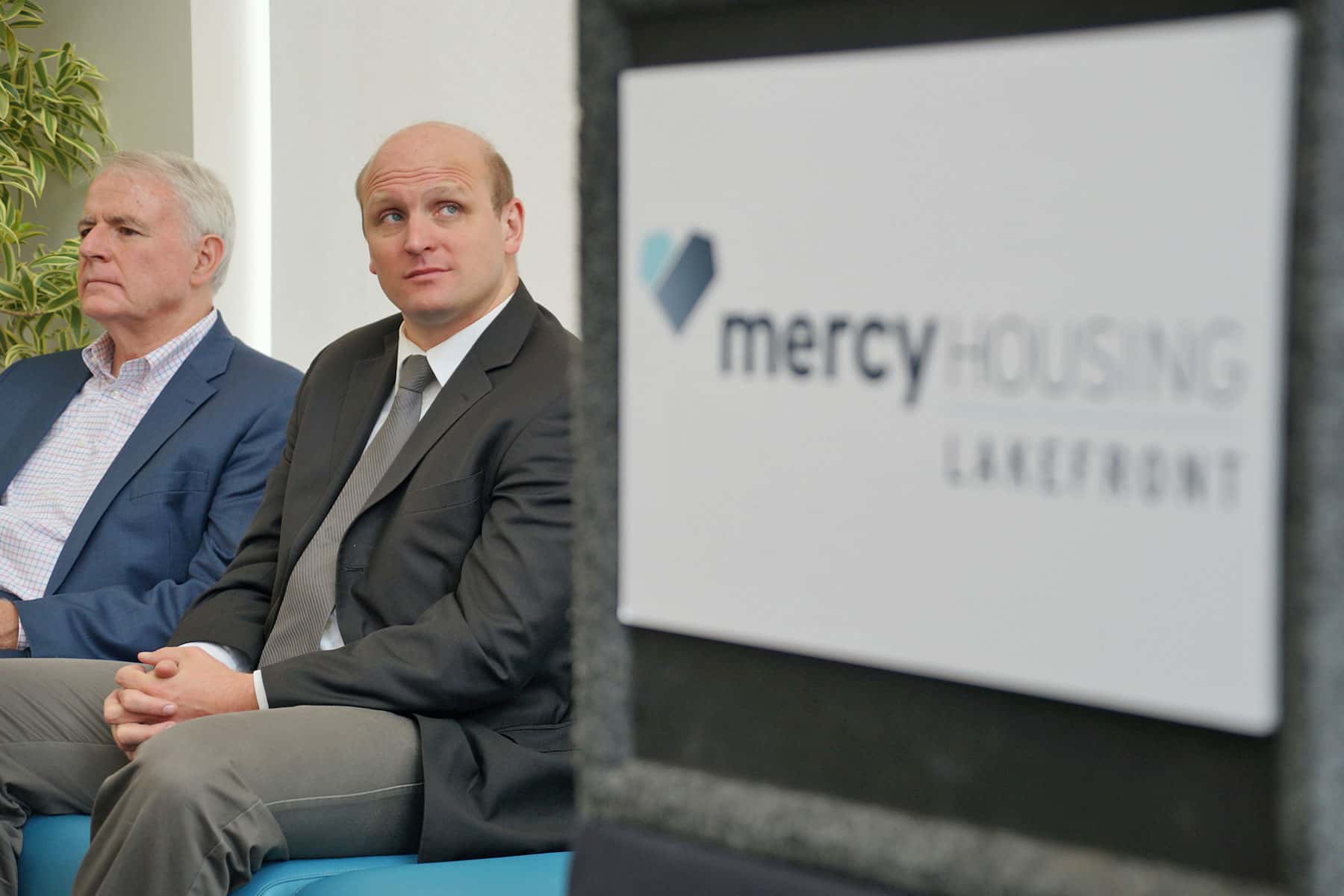 After almost a decade planning, public discussions, and coalition building, the Greenwich Park Apartments held its Grand Opening Ceremony on May 4 to a packed room of stakeholders and grateful residents.
With support from the Wisconsin Housing and Economic Development Authority (WHEDA) in the form of Low Income Housing Tax Credits, and the help and cooperation of many local partners, Mercy Housing Lakefront broke ground last year to build 56 affordable rental homes for families.
"This was not an easy project, but it was a very important project," said Wyman Winston, Executive Director of WHEDA. "It answers the question, could we continue to build housing in low income communities that reinforced segregation, and did not break the bounds of providing Milwaukeeans the opportunity to live anywhere they want?"
Studies have shown that the traditional model of low income housing has reinforced segregation around the country and made it harder for those minorities affected to escape the spiraling cycle of poverty. The process often regulates these people, simply by gender, ethnicity, or the color of their skin, to the most undesirable places.
"We all know those places. They are in our city, and cities around this country," added Winston. "They are our own form of Apartheid. That has been the custom, it's not our law, but it's the way we do things here. This project broke that mold."
In his book Evicted: Poverty and Profit in the American City, Matthew Desmond followed the lives of landlords and tenants in some of the poorest neighborhoods in Milwaukee. He documented how the practice of forcibly removing tenants from their homes for profit exacerbated the affects of poverty.
The Greenwich Park Apartments were conceived years before Desmond's Pulitzer Prize winning book was even written. But the project's purpose sought to address and solve many of the issues he detailed, through affordable housing for singles, families, and people with special needs. Phase one of the $13.8 million project provides a mix of studios, one bedroom, and three bedroom apartments that are affordable to people with annual household incomes between 30% to 60% of the area median income.
Mercy Housing Lakefront came to Milwaukee 11 years ago from Chicago. Alderman Nik Kovac, who was first elected in 2008, talked about how long the process had been, and that it had occupied some part of his day for the past 9 years.
"I'd say there were several major hurdles, and the first big hurdle was me. Not me personally, but as the Alderperson of the Third District and the people that I represent. We are a very diverse and opinionated group of neighbors. When it comes to new construction on parking lots, we often want to have a say. And I think it's important we do have a say," said Alderman Kovac. "There were some people that may have been opposed to the project, because they didn't want to have not market rate housing on the site. I have consistently, then and now, continue to take the other position. We need to make the wealthiest part of town as welcoming as possible. We need to increase economic diversity, increase occupational diversity, and increase racial diversity on the Eastside. It's a big part of what will make this city successful."
Mercy Housing Lakefront developed the mixed-income rental community located at the intersection of North Farwell and Thomas Street, just north of the U.S. Bank building. The two phase development will eventually produce 100 rental apartments. It will offer attractive apartments that are affordable to the local workforce, and within walking distance to nearby businesses.
The idea may seem revolutionary, but it was the basis for how Milwaukee and other cities were originally formed, by fostering economic development within the community. Before the suburban mentality changed workforce dynamics, locating an employment base near companies looking to retain stable and qualified workers allowed neighborhoods and supporting commercial services to thrive.
"I was homeless for three years. I was in the 'My Home' program for over 10 years in a neighborhood I didn't like, because there was always something going on. Finally, I can come home after a hard day of work fixing cars and motorcycles, and I can go upstairs without having to worry about sleeping outside in the bushes," said Greenwich Park Apartments resident, Wayne Porter. "I love the view, and I love the programs that I have. And I am grateful for the progress, things have moved forward instead of being stuck."
The impact of the Greenwich Park Apartments will be significant and measurable. Families who live in the building will save $400,000 a year. That total is what they currently pay, consuming more than half of their annual income to put a roof over their heads.
The disproportionate financial drain competes with a family's ability to put food on the table, or shoes on their children. It is money that goes back into the community, and affords people the chance to save for more financial freedom. Over the next couple decades, the savings will funnel millions of dollars back into the neighborhood.
Other Mercy Housing Lakefront projects in Milwaukee include Jefferson Court, Johnston Center Residences, McAuley Apartments, and St. Catherine Residence.
Read the article, listen to the audio, and view the photo essay that were produced as companion features for this news report.