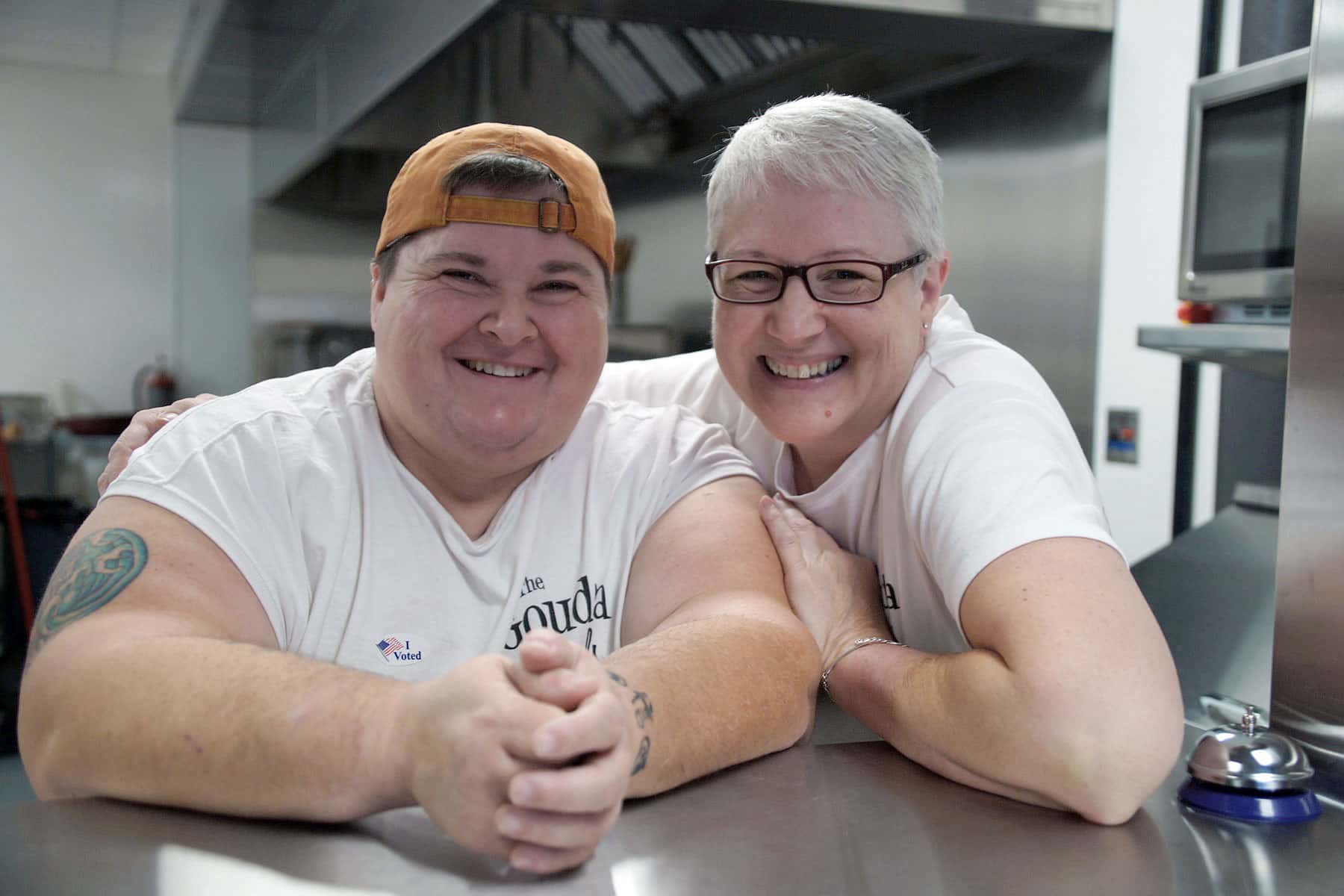 The wildly popular Wisconsin-themed food truck, The Gouda Girls, opened a food court location at Eleven25 at Pabst.
As soon as the Eleven25 at Pabst student housing, formerly the Pabst Brewing and Bottling Building, opening a food court, The Gouda Girls did not have to wait long for customers to arrive. They were greeted by fans, old fans and new, who came to devour their award-winning grilled cheese, cheese steak, and mac and cheese.
Owned and operated by a married couple, Katherine and Tina Tonn, The Gouda Girls fixed location is an extension of their hugely successful food truck. But foodies do not have to worry, the truck will continue its usual stops at weddings, festivals, birthday parties, and more.
Even though the grand opening of the food court is not until November 22, their unofficial opening on Friday, November 4, brought in hoards of hungry patrons, who were attracted by the Wisconsin-centered cuisine.
The Tonns value their "curbside comfort" food and pay special attention to their loyal customers. They are excited to bring the public the enjoyment of home cooking from their new location.
The customer service of The Gouda Girls is almost legendary, and it is difficult to leave their view without a chorus of best wishes and "have a good day" from them.
"Katherine is everybody's mom," Tina said affectionately.
Their full kitchen gives Katherine the opportunity to expand their menu with more Milwaukee-based cuisine, and to continue making the recipes people miss from home or from their past.
"People come to us and say, 'I haven't had my grandmother's pancakes in 20 years since my she passed. Would you make me those pancakes?' And I tell them, 'of course I will,'" Katherine said.
When Katherine started dating Tina ten years ago, neither had culinary experience. Tina was a truck driver and Katherine was a private pre-school owner. But five years ago, after a health scare, Katherine's doctor told her that if she did not leave her stressful career, she would likely not last the next year. When Tina asked Katherine what she would like to do most in the world as a career, she said she wanted to open a food truck with healthy Wisconsin food. Focusing on cheese was a no-brainer.
The Tonns then connected with local food truck vendors and worked with the health department to get their truck in motion. When they did, they were met with immediate success.
Because their company name was originally Chubby Cheese Truck, people often confused them and went to Chubby's Cheese Steak to get the Tonns' popular sandwich. After concerns grew from the original Chubby's, the pair changed their name to The Gouda Girls. It was inspired by the cheese so popular in the Netherlands, reflecting Katherine's Dutch heritage.
"Now it's to the point where people don't even know our names," said Tina. "We come into a room and they say, 'It's the Gouda Girls!' We've lost our first names, which is really kind of cool. Our granddaughter thinks we're superstars because we go places and everyone knows who we are."
Their food was received so well that in their first year of operation that they were invited to compete in Wisconsin's Grilled Cheese competition. At the event, Tina the honor of won grand champion by a creative sandwich created with havarti cheese, and almond and fig flavors.
The Tonns continue to participate in this kind of "food sport" and recently won national awards for their mac and cheese.
Without official culinary training, all of their recipes come from inspiration and their Wisconsin background. The girls choose flavors that they think will go good together, or try seemingly odd sandwiches they know Wisconsinites will love. "The Mac," for example, features mac and cheese in a grilled cheese sandwich. To fulfill the eclectic cheese demands of Milwaukeeans, they rely on premium local cheeses from Beechwood Cheese Company.
"If you would have told me five years before this that I would be spending $1000 dollars to bring home 120 pounds of cheese that would last three weeks, I would have said that you're on something because that's not humanly possible," explained Tina.
Though they miss the mobility of being on the truck all of the time, the Tonns are happy not to brave the Wisconsin winter this year. But the food court location also brings a degree of uncertainty, as they are not driving up to a group of people they know want food. They are also reluctant to increase their operations, as customer service is such a big part of their business.
"A lot of people have asked if we wanted to expand the truck and our dear friend Rick told us, 'but the one thing that makes your truck so unique over anybody else is that the two of you are on the truck. You make that personal connection with everybody,'" said Katherine.
Despite their business jitters, the Tonns are confident that connection to their beloved Milwaukee and an award-winning menu will continue to bring customers to their truck, and the new location.
The best part of their work, other than making folks happy with cheese, is that they get to spend time together.
"We adore being with each other, so that's the nicest part," said Katherine. "We've been together 10 years, 11 in January. It's gone by so fast. When you find someone you just adore being with so much, it's the luckiest thing. We truly hate being apart from each other."