Courage, Integrity, and Honor: Milwaukee pays tribute to fallen firefighters at special memorial ceremony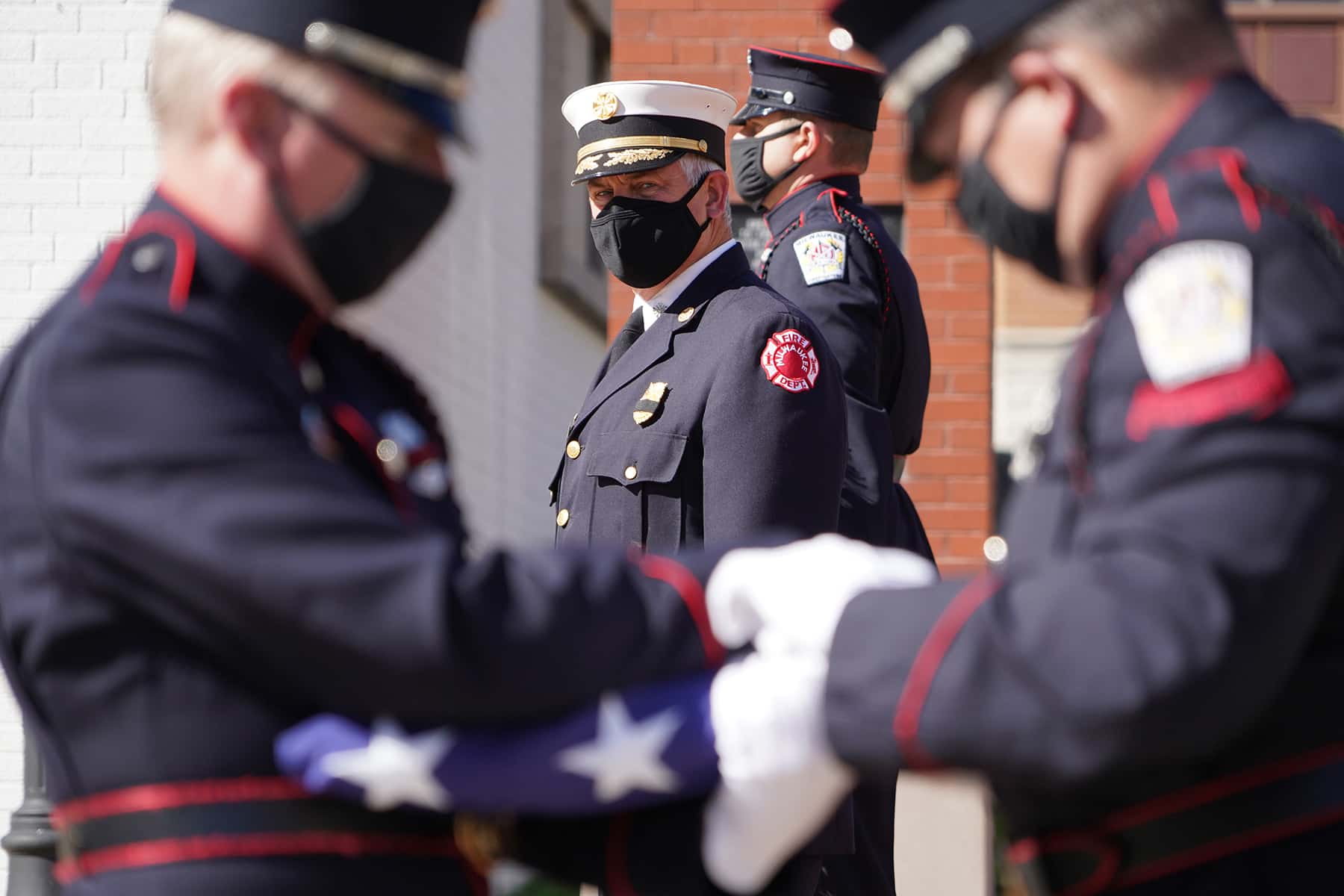 The annual ceremony for fallen Milwaukee firefighters was held on October 7 at MFD Headquarters Station 2, to honor those who made the ultimate sacrifice in order to keep local citizens safe.
The Milwaukee Fire Department (MFD) evolved from a volunteer force that was organized in 1837 by concerned citizens. In 1875, the firefighting force officially converted to a full-time and paid organization. Since 1996, the department has held a special ceremony annually to remember those who have fallen in the line of duty.
Mayor Tom Barrett, Common Council President Cavalier Johnson, retiring MFD Fire Chief Mark Rohlfing, and MFD L215 President Michael Bongiorno spoke at the socially distanced ceremony and offered their respects to the firefighters lost over the years.
"As we gather for this 24th annual recognition, we are all aware of the circumstances under which we're meeting this year – making this by far the most unique memorial service that we have had," said Mayor Barrett. "And I want to thank Chief Rohlfing and the fire department for continuing this tradition, because it's such an important tradition. It is such an important civic function that each year we remember those individuals who made the ultimate sacrifice, who gave their lives to make sure that we can live peacefully in the community that we all call home."
Mayor Barrett noted that the fire department had taken on a new role in 2020, by partnering with the city's health department to help fight the COVID-19 pandemic that has gripped Milwaukee since March.
"What I've been incredibly impressed by over the last six months is the agility, the speed, and the professionalism in which the firefighters have continued to do their daily work – that's so important to this community – while at the same time joining the ranks of those who are doing everything they can to end this pandemic scourge," Mayor Barrett added.
There have been 141 deaths since records of fire fighting fatalities began in 1860. Truckman Frank Barth was the first official loss on December 30, 1860 and Firefighter Darrin Jones was the most recent on February 1, 2020. Jones died just months short of his retirement after 29 years of service. Reviewing the roll call of the fallen showed that the most tragic year for the department was in 1894 when 10 men died. Since 2012, 4 firefighters have passed.
"It's the brave women and men of this department who run into harm's way in order to preserve life – in the face of deadly flames," said Council President Johnson. "You do that on a constant basis throughout the year, and we thank you for that. This department is on the front lines, with morphing responsibilities. No longer are you just responding to fires, but you are day-in and day-out responding to coronavirus, and responding to overdoses, and a number of medical issues that citizens in our community face every day."
Chief Rohlfing announced his retirement on September 25, after ten and a half years leading the MFD. His last day will be October 30. He echoed the sentiment that 2020 had been a unique and challenging year, changing the way the department operated.
"We are here to remember and honor the 141 firefighters who've given their lives in the service of the Milwaukee Fire Department for the city of Milwaukee," said Chief Rohlfing. "We decided to have the service in spite of the pandemic."
The fire service depends on learning from past incidents to improve future policies, especially related to firefighter deaths. Chief Rohlfing said that their lives depend on taking those lessons and making the necessary changes. MFD has continued to become safer as a result of the fallen firefighters over the past century.
"We have better equipment, we communicate better, and our command practices are better. Most importantly, we've worked to change our culture to significantly reduce the fire deaths that we have," added Chief Rohlfing. "We continue to face issues and problems that cause firefighter deaths. But we work to meet those challenges head on and diligently, so we can eliminate or reduce fire deaths in our service."
Milwaukee's Fallen Firefighters since 1860
12/30/1860 – Truckman Frank Barth
12/30/1860 – Pipeman Zach Carnly
12/30/1860 – Pipeman Lawrence Depsey
12/30/1860 – Pipeman Robert Lundy
12/30/1860 – Pipeman Charles McDermott
07/21/1862 – Pipeman Dwight Pratt
11/18/1879 – Stoker Michael Koerper
11/10/1884 – Foreman Fritz Grosskopf
02/20/1885 – Pipeman George Wolf
03/15/1888 – Pipeman Herman Lecher
03/15/1888 – Driver Richard Langton
02/28/1889 – Pipeman Edward Noonan
09/28/1891 – Engineer Phillip Meisenheimer
10/28/1892 – Pipeman Henry Peddenbruch
10/28/1892 – Truckman Charles Stahr
12/27/1892 – Pipeman Thomas Sullivan
04/09/1894 – Asst Chief August Janssen
04/09/1894 – Captain Archie Campbell
04/09/1894 – Lieutenant Frank McGurk
04/09/1894 – Lieutenant John Farrell
04/09/1894 – Lieutenant James Freeman
04/09/1894 – Pipeman Thomas Morgan
04/09/1894 – Pipeman Allie Ries
04/09/1894 – Pipeman Fred Koschmieder
04/09/1894 – Pipeman Frank Winney
09/06/1894 – Pipeman Adolph Meyer
02/21/1899 – Pipeman Michael Hackett
04/19/1899 – Lieutenant Hubert Zanders
07/18/1899 – Pipeman Edward Haley
06/26/1901 – Lieutenant Edward McGinley
02/19/1902 – Pipeman Edward Kinsella
02/19/1902 – Truckman Chris Mattison
02/03/1903 – Captain Andrew White
02/04/1903 – Chief Engineer James Foley
02/04/1903 – Pipeman Thomas Droney
02/04/1903 – Truckman Edward Hogan
03/05/1903 – Engineer Michael Burns
08/08/1904 – Lieutenant Henry Weidner
02/24/1905 – Lieutenant William Morgan
05/19/1905 – Lieutenant Charles Dressel
07/05/1905 – Chief Engineer Herman Meminger
09/27/1906 – Fireboat Pilot Hugh Clark
02/28/1907 – Captain Henry Schmidt
08/20/1907 – Driver John Mehan
05/15/1908 – Truckman Paul Schroeder
02/13/1909 – Asst Chief James Gunning
02/13/1909 – Lieutenant Nathan Whaley
02/13/1909 – Pipeman John Craft
02/13/1909 – Pipeman Leonard Curtis
02/13/1909 – Pipeman Joseph Bielinski
02/15/1909 – Pipeman Otto Nimmer
01/03/1910 – Captain John Hennessey
01/03/1910 – Lieutenant Dominick O'Donnell
01/03/1910 – Pipeman William Foley
01/03/1910 – Pipeman Joseph Sullivan
10/29/1910 – Truckman Alfred Krimmer
03/15/1911 – Driver Fred Clarke
03/24/1911 – Captain Jacob Hentz
03/24/1911 – Lieutenant John Houlahan
03/24/1911 – Driver Richard Burke
03/24/1911 – Pipeman Fred Eichorn
03/25/1911 – Driver Louis Hammond
12/25/1911 – Pipeman Fred Glander
10/26/1913 – Captain John Doyle
10/26/1913 – Pipeman Walter Freytag
10/26/1913 – Pipeman John Fenske
10/26/1913 – Pipeman William Graf
10/26/1913 – Chief's Driver George Clausen
10/26/1913 – Truckman Max Flaeschel
10/26/1913 – Truckman Timothy Dwyer
11/05/1913 – Pipeman August Pagel
05/07/1914 – Truckman Stephen Hecht
08/27/1916 – Captain Arndt Nessheim
08/27/1916 – Lieutenant Dennis Moroney
04/17/1919 – Private Albert Jaczkowski
12/09/1920 – Pipeman Edwin Falch
03/21/1921 – Pipeman Wenzel Wasicek
01/21/1922 – Private Frank Hart
05/24/1922 – Private Mathias Wambach
05/24/1922 – Private Anton Krafcheck
05/24/1922 – Private Paul Winsauer
04/21/1926 – Lieutenant Thomas Hanlon
04/21/1926 – Private Stanley Strzeminski
04/22/1926 – Private Ambrose Skorzewski
04/22/1926 – Private Alvin Schultz
04/25/1926 – Captain John Skorzewski
05/01/1926 – Private George Liefert
12/28/1926 – Captain Joseph Prier
01/25/1929 – Private Herman Priebe
05/17/1929 – Private Joseph Krimmer
06/13/1929 – Private George Wollin
12/02/1930 – Private Joseph Hintz
12/02/1930 – Private Gerald O'Brien
03/14/1931 – Captain David Rosen
02/04/1933 – Private Elmer Ryback
03/19/1933 – District Chief Alfred Voelz
03/01/1935 – Private Joseph Toman
02/04/1937 – District Chief Thomas Bresnahan
08/15/1940 – Private Thomas Murphy
10/07/1941 – Private Alvin Stiller
02/13/1943 – Lieutenant Michael Thiesenheusen
10/10/1943 – Private Albert Dessecker
10/10/1943 – Private Gordon Fischbauer
04/10/1945 – Private Raymond Zepf
10/20/1946 – Private John Collins
03/19/1948 – Private Paul Kojis
09/26/1948 – Superintendent John Cwiklinski
11/10/1948 – Private Ray Laude
10/09/1950 – Fireman Walter Pufahl
01/03/1953 – Fireman Robert Skalla
11/07/1953 – Fireman Ray Kleiner
11/28/1953 – Fireman Peter Forecki
12/12/1953 – Fire Equipment Mechanic Walter Graf
02/14/1955 – Marine Engineer Rudolph Tesnow
04/03/1957 – Motor Pump Operator Arthur Edler
12/29/1957 – Lieutenant John Sheahan
12/09/1960 – Battalion Chief Leonard Heun
11/10/1961 – Fireman Adam Muenzenberger
02/04/1962 – Motor Pump Operator Joseph Reghanti
10/28/1962 – Lieutenant Robert Uecke
03/28/1963 – Lieutenant John Zabkowicz
08/20/1966 – Firefighter William Oeckel
09/28/1966 – Firefighter Emerson Bullis
03/03/1968 – Firefighter Chester Orlowski
01/06/1971 – Firefighter Stanley Nord
01/18/1971 – Firefighter Ralph Helminiak
03/10/1972 – Fire Equipment Mechanic Lawrence Hoffman
07/09/1974 – Firefighter Carlo Legnini
10/13/1976 – Captain August Gutzmann
11/17/1977 – Firefighter Walter Nell
09/14/1979 – Motor Pump Operator John Hoppa
04/18/1980 – Battalion Chief Fred Bolzinger
09/29/1983 – Captain Richard Friedrich
09/01/1992 – Fire Recruit Heather Dzioba
12/24/1994 – Firefighter Lionel Hoffer
01/13/1996 – Firefighter William Zokan
10/09/2004 – Heavy Equipment Operator Thomas Anshus
10/05/2012 – Heavy Equipment Operator Joseph Floryance
12/06/2017 – Lieutenant Kristin Ciganek
03/06/2019 – Fire Paramedic Field Lieutenant Odell Minor
02/01/2020 – Firefighter Darrin Jones