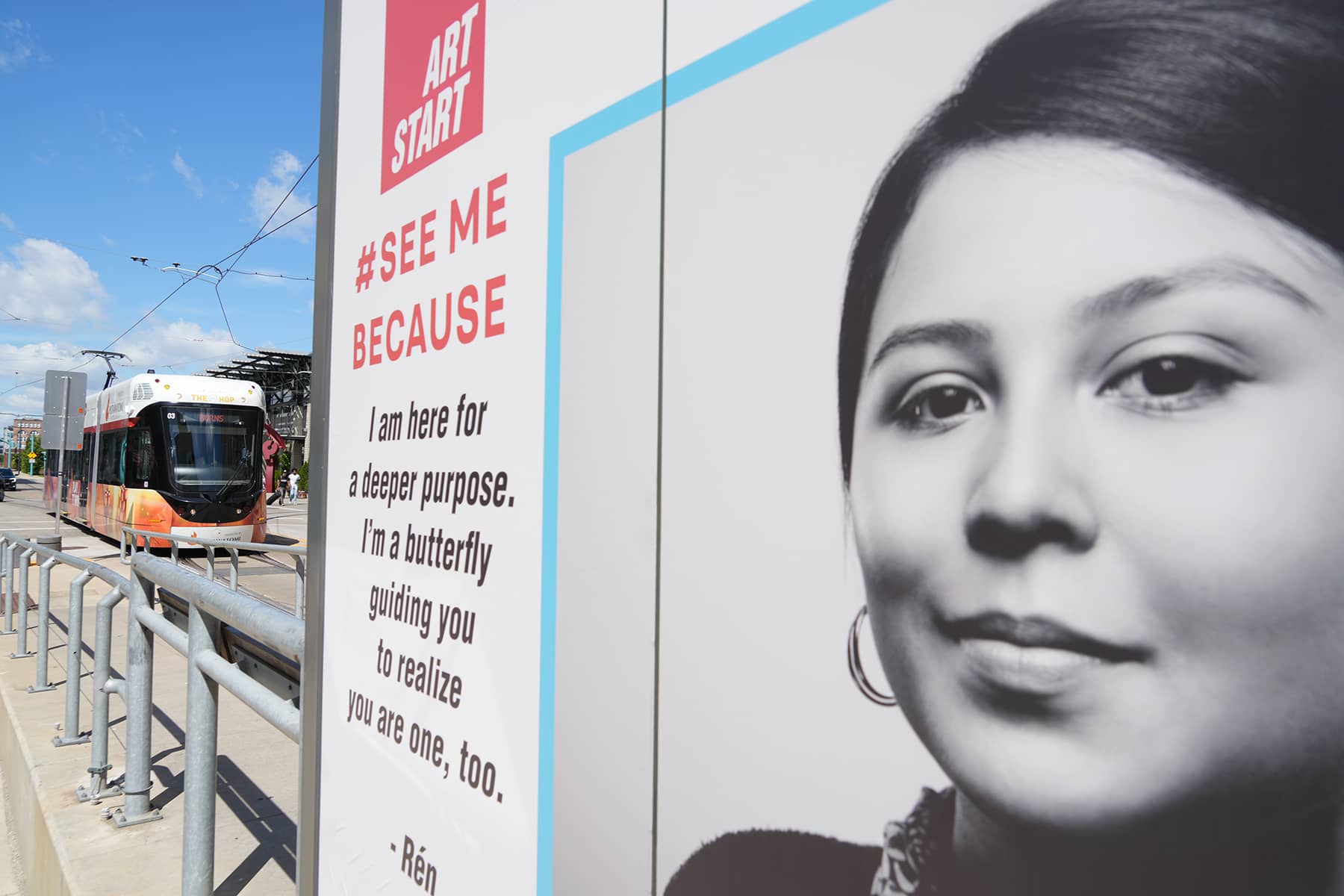 The Hop, presented by Potawatomi Hotel & Casino, unveiled a new partnership with Milwaukee Downtown BID #21 and nonprofit Art Start to bring youth-driven public art installations to Milwaukee on July 28.
Art Start's "See Me Because" initiative is a public transit art campaign providing historically marginalized youth from both Milwaukee and New York City with a large-scale platform sparking dialogue around youth identities and self-determination in a public space.
"These young people have voices and achievements that ought to be known, and this is an opportunity to make that happen," said Mayor Cavalier Johnson. "I am pleased we have this new approach to presenting their thoughts and dreams."
During the month of August, seven Hop stations will display a series of black and white photographic portraits of local teens from both cities, accompanied by each individual's personal story as told in their own words.
The effort in Milwaukee is part of the larger "Year of the Youth" campaign unveiled earlier in 2022 by Milwaukee County Executive David Crowley, a collaborative effort between the County, City and civic-minded organizations like Milwaukee Downtown BID #21 to encourage and inspire Milwaukee youth by creating opportunities for mentorship, education, and artistic displays.
"Milwaukee Downtown BID #21 is proud to stand shoulder-to-shoulder with our partners at the County and City to lift up our local youth, who have experienced unprecedented challenges throughout the COVID-19 pandemic," said Beth Weirick, CEO of Milwaukee Downtown BID #21. "When County Executive Crowley proclaimed 2022 as 'The Year of the Youth,' our organization incorporated youth-centric public art projects in our summer programming, including this wonderful campaign."
"See Me Because" is a year-long project and platform for youth to establish their own narratives, explore the complexity of their identities, envision their futures, and express how they want to be seen by the world. Through "See Me Because," youth declare aloud and publicly why they should be seen and why their voice matters and has power.
"Art Start is proud to collaborate with Milwaukee youth, Milwaukee Downtown, and The Hop to build this public platform for the voices and visions of young people in our city," said Johanna De Los Santos, Art Start Executive Director. "Having a safe, creative space to explore one's identity and practice self-determination is critical for all people, especially youth of color in the city of Milwaukee. Most express their desire to transform our world. They need to know we are asking and listening to their courageous replies."
Art Start's "See Me Because" portraits were installed at the following Hop stations:
Historic Third Ward WB – northeast corner of St. Paul Ave. and Water Street
Wisconsin Avenue NB – Milwaukee Street between Wisconsin Ave. and Michigan Street
City Hall NB – Milwaukee Street between Wells Street and Kilbourn Avenue
Cathedral Square EB – Kilbourn Ave between Jefferson St. and Jackson Street
Jackson at Juneau SB – southwest corner of Jackson Street and Juneau Avenue
Ogden/Jackson WB – southwest corner of Jackson Street and Ogden Avenue
Burns Commons – Ogden Avenue between Farwell Avenue and Prospect Avenue
"The Hop is honored to play a role in creating this important platform for Milwaukee youth to pursue their artistic passions and have their voices amplified to our vibrant downtown community," said Jerrel Kruschke, City of Milwaukee Interim Commissioner of Public Works. "We appreciate the work both Art Start and Milwaukee Downtown are doing in support of the 'Year of the Youth' and look forward to our riders being inspired by this project in the month ahead."
Local youth featured as part of the campaign have participated in Art Start workshops, in-depth dialogue sessions, interviews and photoshoots, where they are encouraged to explore personal identity and envision their lives beyond circumstance and stereotype. With support from world-class photographers, retouchers, stylists, and oral historians, those visions come to life through multimedia exhibitions and this public campaign.
In addition to The Hop stations, the "See Me Because" campaign is also being featured on digital boards at three New York MTA subway stations. Art Start is a nationally-recognized organization that uses the creative process and collaborations with the arts and media industries to nurture the voices and minds of historically marginalized youth.