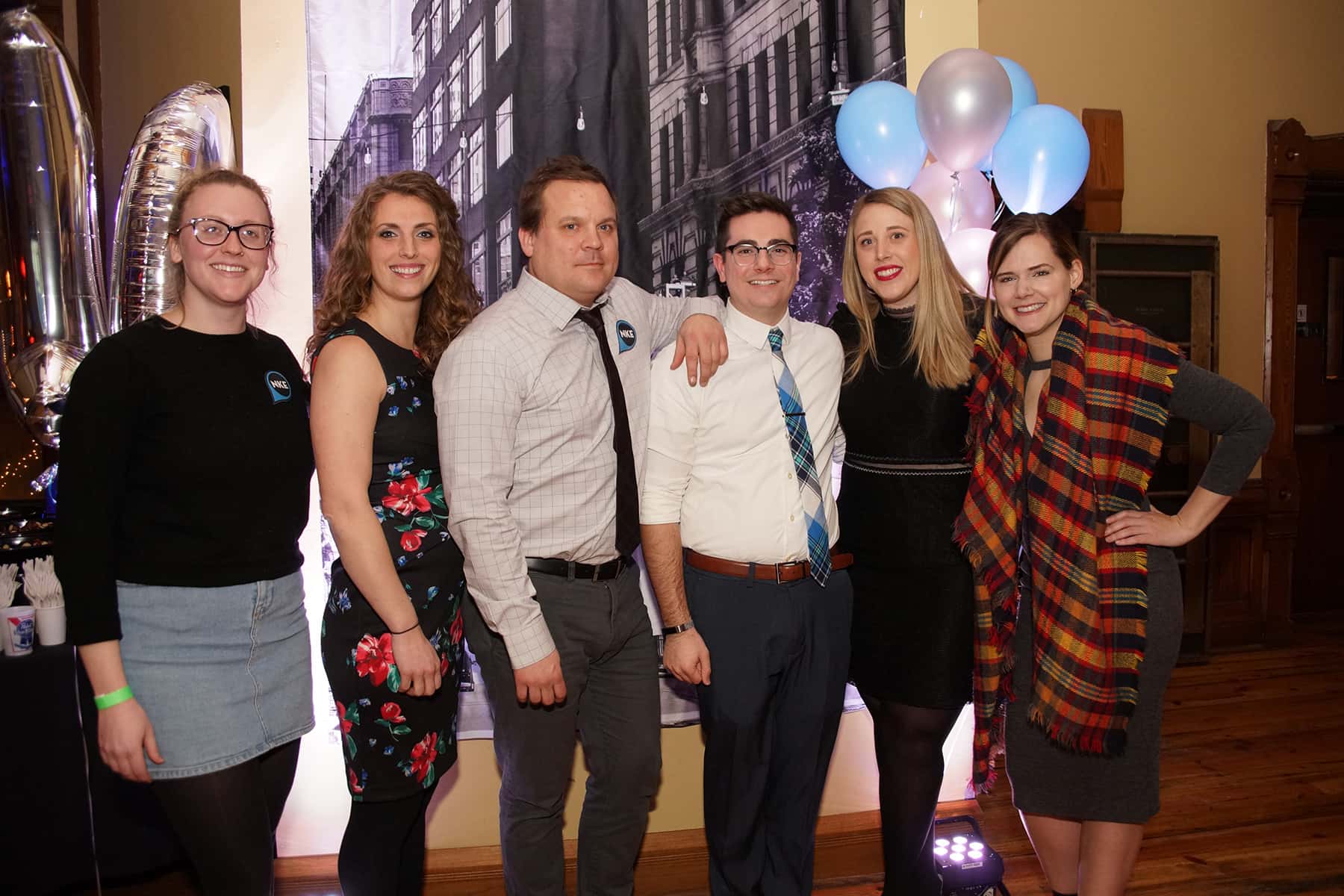 The Best Place at the Historic Pabst Brewery hosted NEWaukee's 10th anniversary celebration on February 8, highlighting the organizations efforts over the years to lower the social barriers in Milwaukee so that residents can build meaningful relationships.
Since February 13, 2009, the social architecture agency has worked to design in-person experiences, with a focus on changing the way people connect in a socially and economically segregated city.
NEWaukee's initiatives have had a profound impact on the local community, from the Night Market along Wisconsin Avenue to YPWeek that has expanded across Wisconsin. Co-founders Angela Damiani and Jeremy Fojut shared their reflections and continued hopes for the future, for the city and their organization to a packed room.
These images feature some of the highlights from the casual evening, and Damiani offer her insight into the growing issue of social isolation that the populations of cities like Milwaukee experience.
I remember driving in the car with my business partner Jeremy Fojut, when a Florence and the Machine song came on the radio: "Happiness, hit her like a train on a track. Coming towards her, stuck still no turning back… The dog days are over." He turned up the volume and said to me, "when we've finally made it – I'm going to sing this song from the top of my lungs."
It was a strange moment for us, primarily because he is notorious for the incessant streaming talk radio in most car rides he takes. But also because I knew in that instant that we were "all in" on this journey together in taking what began as a passion project and turning it into a fully fledged business. There was no turning back.
Every time that song came on the radio that season it was popular in 2010, I would think to myself – I wonder how we'll know if we've made it? The answer always felt elusive. Like if we could only land the next contract, if the crowds were only a bit bigger at the next event, if we only had an additional staff person…on and on the finish line always seemed to evade me.
Everyone experiences those doubts with a startup. You have a glimmer of an idea, but when functionalizing the concept meets developing a viable business model, it can get dicey. Especially for us. After a year and a half of throwing parties for our friends, we had a free subscription to our newsletter and a bunch of free events. Thinking about our decision to pursue this venture given the information we had at the time, now gives me anxiety. But we had our youth and naive recklessness on our sides.
We forged ahead: discovering that through all of the crazy experiences we hosted, we were studying what made people move, how to get them to take action, and how to shift the narrative about a place.
For the collective method we had been honing, we adopted the term: social architecture. The conscious design of an environment that encourages a desired range of social behaviors leading toward a goal. This transformative practice requires sincere thoughtfulness about inclusion and deep investment in network development prior to the production of a new event or program. The result of this style of work allows for meaningful buy-in from key constituents as well as high event attendance with some of most diverse, in terms of the subject matter, and inclusive, in terms of the participants, programming that the city of Milwaukee has to offer.
Social architecture changes how people interact with cities and companies alike. Nowadays both municipalities and corporations from across the country hire us to teach them what we have learned in the last decade.
A CONNECTION CRISIS
Overtime, while we experimented with in-person experiences, the world shifted around us. Technology accelerated and changed the way social systems, the economy and communication all function in our contemporary world. In a time of infinite possibilities to connect to one another, we as a society are getting lonelier. There are approximately 212 social media platforms on the market designed to bring people closer, but we are actually doing the opposite. People have hundreds – if not thousands – of social media connections. But in stark contrast, since 1985, the number of people that report having no close friends has increased from 36% to 54% in 2016. According to a recent study by Cigna Health, nearly 50% of Americans report sometimes or always feeling alone. One in four Americans rarely or never feel as though there are people who understand them. Generation Z, arguable the most technologically savvy and connected generation, is the loneliest and claims to be in worse health than people older than them.
Likes and comments don't translate to meaningful, authentic engagement. Most often, the connections are used for the purpose of self-promotion rather than community building. While there are technology solutions like MeetUp.com that aim to solve this challenge, or perhaps increase the convenience of our lives through a one-click approach to purchasing and home delivery, they currently contribute to the problem. Research shows that millennials are the generation most likely to stay put rather than to leave their home to socialize. Our society expects more from technology and less from one another – a reality that chips away at the fundamental human need for social interaction and leads to all sorts of psychological downward spirals.
Social isolation doesn't discriminate age, gender, race, or socioeconomic background. If people do not have the ability to connect socially, they are so ravenous for their social neurochemistry to be rebalanced, they are likely to seek relief from anywhere. Social isolation contributes to depression, increased suicide, self medication, and drug abuse as well as the divisiveness we see in today's political landscape. Today one in six Americans take antidepressants – three times more than in 1996. Lonely people are 50% more likely to die prematurely than those with healthy social relationships. In fact, researchers have found that loneliness is just as lethal as smoking 15 cigarettes per day. Loneliness leads to poorer physical and mental health, which in turn has an impact on our communities.
While our social lives shift, so have our workplaces. Since the great recession, remote work is on the rise, productivity gurus tell us to take less meetings, and technologies are leading us away from in-person contact. Whether from working long hours or because of a lengthy commute and lack of funds, making connections with others is more challenging. The future was promised to be more connected, and it has let us down in so many ways.
A recent New York Times op-ed claimed poignantly, "…one reason is the changing nature of work. Work is one of the key sources of friendship and community. Think of your own relationships; surely many of your closest friendships — perhaps even your relationship with your spouse — started in the workplace. Yet the reality of the workplace is rapidly attenuating, as people hop from job to job, and from city to city, as steady work becomes harder to find and the "gig" economy grows. Too many Americans don't have a place they think of as home — a "thick" community in which people know and look out for one another and invest in relationships that are not transient." With the changing dynamics of our current economy, most people spend their lives working jobs they do not like and lack opportunities for unstructured sociability.
The Point: People are isolated and there is a connection crisis brewing that affects our society, communities, and companies alike.
THE NEXT ITERATION
For a decade NEWaukee's mission has been to change the way people connect. To be a Beacon of Belonging™ for those in transition and a source of invitation for a city to reimagine itself in a post-industrial era. Through thousands of events and programs, NEWaukee has connected people to place. Why? Because through meaningful invitation and thoughtful execution of unique experiences, people find things: a career, an opportunity, a relationship, a friend, a cause, a purpose, or a passion. Now more than ever, people need a thoughtful invitation to get off line and meet one another in person.
In our modern era that lacks the social constructs of the past, our place of work is still a daily source of social outlet. It is therefore incumbent on our employers to facilitate how people connect. This is the elusive secret to talent attraction and retention. It has nothing to do with a marketing campaign or cash incentive to move somewhere – it is the ability to ensure people feel like they belong. For most companies, what we are describing is a foreign language. This is how NEWaukee's expertise can help companies small and large – to translate, relate, and apply the theory of social architecture to the engagement issues at hand.
Social architecture is a strong antidote to social isolation and its downstream effects. When I think about the years of schlepping and discovery we've been through, I wish I could say that this is where we were headed all along, or that this was the plan we had set out to unfold. But the fact that we are culminating a decade of research and development in the practice of social architecture at the precise moment this public health crisis is on the rise – is nothing more than pure serendipity and frankly, motivation to carry on. We are now poised to take on our biggest, boldest challenges yet as we enter the second decade of our existence. We are ready to impart radical change that reshapes not only Milwaukee, but all of the lives of the people who come in contact with us in this next chapter.
That song came on the radio the other day and I laughed as I listened to the words. I realized I had been using it as an internal benchmark to gauge whether or not we've made it. Why had I ascribed so much meaning to the lyrics? Most of it doesn't even make any sense, given the context of Jeremy's original call to action. Except then all at once, I realized that original hustle has morphed into something new. Not the angst of establishing ourselves and justifying our value – but the robust, rich work of fulfilling our mission. Changing the way people connect, over and over and over. While there is so much more to do to ensure the vision we have set out is realized, perhaps without my noticing – the dog days are over, the dog days are done.
A sincere thanks to everyone who has helped us get to this point. Cheers to an amazing 10 years – and cheers to the next!
– Angela Damiani, CEO & Co-Founder of NEWaukee