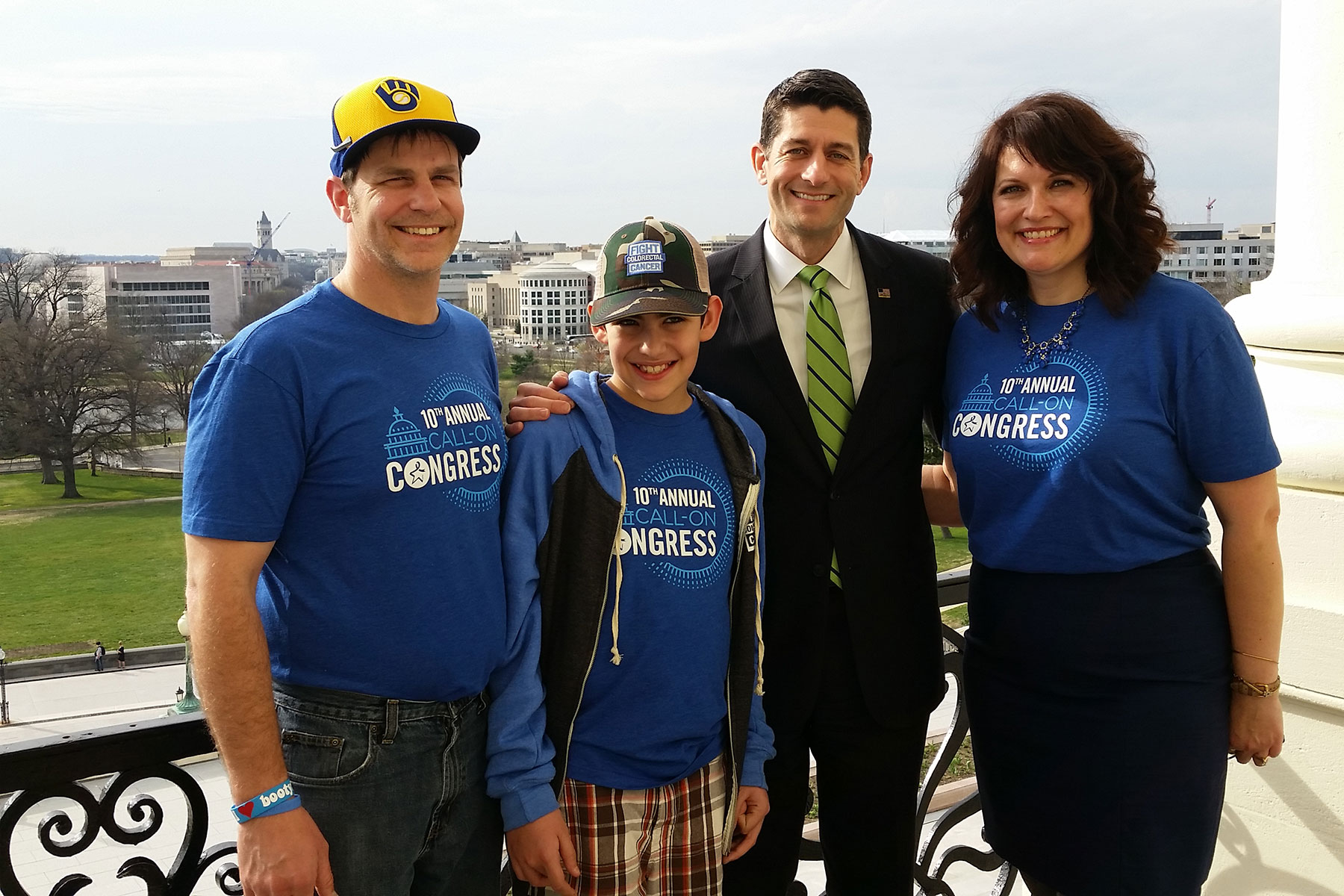 I lived the School House Rock cartoon, "I'm Just a Bill!"
Ten years ago I spent seven hours in surgery to remove stage IV colon cancer, followed by six months of chemotherapy. That decade-long journey brought me from a fight for my life, to standing with the Speaker of the House on his private balcony with my husband and son.
The Pope had stood in that exact spot months before, and a level below is the site of the Presidential Inauguration.
How did I get from Milwaukee to living the School House Rock cartoon on Capitol Hill?
Responsibility.
I feel it is my responsibility to advocate for those who can't.
At a recent event with Wisconsin's Lieutenant Governor Rebecca Kleefisch, she said. "Cancer is the great equalizer."
As a sister colon cancer survivor, we often share our stories of survivorship in order to raise awareness, open minds to health screenings, and raise money for cancer research. Not everyone has the courage to speak candidly about colons, rectums and colonoscopies. I do. I love it!
But never in a million years did I think I would be standing in Washington, DC as an advocate with Fight Colorectal Cancer, and participating in Call-On Congress.
Call-On Congress is a three-day event where colorectal cancer survivors, caregivers, and loved ones from all over America unite to make their voices heard in the nation's capital. Amidst their personal pain and suffering, or that of their loved ones, advocates came to scale Capitol Hill steps and prove that colorectal cancer may have entered their lives, but it has not won the battle.
Fight Colorectal Cancer trained over 100 advocates to attend meetings with their state's elected officials to share their stories, ask them to support H.R. 1220 / S. 624 (Removing Barriers to Colorectal Cancer Screening Act), and increase research funding.
Along with my husband and 11 year old son, we were joined by about two dozen other children, Junior Advocates who learned first hand how a Bill becomes a law.
It was an exhilarating and exhausting three days. Our brains were filled with the connections between advocacy and research, how Congress works, and navigating the Metro transit system. We also observed the influential effects our stories had on members of Congress in their decision making, and learned how the methods of advocacy have evolved over the last decade.
Members of the Fight CRC Congressional Advisory Committee and guests joined us at the Hill briefing to address the impact of colorectal cancer, and the need to increase screening and medical research. Celebrities Meghan King Edmonds and Heather Dubrow, from BRAVO's "The Real Housewives of Orange County" and country music singer-songwriter Craig Campbell also met with members to share their family stories of colorectal cancer.
After a full day of hash-tags (#ConC2016, @FightCRC and #StrongArmSelfie), running from office to office, speaking with Wisconsin representatives, several security searches, a surprise nomination of new a Supreme Court Justice, and private tours of the Capitol tunnels, we ended our afternoon with Wisconsin native and Speaker of the House, Paul Ryan. We chatted with him and his incredible team on the Speaker's balcony.
We finished the evening with a formal awards dinner and a celebration of the 10th Anniversary of Call-On Congress. Our group was treated to a private concert from Craig Campbell and a delicious cake provided by TLC's Cake Boss, Carlo's Bake Shop of New Jersey.
We went home full of pride that we took a trip to DC to make a difference in the fight against colorectal cancer. We made a hundred new friends and family memories we will never forget.
Life is a journey, not a destination. I want to end today knowing we are one step closer to a cure.
Kelly Kuster is celebrating her 10th year cancer free in December 2016. She was diagnosed in 2006, at 36 years old with stage IV colon cancer. Kelly says her husband's research and selfless care are the big reasons she is a survivor. She donates her volunteer time raising awareness with her very candid story to the Mary Kay Ash Foundation, Get Your Rear In Gear and Fight Colorectal Cancer. She hopes her transparency will help others to get screened and prevent colorectal cancer.