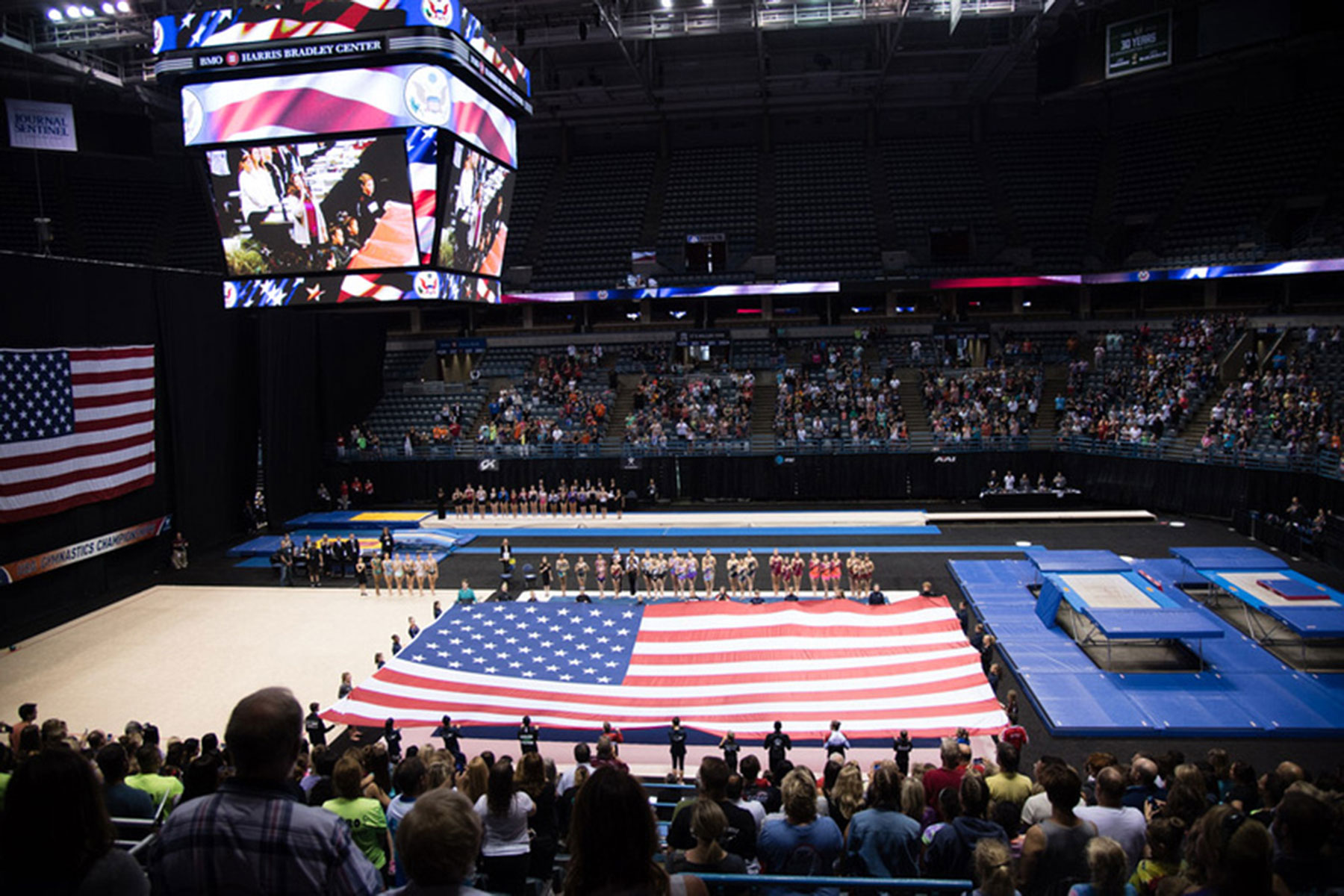 Sports Destination Management, the sports tourism publication with the largest circulation of sports event planners and tournament directors, has awarded the 2017 USA Gymnastics Championships, in partnership with VISIT Milwaukee, as one of the 2017 Champions of Economic Impact in Sports Tourism.
Held June 26-July 3, 2017, the prestigious USA Gymnastics Championships involved events at both the Wisconsin Center and the BMO Harris Bradley Center. The event attracted more than 2,000 young athletes from around the country accompanied by their families, resulting in 4,345 hotel room nights and 4,500 total attendees.
Organizers credit the success of the event to the strong partnership between VISIT Milwaukee, USA Gymnastics, and the two venues. The event brought an estimated economic impact of $5.4 million to the local economy.
"This award reflects a banner year for sports tourism in Milwaukee in 2017, with the USA Gymnastics Championships joining the U.S. Open and NCAA DI First/Second Rounds in scoring big for economic impact to the region," said Marissa Werner, senior sports and entertainment sales manager at VISIT Milwaukee. "And the action continues in January when the nation's top speed skaters come to The Pettit National Ice Center for the Olympic Long Track Trials."
This year's Sports Destination Management winners across the country are responsible for contributing more than $400 million to the national economy over the past year.
To boost local economies, municipalities that once may have wanted a minor league team to call their city home are now turning to sports tourism, and particularly to youth sports. One reason is that, rather than simply bringing in a fan of a minor-league team for a night, a youth sports event brings in parents, siblings, grandparents and friends for a number of nights.
Sports Destination Management is written for the largest audience of sports event managers and tournament directors in the sports tourism market and maintains a focus on the important issues surrounding event location decisions and event management.