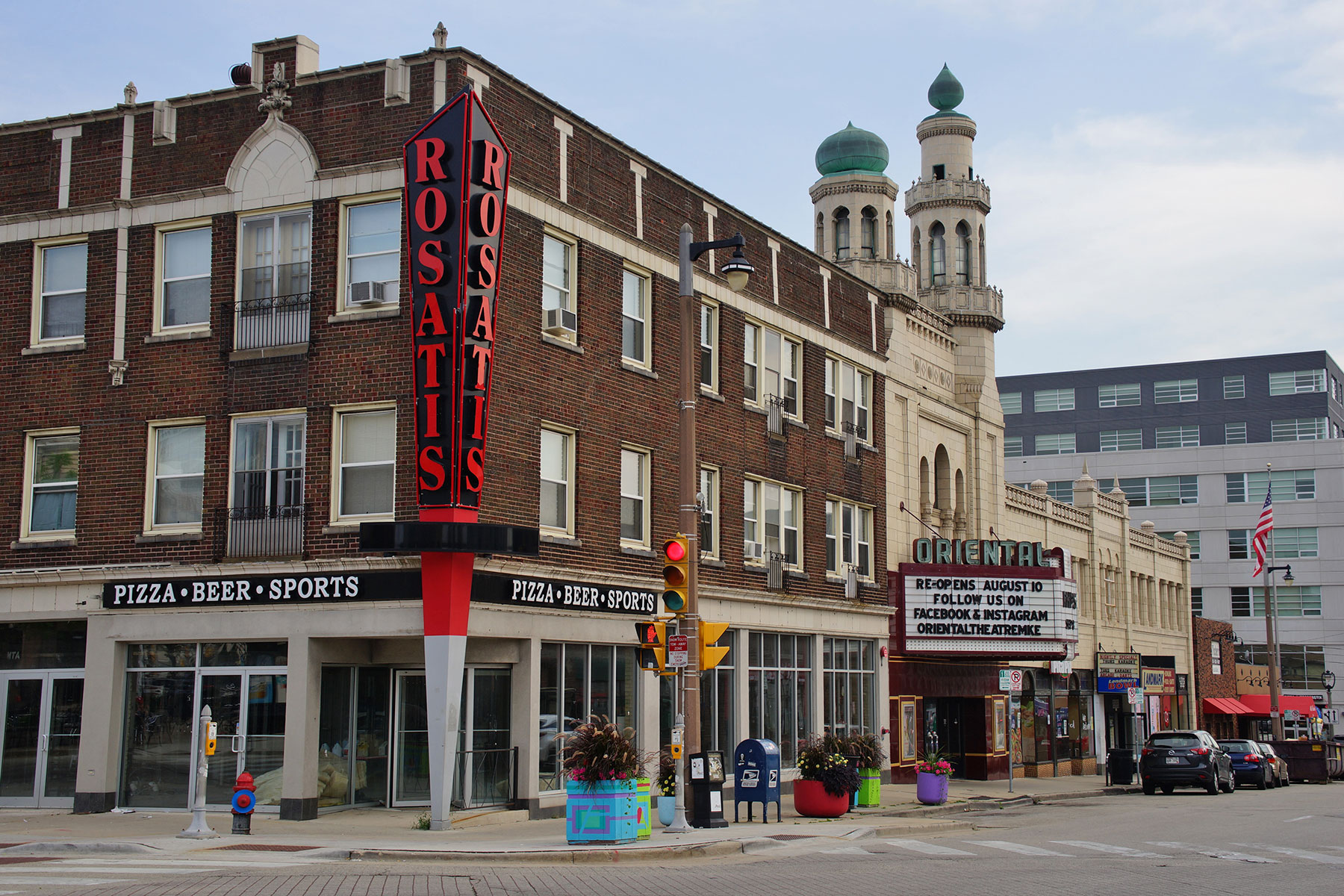 Milwaukee Film revealed the complete Spotlight Presentations lineup, including Opening Night, Centerpiece, and Closing Night films. Winner of the Festival Favorite audience award at the 2018 Sundance Film Festival, "Science Fair," directed by Milwaukee native Cristina Costantini, will be opening the festival.
Molly Shannon stars as Emily Dickinson in this year's Centerpiece film, Wild Nights with Emily, a comedy-drama exploring the rumored lifetime romance between the famed poet and her sister-in-law. Local filmmaker Drew Britton's feature that was filmed in Door County, Back at the Staircase, will be the Closing Night film after having premiered earlier this year at the 2018 Slamdance Film Festival.
Filmmakers are scheduled to be in attendance at Opening Night, Centerpiece, and Closing Night films. Local filmmaker Chip Duncan's world premiere of The First Patient was previously announced.
"I am immensely proud of this year's festival lineup. The Spotlight Presentations program is full of rich, important, and beautiful films that are sure to resonate with audiences and spark discussions to last far beyond the cinema screening," said Jonathan Jackson, Milwaukee Film's CEO and artistic director. "The local ties of our Opening Night and Closing Night films are a testament to the deep talent in Milwaukee's filmmaking community and a signal to the broader industry that Milwaukee is poised to be a leader in film culture and production."
The lineup also includes A Kid Like Jake, starring Claire Danes, Jim Parsons, Octavia Spencer, and Ann Dowd; two-time Oscar-award winner Asghar Farhadi's (A Separation, The Salesman) most recent feature Everybody Knows, starring Penelope Cruz and Javier Bardem; and Oscar-award winning director Pawel Pawlikowski's epic romance, Cold War, for which he took home the Best Director award at the 2018 Festival de Cannes.
Documentaries include the multiple audience award-winning film Pick of the Litter, detailing the rigorous and adorable training of puppies as they become guide dogs; and Freaks and Geeks: The Documentary, which dives into the influence of the beloved, short-lived tv show.
Alloy Orchestra will be returning to the festival to provide a live musical accompaniment to A Page of Madness, the 1924 silent classic once believed to have been lost to time. Also returning is the Talking Heads documentary and annual audience favorite, Stop Making Sense.
OPENING NIGHT FILM
Science Fair
(USA | 2018 | Directors: Cristina Costantini, Darren Foster)
Directors scheduled to attend! Milwaukee native Cristina Costantini's Sundance Festival Favorite award-winning look at the agony and ecstasy of the brilliant young minds who converge on L.A. with dreams of truly life-changing success, is crowd-pleasing in the very best sense of the word, a Spellbound for the STEM set. Each year, over 1,700 students from 75 countries make their way to the International Science and Engineering Fair (ISEF), all competing to see who will win the genuinely life-changing top prize. Far from the homemade volcanoes and 2-liter tornadoes of your youth, the innovative work being created by the nine students we follow here have the potential to change the world. You'll fall in love with each and every one of these remarkable young minds, including Myllena and Gabriel, two kids from an impoverished town in Brazil whose research could lead to a potential cure for the Zika virus; and Robbie, the aimless West Virginian computer whiz who sees an opportunity to gain entry into the best colleges. It all leads to a gripping conclusion as there can only be one student deemed the science fairest of them all.
CENTERPIECE FILM
Wild Nights with Emily
(USA | 2018 | Director: Madeleine Olnek)
Director scheduled to attend! There is a common narrative surrounding the life of poet Emily Dickinson—her life was a tragic one, spent in seclusion as a virginal shut-in, able to communicate her feelings only through her poetry. What the wildly funny Wild Nights With Emily does is no less than detonate your preconceptions and upend this dominant narrative, instead presenting Dickinson (portrayed with great humor and warmth by Molly Shannon) as a brilliantly witty and creatively resolute woman who found love with her sister-in-law, Susan (Susan Ziegler). Also starring MFF alums Brett Gelman and Amy Seimetz, this vivacious and welcome antidote to the stuffy canon of "tortured genius" biopics is "the best lesbian comedy in years" (IndieWire), a joyous reclamation of a historical figure that proves highly stylized, yet deeply reverent. One thing is for certain after seeing this: You'll never look at the carefully calibrated words of Emily Dickinson the same way again.
CLOSING NIGHT FILM
Back at the Staircase
(USA | 2017 | Director: Drew Britton)
Director scheduled to attend! In the midst of preparing for a celebration of charges being dropped against her youngest daughter, family matriarch Barbara suffers a violent tumble that leaves her hospitalized and comatose. So what originally was a coming together under the auspices of celebration instead becomes a tense vigil for the five relatives who connect at the family cabin: sisters Margaret and Trish (Mickey O'Hagan and Jennifer Lafleur), nephews Phillip and Ian (Stephen Plunkett and Logan Lark), and Ian's girlfriend Jody (Leonora Pitts). Not knowing how long they'll be forced to spend in each other's company as they await news, we watch as the screws are slowly and expertly turned on this so-called family, bringing the tension to both unbearable and wholly believable levels in this expertly crafted, locally made chamber piece filled from top to bottom with astonishing performances.
SPOTLIGHT PRESENTATIONS FILMS
A Kid Like Jake
(USA | 2018 | Director: Silas Howard)
Four-year-old Jake is the perfect youngster—bright, precocious, and creative, while just so happening to prefer Disney princesses and skirts to cars and jeans. And while Jake's loving parents (Claire Danes and Jim Parsons) are completely supportive of this, they are thrust into a moral and ethical dilemma as Jake's gender-fluid status could prove key to getting into NYC's hypercompetitive private school system. Also co-starring Octavia Spencer and Ann Dowd, this must-see for 21st century parents is an emotionally resonant and timely drama that asks how early is too early to place labels on a child's identity.
Pick of the Litter
(USA | 2018 | Directors: Dana Nachman, Don Hardy)
Follow a litter of puppies from the moment they're born as they undergo the rigorous two-year training to determine which will become guide dogs. Supported by a community of deeply dedicated individuals committed to training these pups to do amazing, life-changing work, not every dog will make the grade, with only a chosen few becoming pick of the litter. Audience award winner at dozens of fests, this is a moving story of man's best friend on a journey to become man's best protector.
Everybody Knows (Todos lo saben)
(Spain, France, Italy | 2018 | Director: Asghar Farhadi)
Two-time Oscar winner (The Salesman and A Separation) Asghar Farhadi returns to the screen with this searing Spanish-language psychological thriller starring Penélope Cruz, Javier Bardem, and Ricardo Darín. Cruz plays a woman returning to her small hometown in Spain for her sister's wedding, along with her young son and teenage daughter. Amid the joyful reunion reverie, her eldest is abducted. In the tense days that follow, simmering tensions within the family and community at large begin to boil over, surfacing shocking long-buried secrets in yet another masterclass in tension from Farhadi.
The First Patient
(USA | 2018 | Director: Chip Duncan)
World premiere! Director scheduled to attend! Local filmmaker Chip Duncan takes us behind the scenes as first-year medical students are introduced to the first patient they'll ever work on: human cadavers to be dissected during the medical rite of passage that is gross anatomy. Granted unprecedented access to this previously exclusive world, we follow the students, faculty, and body donors on a dramatic and emotional journey into the human body—receiving a true education into their chosen profession as well as a crash course in what it means to be human.
Cold War (Zimna wojna)
(Poland, France, UK | 2018 | Director: Paweł Pawlikowski)
The latest from Oscar-winning director Pawel Pawlikowski (Ida) is an impossible love story set in in the ruins of post-war Poland. From completely different backgrounds and woefully mismatched, Wiktor and Zula nevertheless find themselves inextricably linked to one another. Filming the lifespan of their relationship (from enchanted first meeting to their marriage's aching denouement) in crisp black-and-white with a boxy 4:3 aspect ratio (visually ensuring this couple is never far away from one another), Cold War is a singular expression from a master filmmaker.
Freaks and Geeks: The Documentary
(USA | 2018 | Director: Brent Hodge)
Director scheduled to attend! Though it lasted only a single season, the influence of NBC's dramedy Freaks and Geeks reverberated throughout the entire entertainment industry. Introducing us to an entire constellation of stars (Seth Rogen, Martin Starr, and Busy Philipps to name a few), its balance of comedy and pathos moved beyond the stereotypical portrayal of teenage life, with that nuance tracing a direct line to our current "golden age of television." Covering development to cancellation and everything in between, we promise that this is one high school reunion you won't want to miss.
A Page of Madness (Kurutta ippêji)
(Japan | 1924 | Director: Teinosuke Kinugasa)
Live accompaniment! Alloy Orchestra returns to the Milwaukee Film Festival with a spooky seasonal treat: the silent classic A Page of Madness. Thought lost for decades, this silent Japanese feature, set in an insane asylum where the janitor finds the line between reality and his nightmares blurring, is the product of an avant-garde art collective. Co-written by a Nobel Prize-winning author, this is an unsettling feature not to be missed, and one that when combined with Alloy Orchestra's inimitable accompaniment will make for an unforgettable event.
Stop Making Sense
(USA | 1984 | Director: Jonathan Demme)
Listen, you know the drill by this point: Jonathan Demme's concert film (generally regarded as the best in cinema history) covering Talking Heads at the height of their performative powers is a Milwaukee Film Festival tradition—a raucous party whose energy spills from the screen into the aisles, inevitably becoming a massive annual dance party. If you have yet to treat yourself to this joyous experience, this must be the place…where you immediately set down your program book and pick up your tickets.