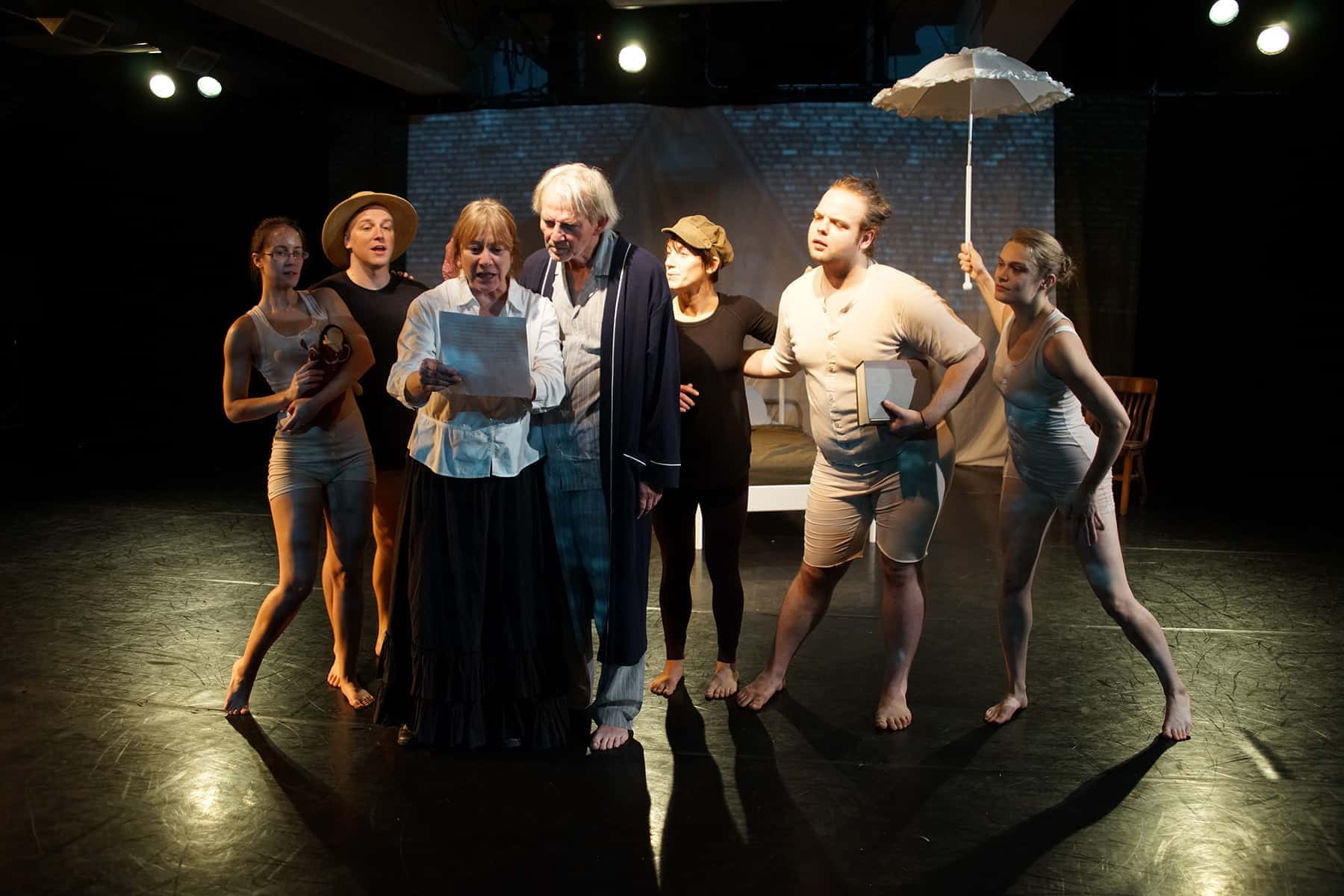 The Danceworks Performance Company kicks off its 2018-19 season with a collaboration between theatre, film, and dance in the original production of "Against the Grain: The Life & Times of Levi Fisher Ames," from October 20 to 21 and 25 to 28.
Levi Fisher Ames was a self-taught woodcarver, and a Civil War veteran who carved a menagerie of real and mythical animals and took his show on the road. This interdisciplinary piece imagines Levi on his final day, his memories, family, showmanship, and his fantastical relationship with the creatures he created.
"Against the Grain is a dance and theatre piece that shifts fluidly from scenes with dialogue, to dance, to various combinations of the two," said writer and director Edward Morgan. "Comic and tragic, poetic and bizarre, 'Against the Grain' explores a veteran's return home, the birth of an artist, mortality, and old-time Wisconsin entertainment."
The 90 show will be presented at the Danceworks Studio Theatre, 1661 N. Water Street in Milwaukee, with an abbreviated run at the John Michael Kohler Arts Center, 608 New York Avenue, in Sheboygan. Post-show talkbacks with the cast and creators will be held after some of the shows.
In collaboration with Theatre MXT – comprised of Morgan, writer and actor John Kishline and actress Deborah Clifton – Danceworks Artistic Director Dani Kuepper has choreographed movement that helps tell the story and also interacts with filmmaker Kym McDaniel's video and photography.
Morgan has been dreaming of creating this piece for almost 12 years, since first seeing John Michael Kohler Arts Center's collection of Levi Fisher Ames' woodcarving work, becoming fascinated with both his work and life story.
"It all comes together as a unique exploration of Ames' remarkable life," said Morgan. "It's a really rare collaboration, because it's not just a play with some dances or a dance concert with some theatrical elements or text. This is a complete dramatic arc, blending the two art forms to take us on a journey that neither medium could create on its own."
Levi Fisher Ames was a storyteller. He was also husband and father, musician, soldier, carpenter, and woodcarver, yet his gift for the tale infused all aspects of his life. The body of sculptures he left – over six hundred hand-carved domestic, wild, and mythical animals and characters from legend and folklore – stands as a tribute to someone who loved to talk, teach, and above all else, entertain.
"Born in 1843 in Pennsylvania, Ames later moved to Monroe, Wisconsin, where he died at the age of 80 in 1923. He joined the army of the North and served in the Civil War from 1861 to 1865. Shortly thereafter, Ames gave up his trade as a carpenter when a war injury prohibited him from continuing with any heavy work. Instead, he turned to making musical instruments for a living. He also took up carving, creating a vast wooden menagerie of animals from and around the world, as well as bizarre or heroic characters. In Monroe, he became well known as the creator of the "L.F. Ames Museum of Art" which was also known as "The Grand Museum of Art and Natural History, Whittled Out of Wood." – Levi Fisher Ames: Menagerie, John Michael Kohler Arts Center
Levi Fisher Ames enlisted on November 21, 1862 and was mustered out of service on July 8, 1865. He was assigned to the 31st Wisconsin Infantry, Company G from Racine. His regiment guarded bridges for the Nashville & Chattanooga Railroad, built fortifications, participated in the Campaign of the Carolinas, advanced on Raleigh, saw operations in the Occupation of Atlanta and Siege of Savannah, and witnessed the Surrender of Johnston and his army before a final march to Washington, D.C., via Richmond. During its service, the regiment lost a total of 112 men, 23 Enlisted killed and mortally wounded and 3 Officers, and 86 Enlisted men by disease.
The story unfolds in a room in the Madison Veterans Hospital in 1923, but Levi's memories and fantasies take the audience through his return from the Civil War, his post-war healing, his emergence as an artist, his conflict with his troubled son, his evolution as an entertainer, and finally his fond farewell to his loving wife and his life's work.
The cast of "Against the Grain: The Life & Times of Levi Fisher Ames" features John Kishline as Levi Fisher Ames; Deborah Clifton as his wife, Lucinda; and Kirk Thomsen plays both their son Charles and a male orderly at the hospital. The dancers in various roles include Kuepper, along with Danceworks Performance Company members Liz Licht, Elisabeth Roskopf, Zach Schorsch, Christal Wagner, and Andrew Zanoni.
The Danceworks Performance Company is a dynamic group of dancers and choreographers who are committed to creating and performing contemporary dance that is physical, virtuosic, entertaining, and honest. The company strives to make its work relevant and accessible to a wide range of audience members by regularly performing and teaching workshops, and residencies in diverse communities throughout Southeastern Wisconsin.
These images segments were taken during the private rehearsals at Danceworks, and present a behind-the-scenes look at the creative process involved in bringing Morgan's idea to the stage.