River Rhythms concert schedule announced for summer 2017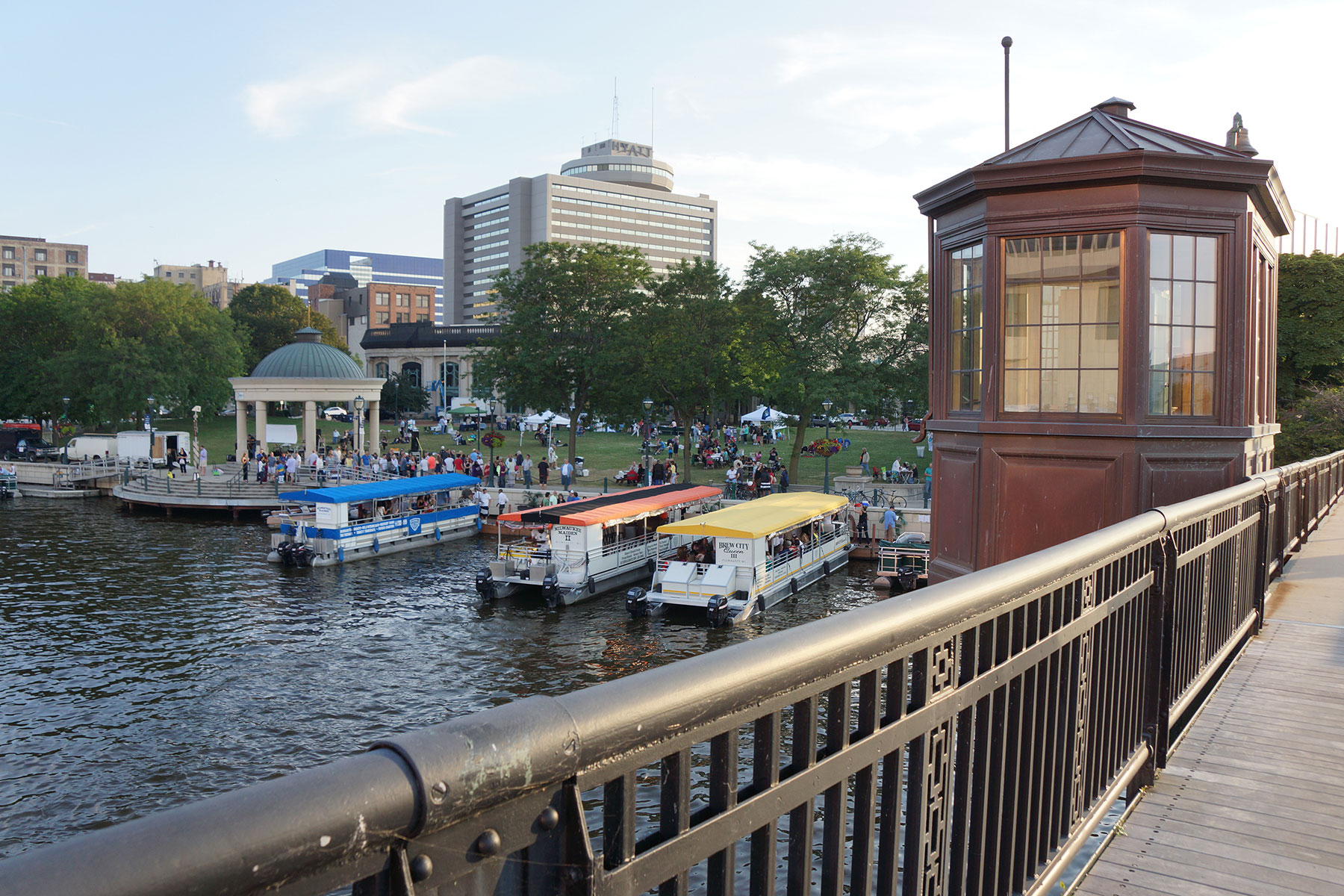 The Westown Association released its musical line-up for the 2017 River Rhythms Season. Jam-packed with great performers like Celtica Pipes Rock, BROTHER and King Solomon, the free concert series begins its season on June 14 with Willy Porter and Carmen Nickerson. Free concerts continue each Wednesday until August 30 from 6:30 p.m. until 9:00 p.m. in Pere Marquette Park, on Old World Third Street between Kilbourn and State Streets.
JUNE 14
In partnership with Summerfest and the Milwaukee County Historical Society
WILLY PORTER & CARMEN NICKERSON
Midwest artists Willy Porter and Carmen Nickerson have joined their unique talents to create the unforgettable sound of Porter Nickerson. Together these highly accomplished artists take audiences on a singular musical ride full of heart, grit, energy, and fun that showcases the best of what live music has to offer.
*Pre-party and happy hour from 4:30 – 7pm at the Milwaukee County Historical Society featuring complimentary admission to their Summerfest 50th Anniversary exhibit, cash bar, Summerfest giveaways and more.
JUNE 21
BROTHER
Fusing signature vocals and guitar with the unique sound of the didgeridoo, the soaring high of the bagpipes, and a tribal percussion, BROTHER, is wholly original.
JUNE 28
REVEREND RAVEN
Bringing crowds to their feet in the Midwest, Reverend Raven and the Chain Smoking Altar Boys play traditional blues, straight up with a big dose of passion, served up with hot harmonica and smooth stinging guitar.
JULY 5
NO CONCERT
JULY 12
CHICKEN WIRE EMPIRE
Chicken Wire Empire has wasted little time establishing themselves as one of the hottest up and coming bands. Their contemporary tones blend with traditional roots to create a Bluegrass style that feels like home.
JULY 19
KING SOLOMON
King Solomon has become one of Milwaukee's most popular reggae groups, known for their soulful vibe and authentic reggae sound.
JULY 26
CHARLES WALKER BAND
Grounded in soul, the Charles Walker Band has refined their sound into Neo-Funk, a fusion of funk infused rhythms with pop melodies.
AUGUST 2
SADDLEBROOK
Saddlebrook, a high-energy country band from Milwaukee, has been bringing their unique version of today's country hits to venues and festivals in the Midwest.
AUGUST 9
DE LA BUENA
This powerful 10-piece group brings a fresh and funky take on Afro-Cuban and Latin Jazz.
AUGUST 16
THRIFTONES
Thriftones folk style music with a generous helping of Americana roots has been winning fans over with eclectic set lists and high energy performances that come to life on the stage.
AUGUST 23
CELTICA PIPES ROCK
Celtica – Pipes Rock combines the traditional sound of Scottish bagpipes with the power of a rock band to create a totally new musical context.
AUGUST 30
5 CARD STUDS
The Five Card Studs return to River Rhythms for a night of fun as they celebrate their 22nd year as "the hardest working band in the Midwest."