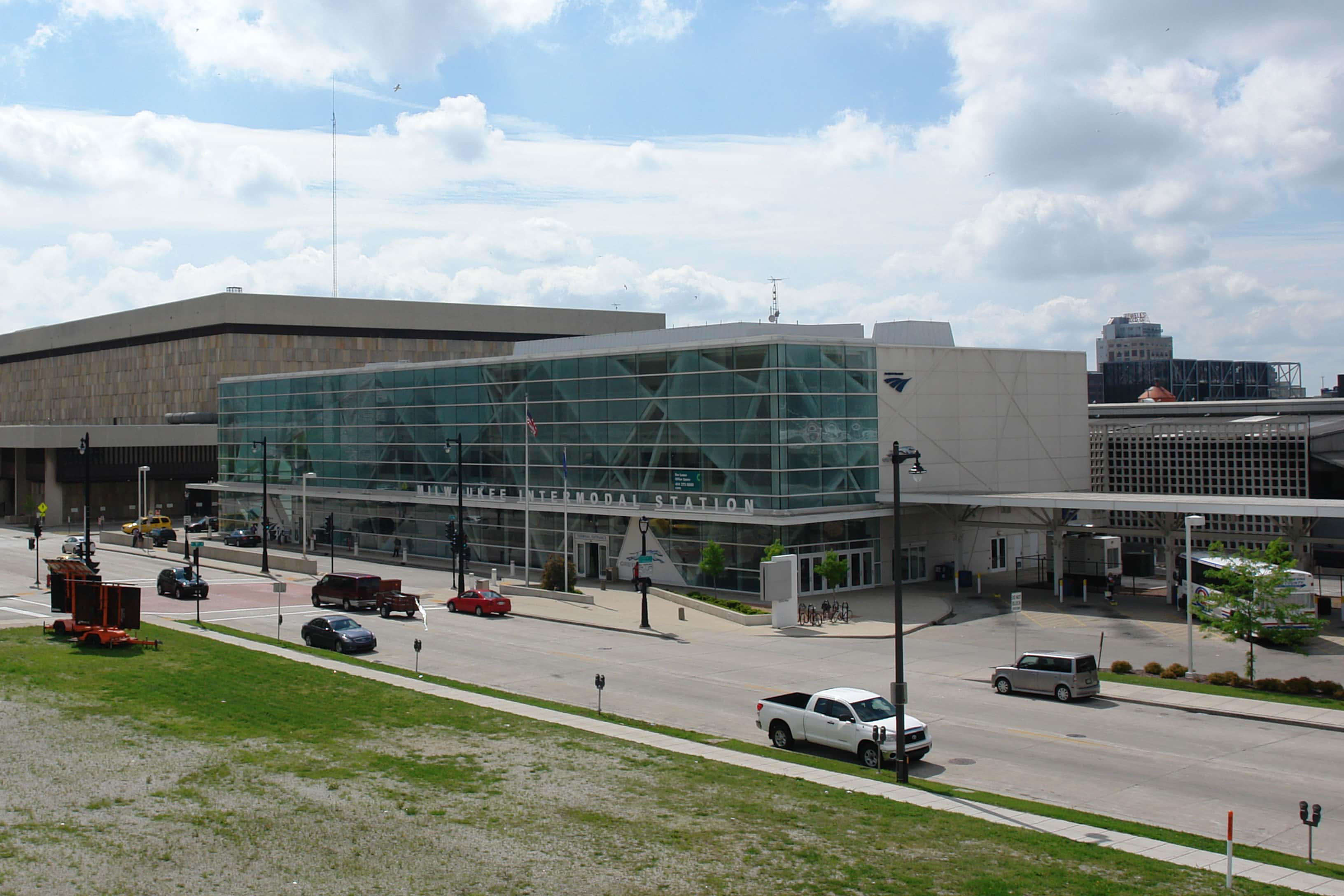 Wisconsin Department of Transportation (WisDOT) Secretary Mark Gottlieb joined federal, state and local officials and partners to celebrate the completion of the $22 million reconstruction of the train passenger concourse at the Milwaukee Intermodal Station (MIS).
The passenger concourse now provides easy access for all and resembles the architectural design of the MIS, which was extensively remodeled in 2007. The passenger concourse is an enclosed area where passengers can board on any of five different tracks.
Construction took approximately 18 months, with final painting being completed when Wisconsin spring temperatures were warm enough. Construction was staged to accommodate at least two tracks remaining in operation daily. Passenger and freight rail services experienced minimal disruption.
MIS train passenger concourse
The new structure spans 121 feet, is 400 feet long, and 56 feet from ground level to top of roof. It includes:
A custom fabricated 3-D tubular truss roof with skylights
A mezzanine, spanning five tracks, and three raised boarding platforms
Stairways
Escalators
Elevators
State-of-the-art hearing technology for the hard of hearing
Ventilation systems
Lighting and signage
A rehabilitated passenger tunnel for emergency egress
The MIS, located at 422 W. St. Paul Avenue, is an important transportation "gateway" to Milwaukee. More than 1.3 million passengers per year use the facility to make connections to Amtrak Hiawatha Service and Empire Builder trains. In addition, passengers may access regional and local bus services such as Greyhound, Badger Bus, MegaBus, Lamers, Van Galder, Jefferson Lines, Indian Trails, and Coach USA, as well as taxis, shared cars and bicycles.
Amtrak services
The Amtrak Hiawatha Service offers seven daily round trips Mondays through Saturdays and six round-trips on Sundays between Milwaukee and Chicago under a sponsorship shared by WisDOT and the Illinois Department of Transportation. With almost 800,000 passengers last year, and 95% on time performance, the Hiawatha Service is the busiest Amtrak corridor outside the east and west coasts.
The Hiawatha Service provides a fast convenient travel option between Milwaukee and Chicago, with downtown to downtown travel times as low as 89 minutes. A Quiet Car®, free cellular-based AmtrakConnect® Wi-Fi and spacious seating with tables and plug-ins are included on all Hiawatha trains.
For the summer months, late night trips are offered on Saturdays with Train 343, departing from Chicago at 11:10 p.m. and Train 344, departing from Milwaukee at 10:40 p.m.
Other recent improvements to the Hiawatha Service include trainside checked bicycles, welcoming of small pets and kids riding free this summer on Fridays, Saturdays and Sundays.
In addition to the Amtrak Hiawatha Service, the Amtrak Empire Builder stops twice daily at MIS. The Empire Builder operates between Chicago and the Pacific Northwest. It serves passengers going to such places such as Glacier National Park, but also provides a well-used regional transportation option between Chicago, Milwaukee, La Crosse and the Twin Cities.