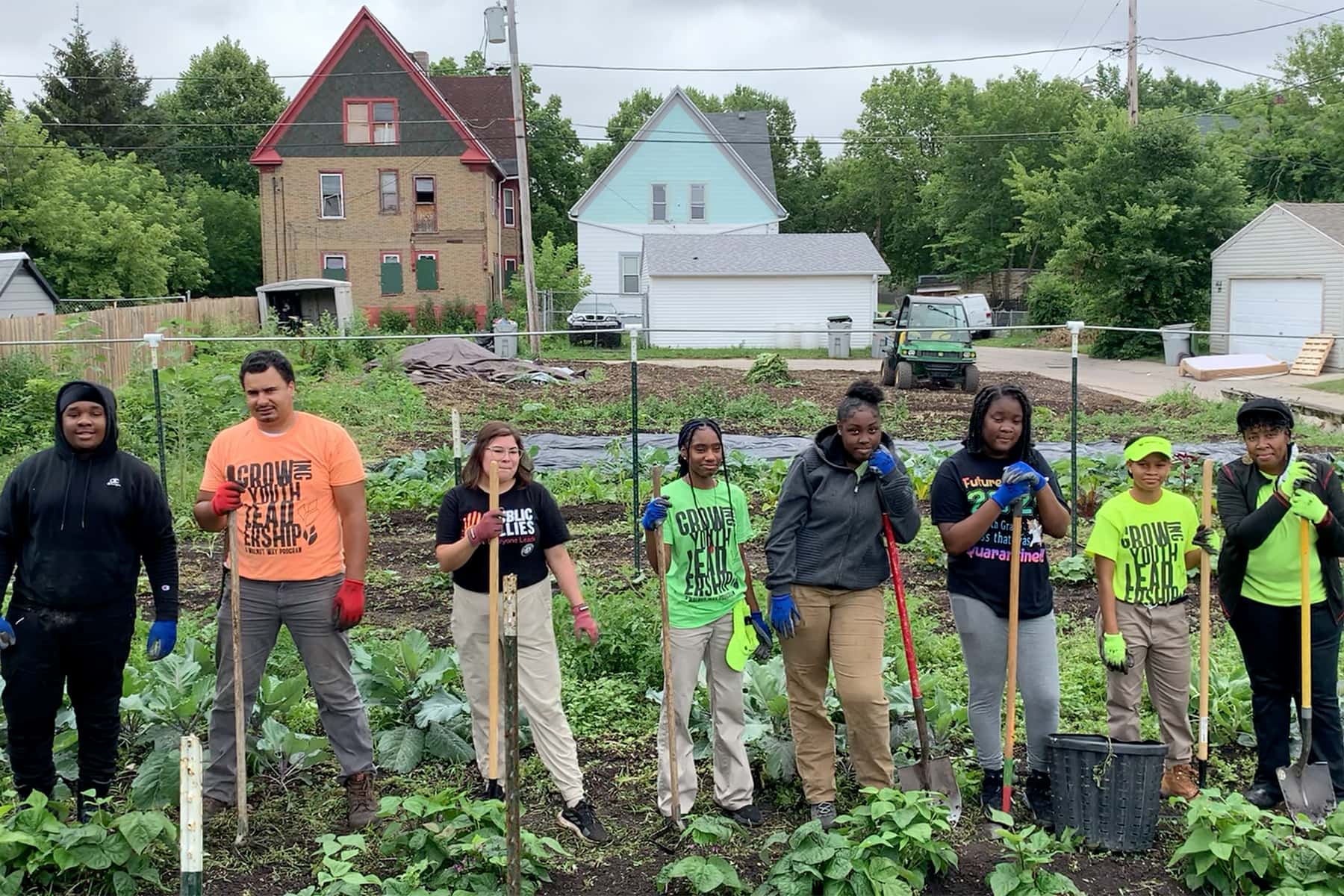 Outpost Natural Foods named the Walnut Way Conservation as its 2021 Sustainable Agriculture Partner on September 1. As part of the partnership, Outpost will feature Walnut Way produce in its stores, support Walnut Way teen interns, and contribute and help raise funds for the Walnut Workshed Project.
Since 2019, Outpost has annually partnered with a deserving local nonprofit that shares Outpost's mission to create a healthy, diverse and sustainable community. The Sustainable Agriculture Partnership is part of the co-op's Outpost Gives Back community giving program.
"Showcasing the efforts of Walnut Way and their Growing Youth Leadership program, and past partners Teens Grow Greens and the Fondy Farm Project, helps recognize the innovation happening here in our community to positively solve our most pressing problems and grow our green leaders of tomorrow," said Kurt Baehmann, Sustainability Manager for Outpost. "After all, as a food retailer, it's in our best interest to ensure a steady supply of good food for our owners and shoppers. Sustainable agriculture helps to secure that future."
Located in Milwaukee's Lindsay Heights neighborhood, a vibrant African-American community on the city's near-Northside, Walnut Way has launched a number of economic and environmental development and re-development efforts, including its robust urban agriculture and Growing Youth Leadership programs.
Growing Youth Leadership (GYL) is Walnut Way's signature summer internship program that engages local teens in intensive urban agriculture education, leadership development, and job training. Teens grow and harvest a wide range of chemical-free vegetables and fruits. From weeding a row of beans on a thriving mini vegetable farm once home to an abandoned lot to picking peaches in an urban orchard, and then making and selling jam at a local farmers market.
"It's about taking care of what you have, taking pride, having ownership and helping each other out," said 18-year-old Kimora Eubanks, one of the program's three 2021 interns.
But one of the issues facing the GYL teens and Walnut Way is a lack of processing and storage space for their produce as the nonprofit's urban agriculture program has outgrown its current facility.
"Our goal is to build the Walnut Workshed, an innovative and sustainable facility to increase our capacity for providing fresh, chemical-free produce to our community while limiting food waste and protecting tools and equipment," said Walnut Way's Marissa Cudworth. "With Outpost and community support, we'll repurpose a used shipping container into a refrigeration and food processing facility in tandem with a two-car garage."
Besides supporting Walnut Way's current and future farming needs, the Walnut Workshed will also provide an enclosed space for GYL interns to gather, have workshops, and work during rainstorms and inclement weather. Walnut Way and Outpost hope to raise $30,000 by year end to build the Walnut Workshed.
Annually, Outpost Gives Back programs donate between $150,000 to $175,000 in goods and funds including direct contributions from Outpost, co-op owners and shoppers at its four Milwaukee-area locations. Outpost focuses its community giving efforts on environmental and agriculture sustainability, cooperative development, hunger relief and volunteerism.