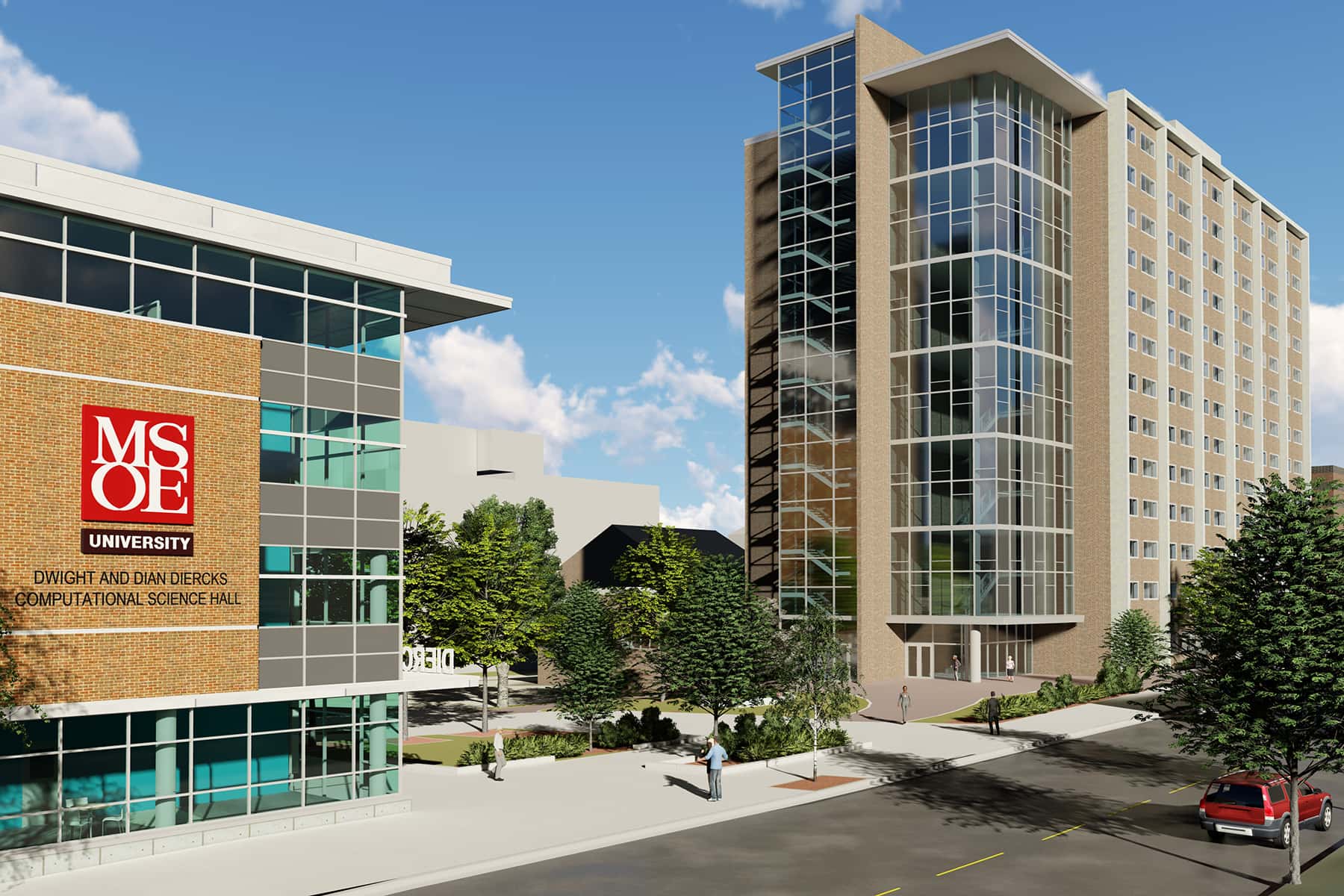 Milwaukee School of Engineering (MSOE) unveiled plans on April 29 to transform the Roy W. Johnson Residence Hall located at 1121 N. Milwaukee Street, into a multi-purpose Living-Learning Community.
The design will incorporate modernized, flexible living and learning spaces arranged to serve the diverse needs of students. and function as an extension of the classroom. The vision for the space is to encourage academic success and give students with similar academic, social and personal interests the opportunity to live together, collaborate, and share experiences.
"This Living-Learning Community will be designed to support MSOE's hands-on, application-oriented approach to learning," said John Walz, President of MSOE. "The reimagined spaces will promote a sense of community in a lively, flexible and safe environment that integrates living and learning in a way that enhances and supports student success."
MSOE received $32 million in philanthropic commitments to support the $37 million renovation. The transformation will include 48 additional rooms and a series of 2-story collaboration hubs constructed in a southern-facing, glass enclosed addition overlooking the downtown Milwaukee skyline.
In addition, the reimagined space will feature dedicated workspaces, classrooms, private study areas, and collaboration hubs to facilitate group work and interdisciplinary projects throughout the building, with new restrooms and a kitchenette on every floor. The ground floor renovations will include new classroom space, collaboration hubs, meeting spaces, and a refreshed dining hall that will provide a completely updated dining experience for students.
Once the work is complete, the building will be renamed the Hermann Viets Memorial Tower in honor of Dr. Hermann Viets, MSOE's fourth president. Building on the momentum created by campus enhancements like Dwight and Dian Diercks Computational Science Hall, German-English Academy Building, Viets Field, Grohmann Museum and Kern Center, the new Hermann Viets Memorial Tower will help MSOE continue to attract high-caliber students from around the globe, improve student satisfaction, and give them a residential experience to match the quality of the education they are receiving.
The university has already secured a significant portion of the funds needed for the transformation and is working with corporate and community partners, alumni, and friends to continue to raise the remaining $5 million.
After final approval is granted from MSOE's Board of Regents, ground breaking is expected to begin in the summer of 2020. Preliminary design work by Uihlein-Wilson / Ramlow-Stein Architects is currently underway, with the goal to have the renovated facility open for the fall 2021 term.