Milwaukee's engineering community honored at STEM Forward gala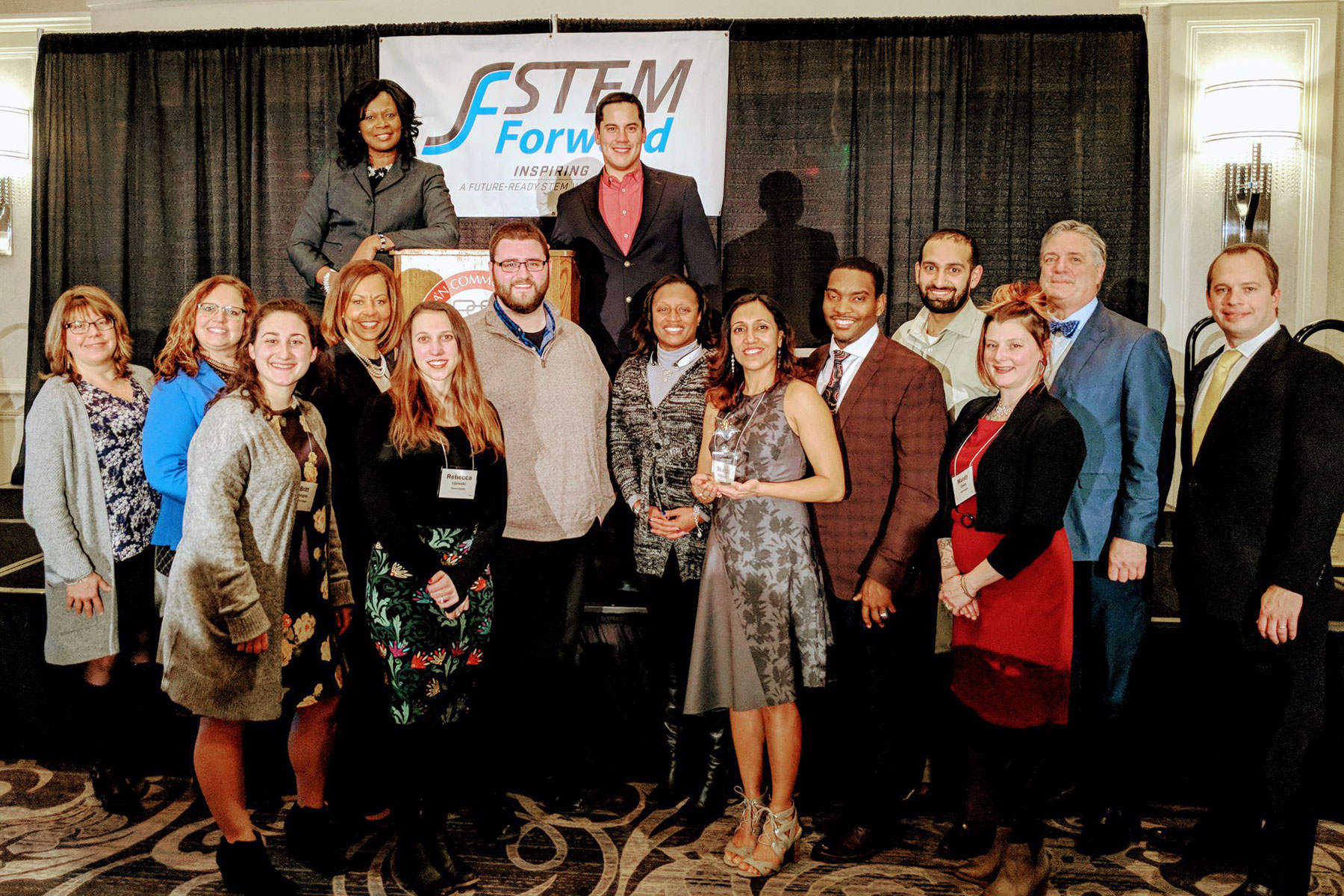 Professionals from leading STEM industries and universities in southeastern Wisconsin celebrated at STEM Forward's 65th Annual Engineers Week Banquet at the Italian Community Center on February 15.
Sujeet Chand, Senior Vice President and Chief Technology Officer of Rockwell Automation, was this year's keynote speaker. Chand discussed how the company has transformed into a technology firm and intellectual capital business, committed to helping customers become more productive, sustainable and competitive through innovative solutions for industrial automation.
STEM Forward named Jeffrey Kautzer of GE Healthcare and UW-Milwaukee (UWM) as 2017 Engineer of the Year, Kenneth Mika of O'Brien & Gere (OBG) as 2017 Young Engineer of the Year, and Direct Supply as the 2018 Spirit of STEM recipient.
"These awards honor the very best engineers in our community, who serve as experts, educators and mentors to others," said Rich Merkel, Executive Director of STEM Forward. "They represent professionals — from both the civil and electrical engineering fields — who are making significant contributions in [science, technology, engineering and math] STEM, and building a pipeline of talent by teaching others and through community outreach.
Kautzer, Chief Electrical Engineer at GEHC and Assistant Adjunct Professor at UWM was named 2017 Engineer of the Year. He has been a prolific inventor for GE, contributing to 29 U.S. patents. He has championed and actively lead GE Healthcare's global Electrical and Electronics Technology Council, providing a conduit and forum for improving electrical engineering across more than 1,000 global engineers through standards, tools, processes, training, reviews and knowledge sharing.
Mika, Operations Manager at OBG, was named 2017 Young Engineer of the Year. He has taken on roles as Scholarship Director, President-Elect, President, and now Past-President on the American Society of Civil Engineering Wisconsin Section Southeast Branch Board as well as Secretary and now Vice President on the Wisconsin Section Board. Mika led the construction quality assurance for an $80 million environmental dredging and habitat restoration project in Indiana.
Kautzer and Mika were honored at the banquet. They were selected from a pool of highly qualified nominees, committed to advancing the engineering profession and inspiring others. Evaluation and selection of the nominees was completed by an independent judging panel.
Direct Supply received the 2018 Spirit of STEM award, presented by We Energies, for making a significant impact in advancing STEM education and local talent development. Each year, the company provides dozens of volunteers for a wide variety of STEM activities, serving almost 500 local K-12 students. Their efforts include developing and facilitating hands-on classroom activities, co-coordinating and presenting at Milwaukee Public Schools' Spring and Fall iFair events, and hosting the annual MPS STEM Partners Spring Showcase.
STEM Forward's Engineer of the Year has been a tradition since the 1950s. The award was given to a remarkable person in the Milwaukee 7 community who has made an extraordinary contribution to the engineering profession. The Young Engineer of the Year recognizes an exemplary engineer under 40. The Spirit of STEM award honors businesses committed to advancing STEM education and building talent in southeastern Wisconsin.
The banquet was held the week before National Engineers Week, a worldwide event that celebrates how engineers make a difference in the world and increases public awareness about the need for engineers.