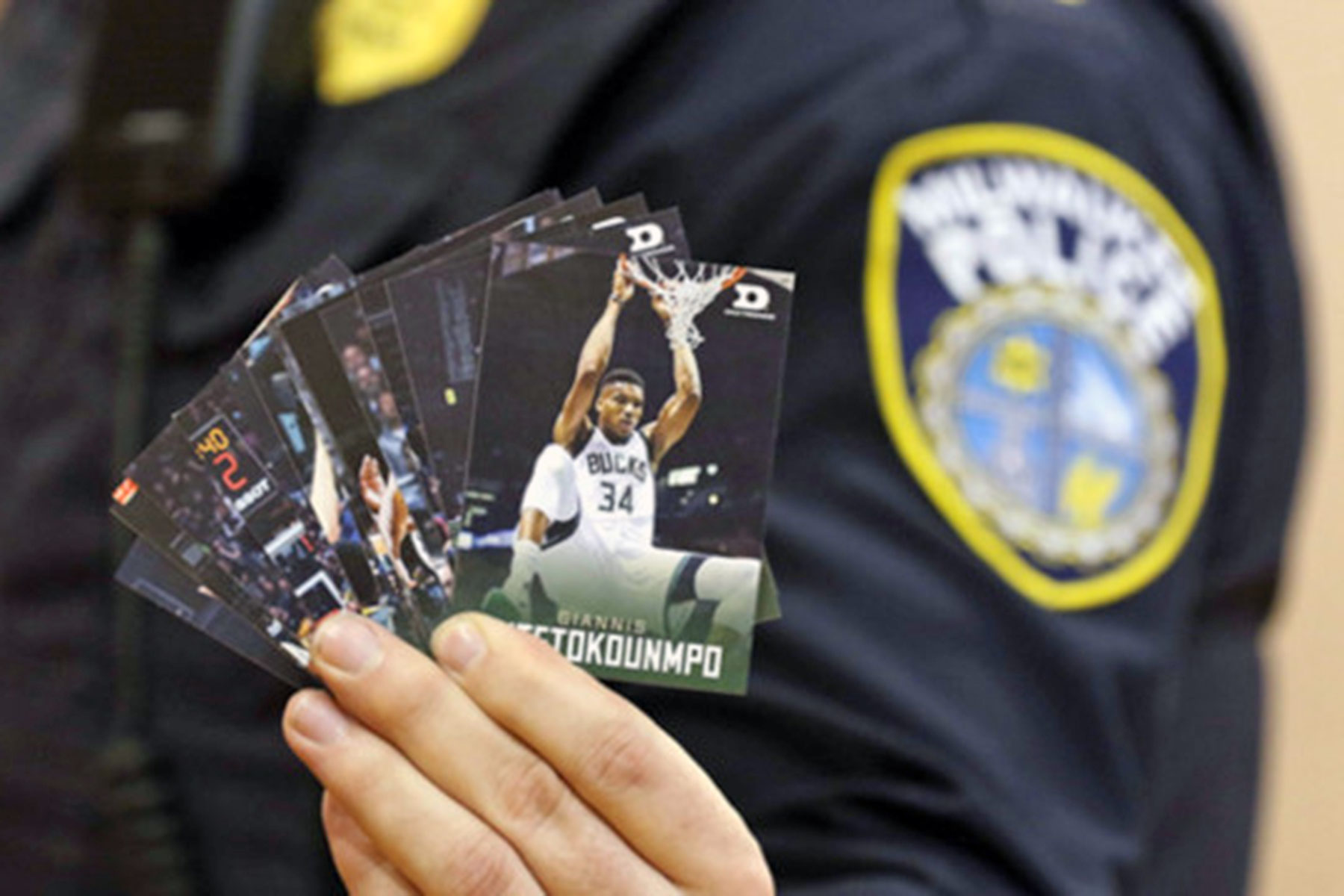 "Having Bucks players cards to distribute will help build and strengthen the Milwaukee PоIіcе Department's community outreach efforts." – Mayor Tom Barrett
As part of the new community partnership with the Milwaukee Bucks, Daktronics will create 10,000 packages of Milwaukee Bucks and Milwaukee PоIіcе Department co-branded Bucks player cards for MPD officers to distribute throughout the community. Each set of Bucks player cards features all 15 members of the Bucks team, and the donation will be used as part of a community outreach program.
"The Milwaukee PоIіcе Department is excited to partner with the Milwaukee Bucks and Daktronics to provide basketball cards to local youth," Milwaukee PоIіcе Chief Edward Flynn said. "This program will help further strengthen MPD's bond with the community and provide an outreach tool to those we serve."
In addition to the player cards, Daktronics will be donating six scoreboards to be installed at schools or community centers throughout the state of Wisconsin. The first board will be installed in the coming weeks at the Riverwest location of the COA Youth & Family Centers. Locations for the remaining five scoreboards will be announced at a later date.
"We are equally committed to ensuring the benefits of this partnership radiate outward throughout the Milwaukee community and across the state," Bucks President Peter Feigin said. "We're so fortunate to have corporate partners who share our vision for building a stronger and more vibrant community."
COA Youth & Family Centers helps Milwaukee children, teens and families reach their greatest potential through a continuum of educational, recreational and social work programs offered through its urban community centers and rural camp facility.
The Bucks recently announced that Daktronics will be outfitting the new arena with a custom-designed 52-display centerhung scoreboard featuring more than 16 million LEDs, while designing additional displays throughout the surrounding development.
"We're happy to use this opportunity to give back to the Milwaukee community through our partnership with the Bucks," said Tony Mulder, Daktronics Regional Manager.
© Photo
Milwaukee PоIіcе Department