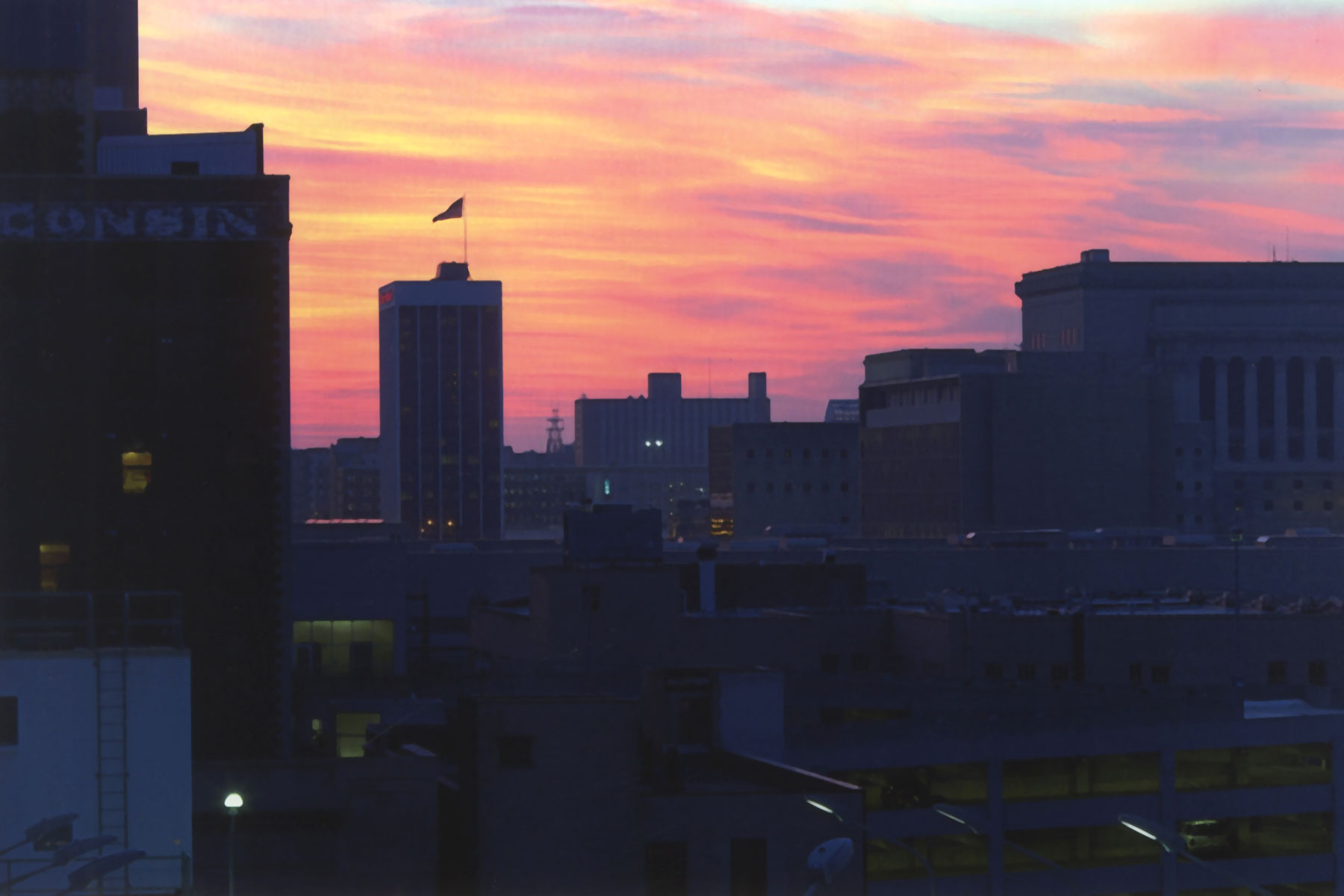 Professor Emeritus of Film at UW-Milwaukee, Dick Blau, donated 200 cultural photographs to the Milwaukee County Historical Society.
The photographs were all captured within sight of his home at 730 N. Plankinton Avenue, just north where it intersects with Wisconsin Avenue.
In 2009, Dick Blau and his partner Jane Gallop left Milwaukee's East Side where they had lived for twenty years and moved downtown, taking up residence just north of the Riverside Theater. The building they moved into was the old Waldheim's Furniture Store, now named Riverfront Lofts and the first condominium conversion downtown.
"It is a spectacular neighborhood, filled with signature buildings such as the Posner, the Germania, Gimbel's, and the Plankinton," said Blau.
Blau's view encompasses a vista from the County Courthouse, City Hall, and the Wells Fargo Building. Living at the epicenter of Milwaukee, where it is at its most urban, Blau began photographing the historic buildings in his neighborhood, and also the random beauties of street life.
Everything from an unlikely tuft of grass to the markings left by workers on the sidewalk became part of his image collection. His only rule was that a photograph had to be made either inside or within sight of 730 N. Plankinton Avenue where he lived.
Mixed into The 730 Project are pictures of parades, marches, and passersby of all kinds, both night and day. The seasonal weather, with street and river river scenes, all make appearances along with small human dramas that that played out at the intersection of Plankinton and Wisconsin, on its crosswalks, bus stops, and bars.
As the number of photographs grew, Blau started displaying them in his building's lobby. For the past seven years, Blau has been exhibiting two large pictures every week. He calls 730 a "semi-public art project."
Part of the fun of the project for Blau was to find the beauty in the obvious details of Milwaukee architecture at the heart of the city, and to appreciate how chance events become art when photographed and framed.
The 730 Project donation to the Milwaukee County Historical Society was meant to be a living archive. After delivering the first two hundred pictures to the museum's Archive, Blau plans to catalog a larger second batch for delivery in the spring.