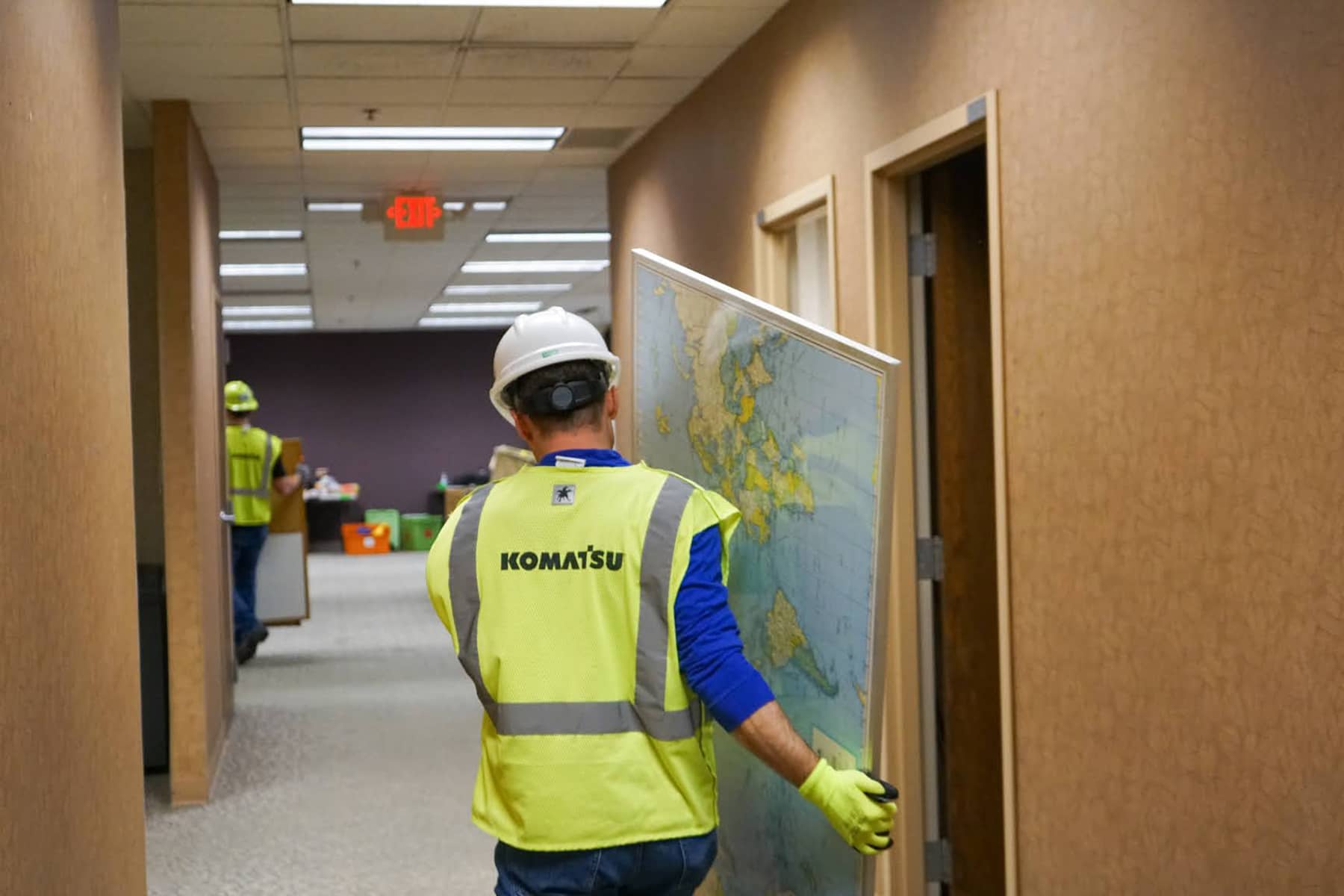 Komatsu has been transitioning core Milwaukee operations from its longtime base on National Avenue in West Milwaukee to its new campus on Greenfield Avenue in the Harbor District. Habitat for Humanity's ReStore partnered to help put reusable items the company no longer needed to good use.
As Komatsu works to complete its transition out of the old location, the company is partnering with Habitat ReStore's Deconstruction Services team to allow salvage of everything from office chairs to break room refrigerators.
Teams of Habitat for Humanity volunteers have been hard at work in the West Milwaukee facility collecting hundreds of items to be resold to the public at Habitat's three Milwaukee County ReStores. Proceeds from the sale of these items will help Habitat continue to build affordable homeownership opportunities for local families in need.
Jodee Benavides, who oversees Milwaukee Habitat's Deconstruction Services, says that volunteers have already committed more than 140 hours salvaging items from six of the 44 buildings on the campus. Once Komatsu's pre-existing use of the facilities is complete, Milwaukee Habitat will assess the remainder of the 39 buildings for additional items that can be salvaged and resold.
"For more than a decade, Komatsu and its employees have been helping local families build safe, affordable Habitat homes," said Jodee Benavides. "At a time when the need for affordable housing is so immense, these donations are going to make their impact go even further."
In addition to donating items from their old facility, Komatsu has sponsored the construction of 29 Habitat homes in Milwaukee since 2011. In that time, Komatsu employees have volunteered nearly 4,000 hours helping build those homes.
"Our National Avenue location has so much history and we are glad to be able to share that with the community while continuing our support of Milwaukee Habitat's outstanding work across Milwaukee neighborhoods – from Washington Park to Harambee, and beyond," said John Koetz, president of surface mining at Komatsu Mining. "The National Ave site was our home for more than a century, and we want to see that neighborhood continue to thrive long after our work there concludes. And we are thrilled to remain part of the Milwaukee community and a Habitat partner."
Milwaukee Habitat's Deconstruction Services salvages reusable items from large commercial properties like this, down to kitchen cabinets and appliances from residential remodels. Since 2012, the team has salvaged more than $4 million worth of items that may have otherwise been thrown away.