Harley-Davidson defend freedom in Marvel's Captain America: Civil War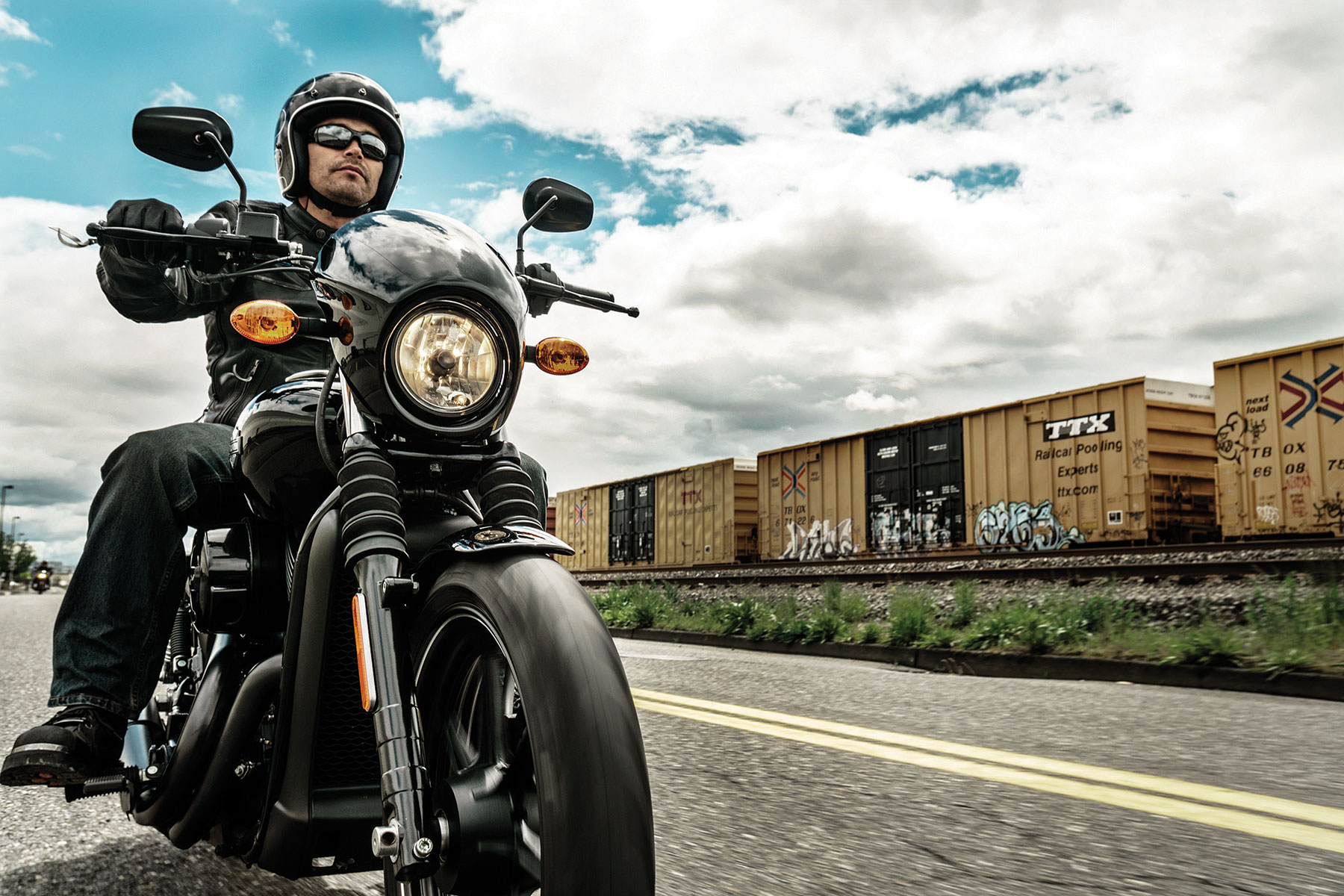 New Film Features Street 750 and New Iron 883 Models
Captain America and Iron Man may have drawn battle lines for the biggest superhero fight the Marvel universe has ever seen, but Harley-Davidson and Marvel have reunited to bring Dark Custom style and horsepower to defend the city streets in Marvel's "Captain America: Civil War."
Harley-Davidson has long been by Captain America's side in his stand for freedom, and the latest chapter of the hero's epic saga showcases a strong pulse of torque with "Team Captain America" member –Winter Soldier riding a one-of-a-kind Harley-Davidson Street 750 customized for the film and Team Iron Man member Black Widow – riding an Iron 883.
"Harley is proud to continue to join forces with Marvel with two bold, powerful and rebellious motorcycles – The Street 750 and all-new Iron 883 featured in 'Captain America: Civil War,'" said Dino Bernacchi, Harley-Davidson U.S. Marketing Director. "And, with pricing on both models starting below $9,000 the unique feeling of freedom that only can be found on a Harley is more attainable than ever."
Feel the Thrill of the Throttle
The Street 750 and Iron 883 are both part of Harley-Davidson's Dark Custom line-up.
The Street 750 features the liquid-cooled Revolution X™ engine, housed in a narrow and lean chassis built for agility. New suspension and a broad handlebar sweep provide the confidence and maneuverability you need when managing tight turns and fast moves in defense – or pursuit of – freedom. It also has the premium, minimalist Dark Custom style that serves as a blank canvas for riders to customize.
The Iron 883 is inspired by the rebellious spirit of the past updated with modern design and performance. Intentionally raw and rough around the edges, the Iron 883 boasts a modern design inspired by garage-built bobbers.
With nine models under $12,000, including the Street 750, the Iron 883, and Harley's brand-new Roadster model, Harley-Davidson Dark Custom motorcycles provide the perfect balance of style, function, and attainability.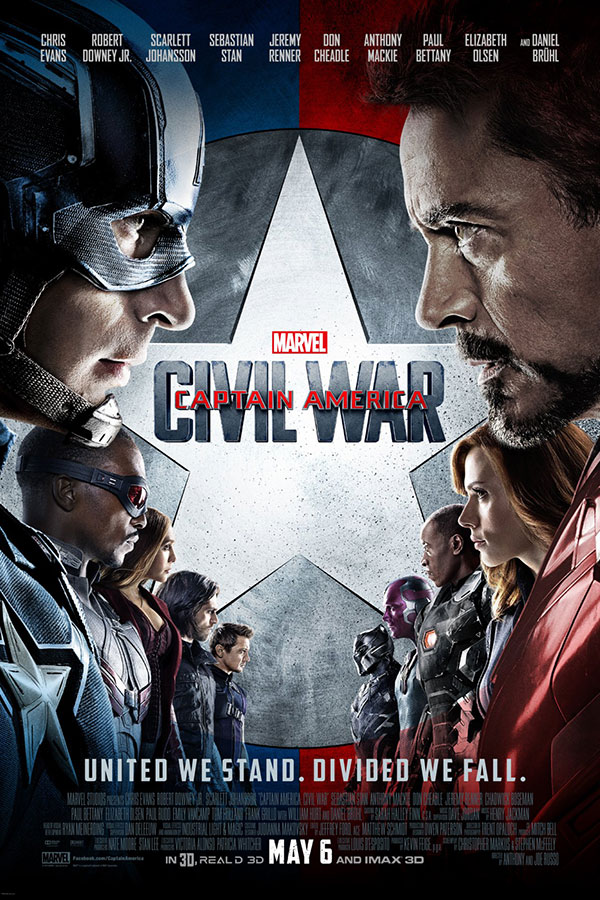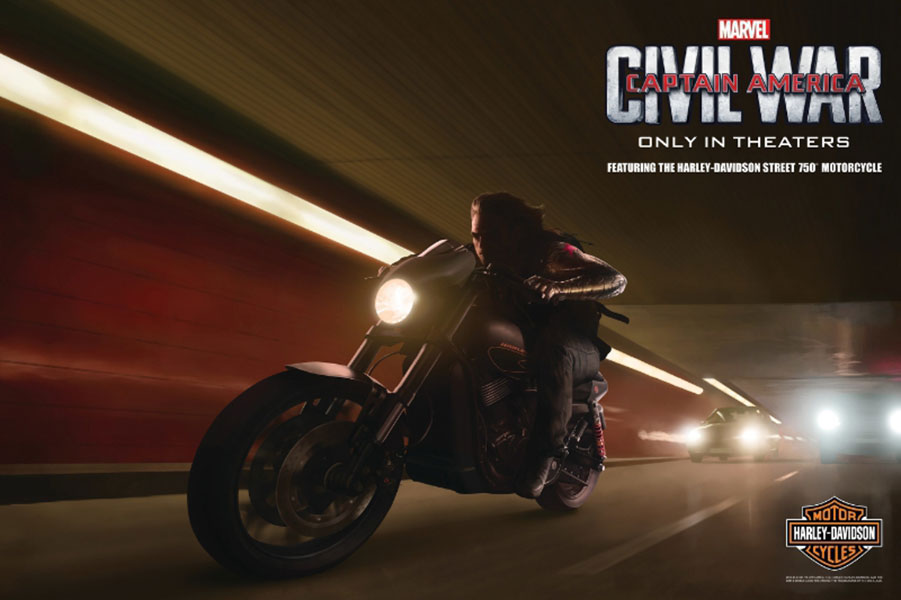 About Harley-Davidson Motor Company
Since 1903, Harley-Davidson Motor Company has fulfilled dreams of personal freedom with cruiser, touring and custom motorcycles, riding experiences and events, and a complete line of Harley-Davidson motorcycle parts, accessories, general merchandise, riding gear and apparel. For more information, visit www.h-d.com.
About Marvel's "Captain America: Civil War"
Marvel's "Captain America: Civil War" finds Steve Rogers leading the newly formed team of Avengers in their continued efforts to safeguard humanity. But after another incident involving the Avengers results in collateral damage, political pressure mounts to install a system of accountability, headed by a governing body to oversee and direct the team. The new status quo fractures the Avengers, resulting in two camps—one led by Steve Rogers and his desire for the Avengers to remain free to defend humanity without government interference, and the other following Tony Stark's surprising decision to support government oversight and accountability.
About Marvel Entertainment
Marvel Entertainment, LLC, a wholly-owned subsidiary of The Walt Disney Company, is one of the world's most prominent character-based entertainment companies, built on a proven library of more than 8,000 characters featured in a variety of media over seventy-five years. Marvel utilizes its character franchises in entertainment, licensing and publishing.