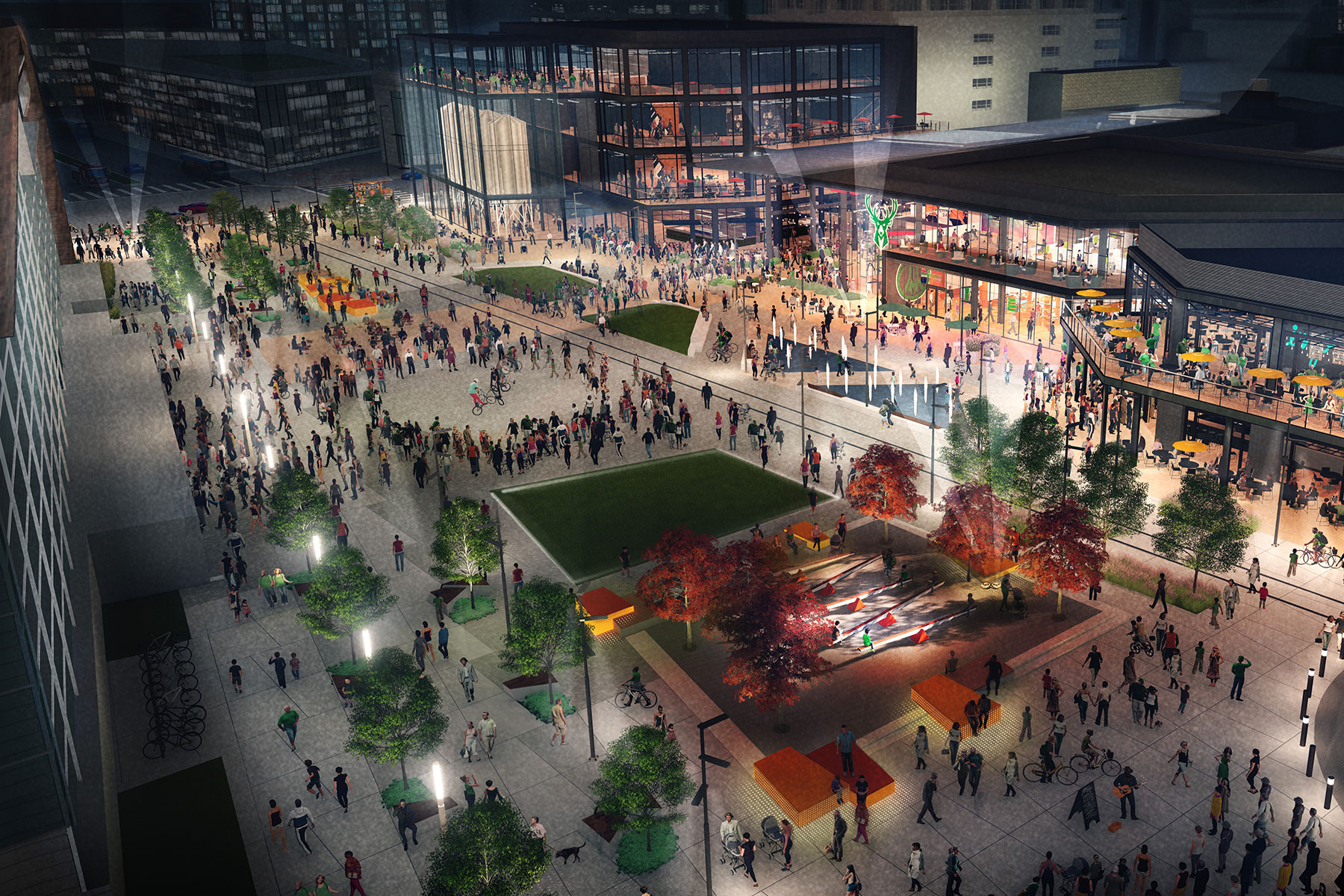 The new world-class Milwaukee Bucks arena will redefine the sports and entertainment culinary experience with MKEat, the venue's dynamic, locally-focused food and beverage program. MKEat is a culinary vision that proudly reflects Milwaukee's food culture, with a focus on local products, differentiated service and unique culinary talent throughout the arena.
MKEat will include local food and beverage partners from Milwaukee and throughout Wisconsin, including several quintessential Milwaukee brands that will offer fresh takes on their signature dishes at the Wisconsin Entertainment and Sports Center (WESC). The venue will open August 26.
"Milwaukee has an incredible legacy and emerging culinary scene that will be showcased by MKEat for all of our guests," said Milwaukee Bucks President Peter Feigin. "We are excited to combine the city's signature tastes and flavors with renowned global brands that are based in Wisconsin to redefine the sports and entertainment culinary experience."
Led by the venue's senior executive chef, Kenneth Hardiman, and best-in-class food and beverage provider Levy, MKEat will feature popular and diverse local culinary establishments, including Klement's Sausage, Sobelman's, The Laughing Taco, Gold Rush Chicken, Iron Grate BBQ, FreshFin Poké, Cedar Crest Ice Cream, Colectivo Coffee and Milwaukee Pretzel Company. Unique to the arena will be Canal Street Pizza, a new fresh pizza concept that was developed in conjunction with the Fallucca family, the original pizza family of Milwaukee and the founders of Palermo's Pizza. Additionally, core menu items throughout the arena will include Klement's Sausage and Wisconsin-based Sargento Cheese.
MKEat will have some of the best selections of Wisconsin-brewed beer, reflecting Milwaukee's rich brewing history. Working with Bucks longtime partner and Miller Brewing Company, the arena's beverage program is built upon Miller's locally brewed and globally-acclaimed beers. Complementing Miller's product offering, local lifestyle brand Drink Wisconsinbly will entitle and curate three craft beer bars, presenting a rotating list of exclusive Wisconsin micro-beers.
The arena will also be home to the Southside Market, which was designed as a tribute to the popular Milwaukee Public Market. The Southside Market will serve a variety of food and beverage options that will not be found anywhere else in the arena, providing a differentiated experience for guests on the upper level.
During the process for developing the food and beverage program, Levy and the Bucks extensively sampled restaurants and vendors to bring the best and most diverse offerings, which will include gluten-free and kosher items. The soon-to-be announced menu will consist of made-to-order dishes ensuring the freshest quality for an exceptional experience.
"MKEat will fulfill Milwaukee's global palate, while maintaining our proud Wisconsin roots," Chef Hardiman said. "In addition to offering signature Milwaukee cuisine, we will source 95 percent of our food and plateware from within the state. The themes and quality of our culinary offerings will be a memorable part of what guests experience at the new arena."
In addition to respected local establishments, guests of the WESC can expect to find popular national brands. A Chick-fil-A stand will bring the popular restaurant to downtown Milwaukee for the first time, and Great Lakes Coca-Cola Bottling will serve as the official soft drink, bottled water and iced tea partner of the WESC.
The arena will carry an extensive collection of premier beverage providers, including Jack Daniel's, Casamigos, a tequila company co-founded by George Clooney, RAMONA, an organic ruby grapefruit wine spritz, Absolut Vodka and Jameson Irish Whiskey.
The new arena production capacity is a major step forward, with 17 free-standing kitchens; stainless steel, state-of-the-art equipment; dedicated pizza ovens; and a wood-fired smoker capable of handling up to 3,000 pounds of meat. Additionally, the venue's equipment runs on natural gas, which makes it easier to keep grills and fryer oil consistently hot, in turn, serving more guests faster.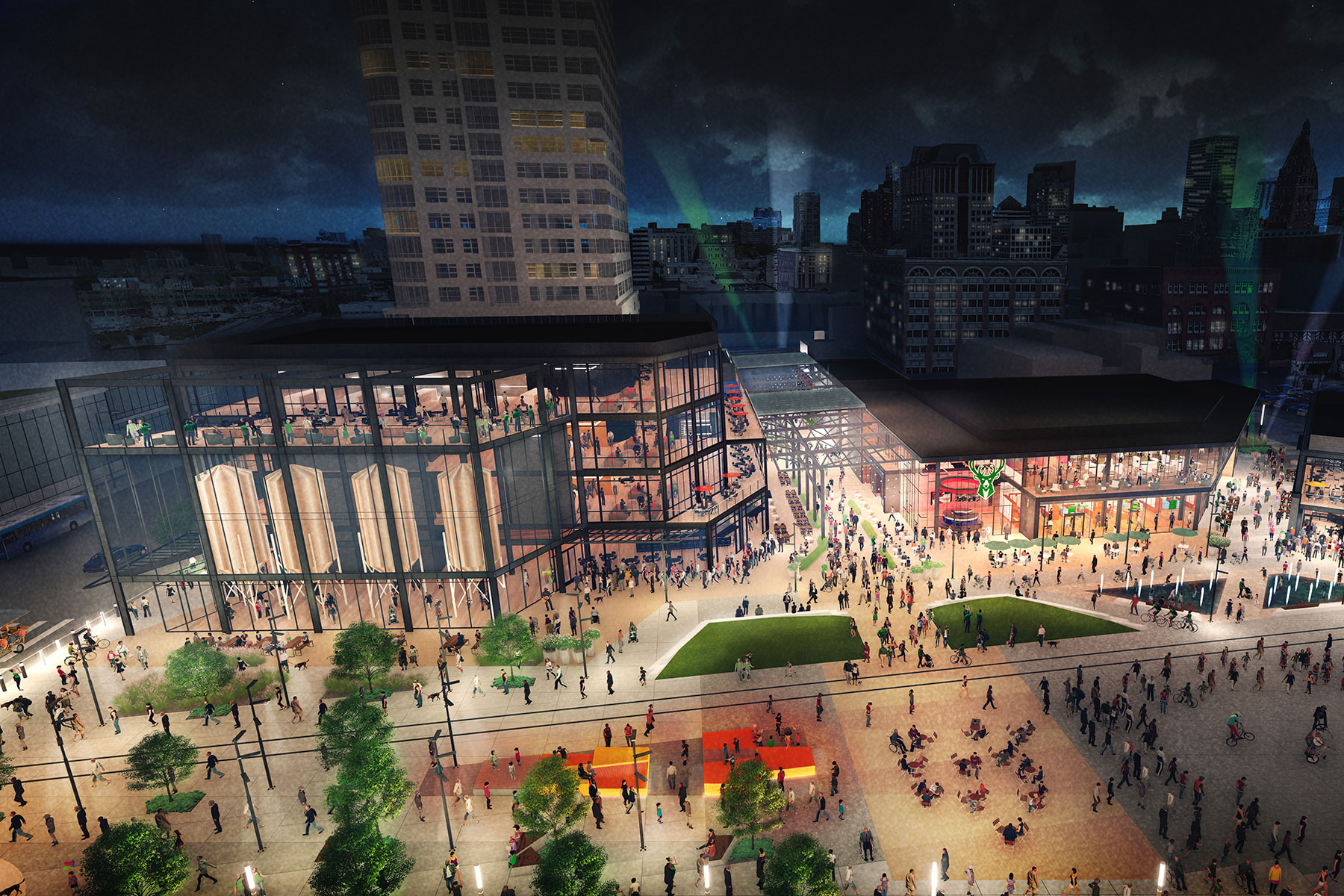 Wisconsin Entertainment and Sports Center
Wisconsin Entertainment and Sports Center