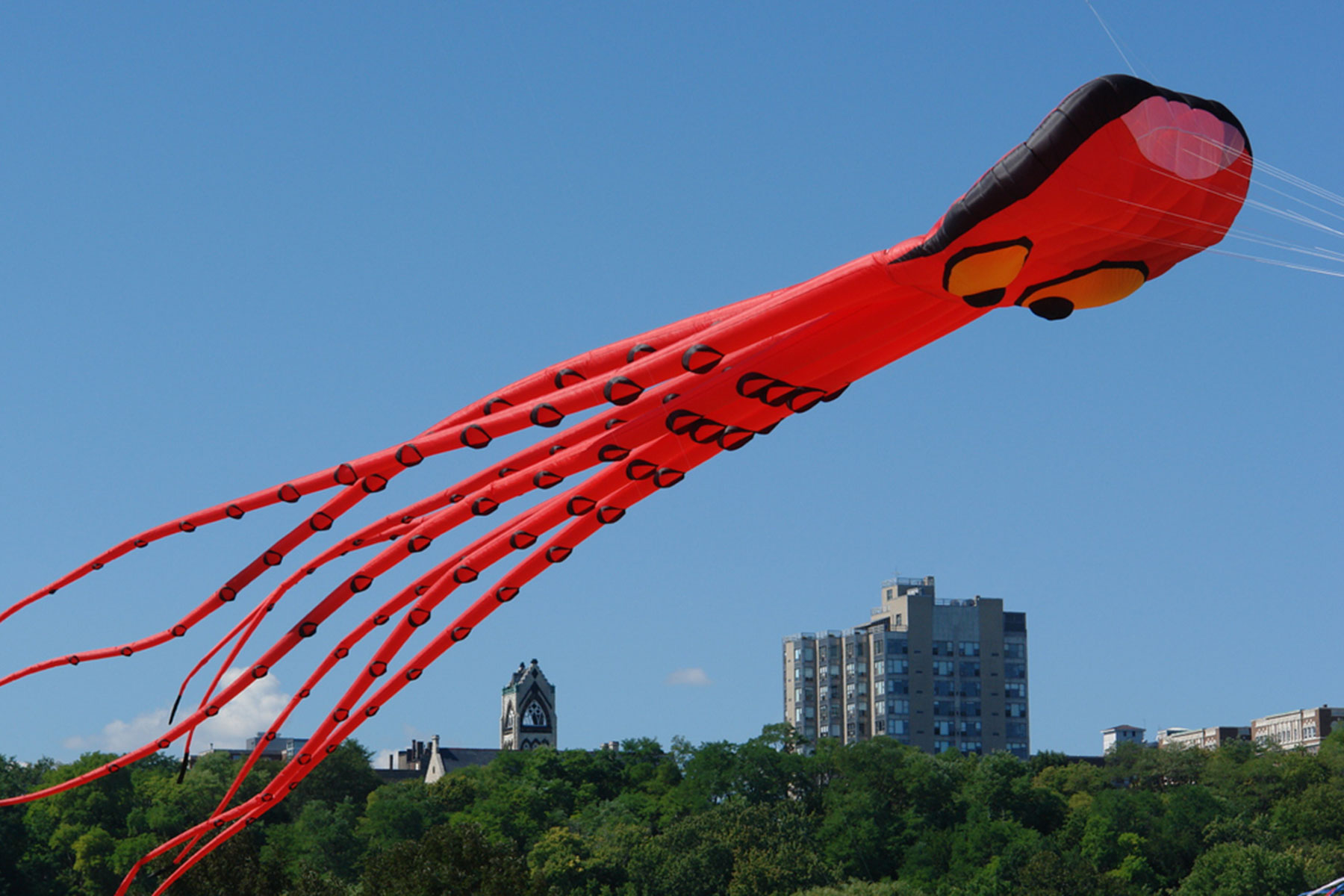 On the weekend of May 28 and 29, the Kite Society of Wisconsin and Gift of Wings will be presenting the Maggiano's Little Italy Family Kite Festival. The 29th annual event celebrates spring with airborne activities flying above Veterans Park, along the coast of Lake Michigan.
The two-day event showcases kite flying demos from professional hobbyists, and an opportunity for kids to make and fly their own kites. Flying will begin at 10:00am for both days, and end on Saturday at 6:00pm and Sunday at 5:00pm. The featured highlight of the celebration will be the traditional Grand Launch, when more than five hundred kites will take to the skies at noon.
Two world renowned professional kite flying teams from the Midwest will show off their skills. The Chicago Fire and the Windjammers precision kite flying teams plan to entertain visitors with three performances each day. In addition, the Canadian Dream Team and Jean Lemire from Montreal will make their 13th appearance with a large 75 foot Teddy Bear kite. Two giant octopus kites will also be featured this year.
Kites of all shapes, sizes and colors will be available for sale. In addition, free kites will be given away to the first one hundred children that participate in the Kids Mad Dash, with a group launch planned. The Candy Drop has also become a popular part of event, when sweets rain down from the sky.
Schedule of Events
9:00 – 11:00
11:00 – 6:00
11:00 – 6:00
11:00 – 6:00
1:00 – 3:00
Noon
12:15 – 1:40
1:40 – 2:00
2:00
2:15 – 2:40
3:30
2:40 – 3:00
3:00 – 3:30
3:40 – 4:00
4:00
4:20 – 4:50
4:50 – 5:30
5:30
5:00
6:00
Set-up / Gallery of Kites
Giant kites of Yves Laforest & Mr Kite / Candy Drop
Brett Williams: learn to fly a Revolution / Kite school
Learn to fly a Premier Kites / Sport kite school
Make a kite (Kids Only)
Parade of Kiters & the Fast Track Grand Launch of 600 kites
Professional Sport Kite Performances: Windjammers
Chicago Fire Kite Team
Kaplan University Kids Mad Dash of 100 kites
Professional Sport Kite Performances: Windjammers
Candy Drop
Professional Sport Kite Performances: Chicago Fire Kite Team
Professional Sport Kite Performances
Professional Sport Kite Performances
Rokaku Kite demo
Professional Sport Kite Performances: Windjammers
Professional Sport Kite Performances: Chicago Fire Kite Team
Professional Sport Kite Performances & Awards
End of Show (Sunday)
End of Show (Saturday)