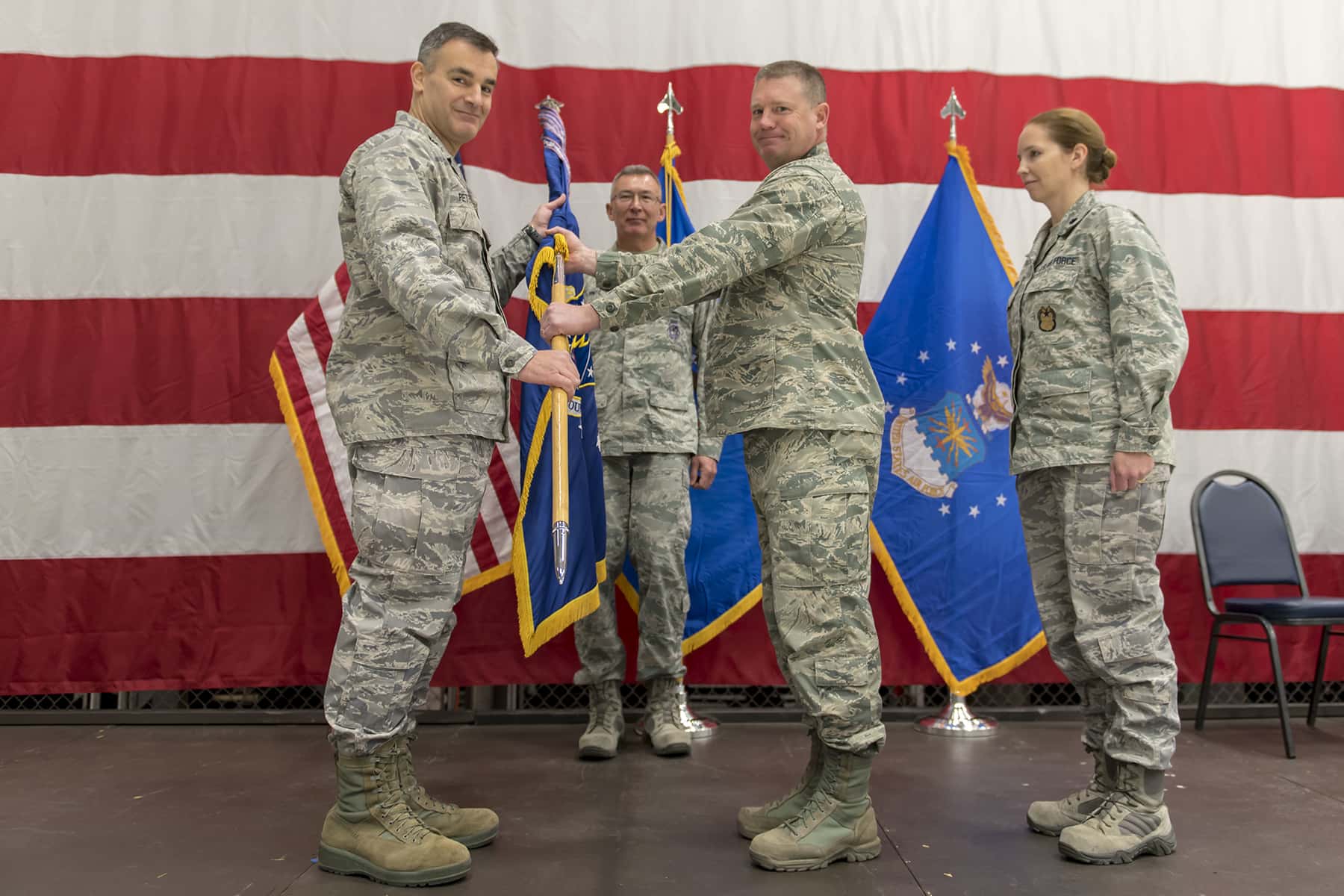 Brigadier General Erik Peterson transferred from active duty F-16 pilot to commercial airline pilot with American Airlines twenty years ago. His first flight from Miami to Houston was also his last until late this year.
The recently promoted Peterson described this first flight as an airline pilot, which took place on September 11, 2001, as surreal.
"To be on your first flight on a brand new airline and have the captain say grab the crash ax, don't let anybody in the cockpit – it's a little bit different," said Peterson. "We did not realize the totality of the situation until we were on the ground."
Immediately after this flight, Peterson was furloughed from American Airlines and was put on orders for the ongoing alert mission at the 115th Fighter Wing in Madison as a full-time National Guard pilot later that same week. Peterson went on to serve 19 years with the 115th the final six years as its commander, while maintaining full-time pilot status.
Now, during another major point in America's history that has relied heavily on the Guard, Peterson has made another transition. In the fall of 2020, Peterson piloted his final flight in an F-16 and passed the command flag to Colonel Bart Van Roo. Peterson switched from the demands of being a full-time F-16 pilot as well as the commander of the 115th, to part-time drill status as chief of staff, Wisconsin Air National Guard.
With the new position, came a promotion from colonel to brigadier general. He has also finally returned to American Airlines. In Peterson's new role at Joint Force Headquarters, he serves as an advisor in support of both the Guard's state and federal mission.
As a leader with 29 years experience flying F-16s, Peterson knows the demands that Airmen face first-hand. He hopes to bring change that will support pilots and Airmen with those demands.
"What I really bring to this role is that I've spent my career in the field as part of the command teams that I'm now supporting," said Peterson. "So I feel that I have a good understanding of what the field commanders need to get the mission done. I understand the stresses that they're under, the time constraints that they're under, and the changing situations that they're under.
"I think that allows me to better focus our energies on our staff and better support and help them and not lose sight of what they have to deal with," he said. "That's ultimately where we need to push our emphasis, because that's where the execution happens."
Peterson has gone from a position of making the final decisions toward accomplishing missions as commander, to the role of an advisor to commanders. He now uses his decades of experience to provide support and resources to assist the decisions made by others.
Having participated in numerous federal missions – including the 115th's alert mission and overseas deployments, and now the recent missions related to the pandemic, Peterson also aims to improve the Wisconsin Air National Guard's ability to respond to the community's needs during emergency responses here at home.
"I realize that we can never really maintain where we're at because the world is always changing, people are always changing, so we have changing threats, we have changing resources, we have changing missions and needs," said Peterson. "We have to always be flexible to adapt to those needs.
In 2020, for example, the organization was focused on a tremendous amount of domestic operations while simultaneously maintaining its federal mission.
"What worked a year ago isn't working today because we have a different situation," he said. "We have to be able to change and adapt to that."
Peterson explained his main goal was to realign the air staff to better respond to these domestic scenarios in the future.
"If you're always willing to change or listen to improve, that opens you up to other people's ideas," said Peterson. "I think when you open yourself up to other people's ideas it increases the strength of what you're able to achieve, because we all know team decisions are probably a lot better than individual ones. When we can get a team behind us we can move mountains."
Carrying a multiple workload of responsibilities at once, Peterson attributes much of his success to the support of his team at home – his family. Having stepped away from a role that required him to be "on 24/7," Peterson has more time for family now already felt like a weight has been lifted off his shoulders.
However, the pandemic has not allowed much time for rest, because some of his children are attending virtual school. Like other Citizen Soldiers and Airmen in the Wisconsin National Guard, Peterson seeks a balance. It remains his hope that by the end of the school year his family will finally be able to enjoy some leisure time together. He plans to take a bike trip with his sons, and then a vacation with his wife and children to properly celebrate his promotion.
Peterson's parents were public school educators in Chicago, and he has put extra time into supporting his children to learn, grow, and improve to meet their goals just as he has. Peterson has worked to instill in his children the same value of change and adaptability that he has used to achieve success in his own life. Two of his children have already found open doors in the Air Force and are following in his footsteps.
"I think if you have an open mind and you're always trying to improve and you're thinking about continuous positive improvement, I think that opens doors without you really looking for them," he said.