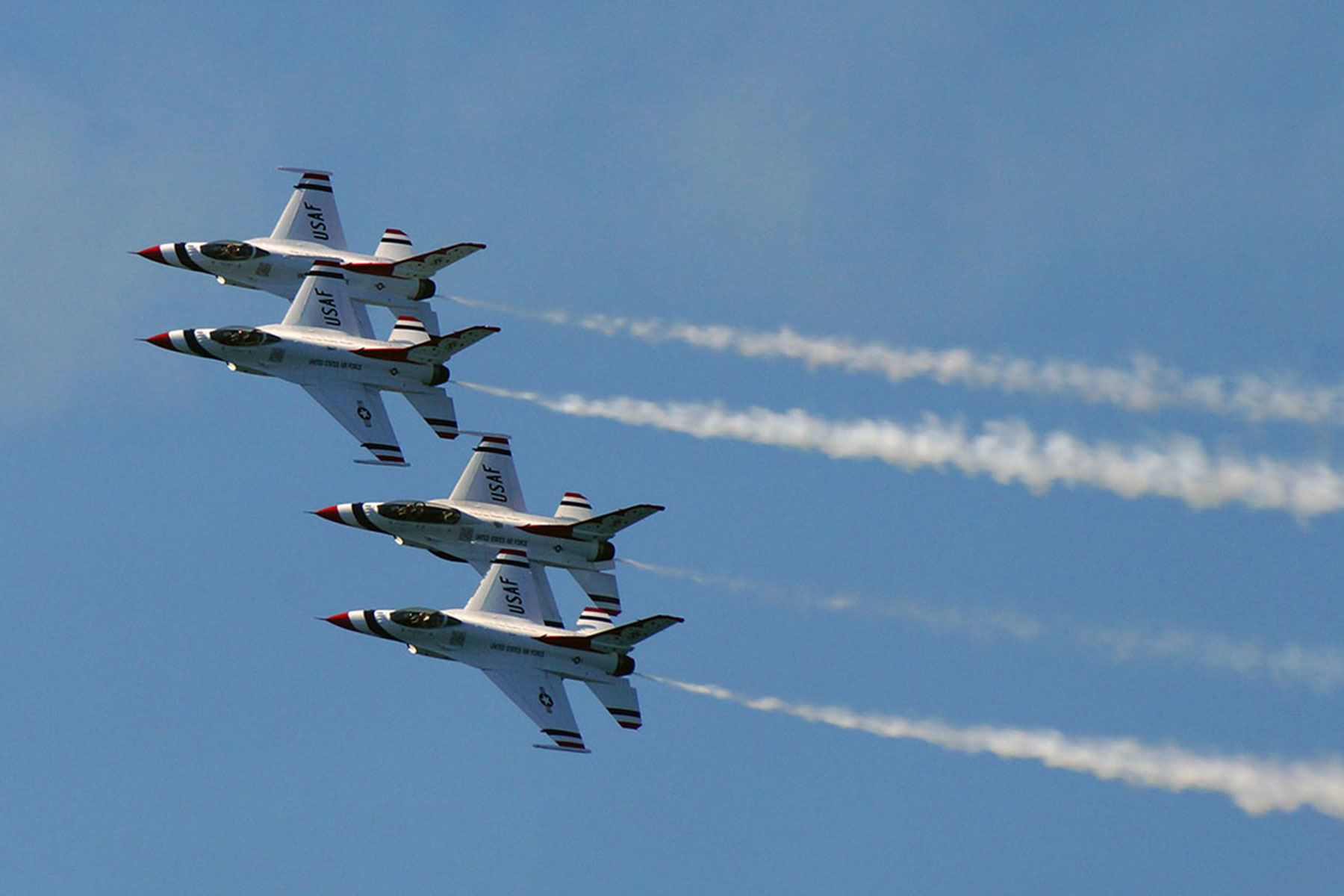 The 2017 Milwaukee Air and Water Show will take place from July 15 to 16 the Milwaukee lakefront.
Organizers of the Milwaukee Air and Water Show announced additional acts slated to perform in a press release on March 15. In addition to the US Navy Blue Angels, the other groups to join the line-up include the US Army Golden Knights Parachute Demonstration Team, Team Aerostars, Firebirds Xtreme, Lucas Oil Airshows, and A-4 Skyhawk.
The Team Aerostars is a precision aerobatic demo team led by pilots Harvey Meek, David Monroe and Paul Hornick who perform in the Yak 52TW WWII-type aerobatic trainer. The Firebirds X-Treme Aerobatic Team features Rob Holland and Jack Knutson. Michael Wiscus will return with Lucas Oil Airshows performing dizzying and intense stunts in the Pitts S-1-11B airplane while Paul Wood will guide the Warbird Heritage Foundation A-4 Skyhawk for a tactical demonstration through the blue skies of Milwaukee.
Milwaukee Air & Water Show organizers previously announced the US Navy Blue Angels would be returning as the main headliner in 2017. The Blue Angels' six demonstration pilots fly the F/A-18 Hornet at over 34 locations throughout the US each year, where they still employ many of the same practices and techniques used in their aerial displays when formed in 1946. The Blue Angels last performed in the Milwaukee area in 2010, as the 2014 visit was postponed due to weather-related unsafe flying conditions.
The US Navy Blue Angels "C-130 Fat Albert" will make a return visit to Milwaukee in July. The United States Marine Corps Lockheed C-130T Hercules, affectionately known as "Fat Albert" flies with an all-Marine crew and three officers and five enlisted personnel. Air show fans will enjoy watching this monstrous workhorse that has been in service for over half a century grace Milwaukee's skies. An Air Combat Command demonstration team will also be making an appearance at the air show. The specific aircraft will be announced at a later date.
Water acts scheduled for this year's show include Tony Demattero's "Hustler 50 Raceboat" and Gene Greber's MTI Racing Team on the Wake Effects Champion Superboat. In addition, Gary Burtka will perform an exciting Jet Ski freestyle show, and the Water Show Ski Team will show off their skills. The Milwaukee Fireboat and a demonstration from the US Coast Guard Rescue Helicopter will show the crowd their detailed skill when dealing with crisis on the water. Finally, Seven Marine outboard boats will take their talents to the western waters of Lake Michigan to show off power and speed.
Additional air and water acts will be announced in the coming months. The Milwaukee Air and Water Show will also offer displays and exhibits on land. There will be an A-7D Corsair II "Ghostrider" cockpit display featuring real helmets and instruments. The EAA will make their 2017 debut in Milwaukee providing an incredible opportunity for aviation fans with their new Spirit of Aviation mobile experience trailer.
The Air & Water Show will offer many activities for the entire family to enjoy. Ticket packages for the 2017 Milwaukee Air & Water Show will go on sale April 1.