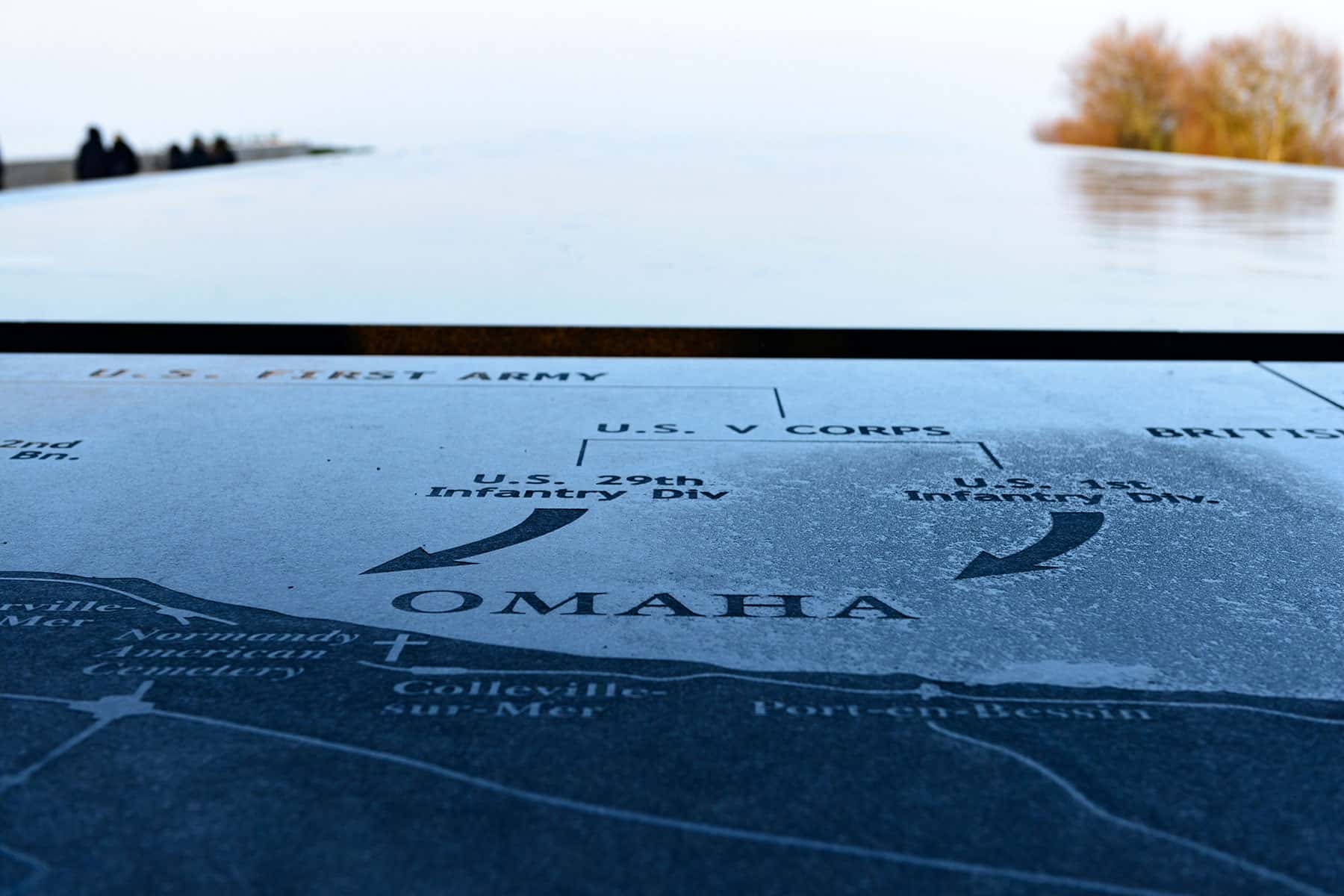 Editor's Note: Milwaukee native Darryl Morin recently traveled to Europe, and visited the American Cemetery at Normandy, France. This essay is his reflection on the experience overseas, and its connection to issues here in our local community.
It is called "The Spirit of American Youth Rising from the Waves." The 22-foot bronze statue was commissioned in 1951 and sculpted by Donald Harcourt De Lue. It stands opposite The Chapel, beyond the reflection pool and before the colonnade at the Normandy American Cemetery and Memorial in Colleville-sur-Mer, France.
The memorial itself is on a cliff, several hundred yards from the landing beach, code named Omaha. Little did my wife and I realize the impact it would have on the both of us during our visit. Nor did we expect it to provide such a stark reminder of past lessons learned, and the need for them in addressing the challenges we face in the present here in Milwaukee, Wisconsin, and around our nation.
As Past National Vice President of the Midwest Region for the League of United Latin American Citizens (LULAC), I have had the privilege to meet veterans from all over the country. I had heard the stories from these brave men and women, many who were medal recipients, as well as from our family members who fought in the World Wars. Our visit to Normandy was not just for ourselves, but for all the others who have never been able to make the journey.
It was expected that the landings at both Omaha and Utah beaches would be difficult. These two landing sites were assigned to U.S. forces to take on June 6, 1944, D-Day. Few realized the cost in both lives and valor it would take to establish a foothold in Europe. This memorial site was dedicated to their sacrifice, their valor, and assuring the lessons learned would never be forgotten.
Walking among the 9,387 marble monuments of the Normandy American Cemetery and Memorial, one cannot help but be moved by the sheer numbers of the stark white grave markers which, at first glance, appear to continue endlessly in perfect alignment in all directions. Walking solemnly down the paths, we were overwhelmed by feelings of humility and appreciation. We quickly realized we were not alone in our feelings, as only whispers could be heard on these hallowed grounds.
Looking closer, I noticed that each grave was marked by either a Latin Cross or a Star of David with the name, rank, and serial number of the fallen carefully etched into each one. Names such as of SSgt. Joseph E. Morin of Massachusetts, Pvt. Francisco Hernandez of Texas, Pvt. Alberto Garcia Rodriguez, PFC. Juan Martinez, PFC. Jesus Vasquez, Sgt. Manuel Lopez, PFC. Raul Garcia, PFC. Antonio Zamora, and many more with the same or similar Latino last names. I was moved. I am a proud American and I love my country. I also take pride in my heritage, as so many of us do. This was a reminder that Americans, Hispanic Americans, shed their blood for this war and in every conflict the United States has been involved in since our Revolution.
Hispanic Americans have always answered our nation's call. Millions of Hispanic Americans have served proudly, and many have given their greatest measure for the freedoms every American is entitled to today. An estimated 500,000 Hispanics fought in World War II alone. Since its inception during the Civil War, the Congressional Medal of Honor has been bestowed upon Hispanic Americans in every major conflict including the Civil War, the Boxer Rebellion, World War I, World War II, Korea, Vietnam, and Afghanistan. In total, 60 Congressional Medals of Honor have been awarded to Hispanic Americans, 42 posthumously.
As we walked down the path to the Chapel, it was obvious that not just young Hispanic Americans were buried here, but countless others who immigrated from foreign lands, of various faiths and skin colors. Together, they truly did rise from the waves to suppress a dictator proclaiming an ideology of hate, of a master race, and as we would learn all too late, a perpetrator of crimes against humanity.
Each sacrifice was so great, I could not help but feel a deep sense of sorrow and appreciation. learned that upon these 172 acres, there were forty-five sets of brothers buried or commemorated, of which 33 are buried side by side. In addition, a father and his son lay together in eternal sleep, along with three Congressional Medal of Honor recipients, 307 burial sites of valiant unknown, and four women. There is also the Wall of the Missing upon which 1,557 names are etched, each name a son or daughter, a father, or dear friend.
Upon returning to our home in Southeastern Wisconsin, we were quickly reminded of the division that continues today here at home, as the battles that were waged so many years ago, continue today. Fighting against hate, racism and discrimination and in defense of humanity, diversity and tolerance.
Here in Milwaukee, and around Wisconsin, we continue to see children bullied, threatened, and in certain cases beaten, for the color of their skin or the language their parents prefer to speak. They are beaten in the same schools where we try to teach them right and wrong, to be good upstanding Americans, to say the Pledge of Allegiance, and to salute the flag.
There are also much more destructive signs of hate all around us. Today, there are hundreds of investigations into potential hate crimes, including bomb threats, acts of vandalism, and physical attacks. In Port Byron, Illinois, Jenny and Tony Cruz and their three daughters were forced to move from their rental trailer after it was broken into, ransacked and doused with gasoline. Those guilty left behind only printed signs with words of pure hate. Tony Cruz is an American, a Hispanic American and is a war veteran having served 8 tours in Iraq and Afghanistan. A proud American, like millions of other citizen and non-citizen soldiers and veterans, are conflicted by how they are treated after having sacrificed so much for our nation.
Our visit was a humbling experience, was one that I wish could be experienced and felt by every American. Everyday we continue to witness enormous efforts designed to divide our great nation. Some of these efforts, sadly, are designed to sow seeds of hate. If we could hear the whisper of those who fought and fell in the defense of all humanity, their shared sacrifices offered regardless of their place of nativity, religion, color, or language, it would be my hope that we would realize we are obliged to them. We are obliged to celebrate their sacrifice by furthering their cause, by being the United States of America in more than name only.
"The Spirit of American Youth Rising from the Waves," is not just a memorial to the sacrifices of the past, but serves as our reminder that all of humanity shares the same origin and bleeds the same blood.
As our visit to the Normandy American Cemetery and Memorial came to an end, and the sun fell below the trees, we heard taps begin to play and were privileged to witness the flags being lowered for the evening. Overcome with the emotion of the moment, I glanced one final time over at the statue, reaching up to the heavens, and was reminded, as we all should, that in serving one another, in serving humanity, we too will rise to a shared glory.