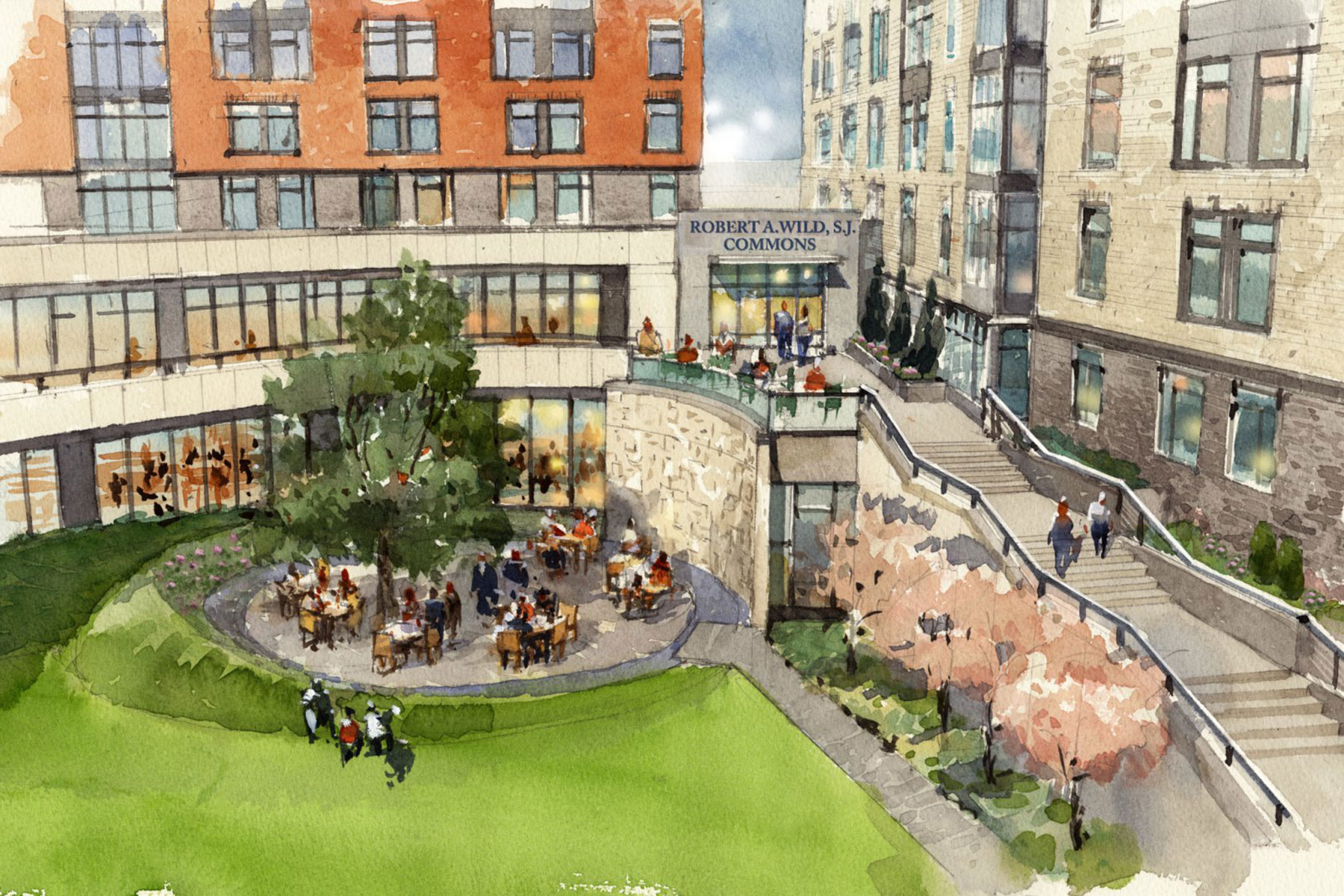 Marquette University alumni Ray and Kay Eckstein have issued a $10 million challenge toward the construction of the university's new residence hall facility.
The Ecksteins have challenged the university to raise $10 million; once the challenge is met, the Ecksteins will match the $10 million and the overall complex will be named for longtime Marquette President Rev. Robert A. Wild, S.J., in appreciation and honor of his exceptional service and dedication to the university.
This marks the third significant gift the alumni couple have made to Marquette. The Ecksteins in 2007 made a landmark $51 million gift toward Eckstein Hall, home of the Marquette University Law School, and in 2014 they donated to the construction of the Dr. E.J. O'Brien Jesuit Residence.
In recognition of the Eckstein's generous lifelong giving to Marquette, the university will name one of the new residence hall facility's two towers in their honor. The Ecksteins are one of the university's two largest all-time donors, and their $51 million gift to the Law School is the largest in Marquette history.
"Ray and Kay Eckstein's generosity is both inspirational and transformational for Marquette University. I'm so pleased that we can recognize their exceptional lifelong commitment to Marquette in this way," University President Michael R. Lovell said. "This latest gift from the Ecksteins again propels us forward, supporting us in our construction of a world-class residence hall for future generations of students. And to bestow upon it Father Wild's name is both fitting and a touching testament to his legacy at Marquette."
"Having known Father Wild for nearly two decades and observed his leadership in service to Marquette, Kay and I are delighted to do our part to encourage the support of others so that the University can name this new student residence in his honor," Ray Eckstein said. "We are very happy that there will be a place at Marquette that bears his name in recognition of his many contributions revitalizing and building the campus during his presidency."
Now the university's chancellor, Father Wild was the 22nd president of Marquette from 1996 to 2011 — he served again as interim president from 2013 to 2014. Under his leadership, the university raised more than $800 million, including more than $200 million for scholarships and several eight-figure gifts that accelerated campus construction projects, including Rev. John P. Raynor, S.J., Library, the Al McGuire Center, Engineering Hall, and Eckstein Hall.
Father Wild's honorary degree proclamation from May 2015 read, "At the heart of this success was Father Wild's dedication to students. Holding firm to Marquette's founding mission of educating first-generation college students, he was a champion for increasing access. With more than $200 million raised for endowed and immediate impact scholarships during his tenure and a student body comprised of more than 20 percent first-generation students, his legacy is the students. As Father Wild said, 'It is not just about how much more our students and graduates can be, but how much more the world can be through our graduates.'"
About the new residence hall facility
Marquette University in November 2016 broke ground for its new $96 million, 750-bed co-ed residence hall facility that will house freshman and sophomore students. Located on the northwest part of campus, south of Wells Street between 17th and 18th Streets, the facility will feature two 375-bed resident towers connected through the lower levels by dining and campus community space. Set to open in August 2018, the facility will feature pod- and suite-like settings, as opposed to the traditional model of large buildings with small double rooms. It will be designed to meet LEED certification standards and will strive to incorporate innovative sustainable practices in the design.
Underscoring the project's importance to the university's strategic plan and campus master plan, Lovell said when he announced the building last spring, "For Marquette University to be among the top Catholic and Jesuit institutions in the world, it all must start with the student experience. We have to think and act differently and embrace new ways of living and learning for our community."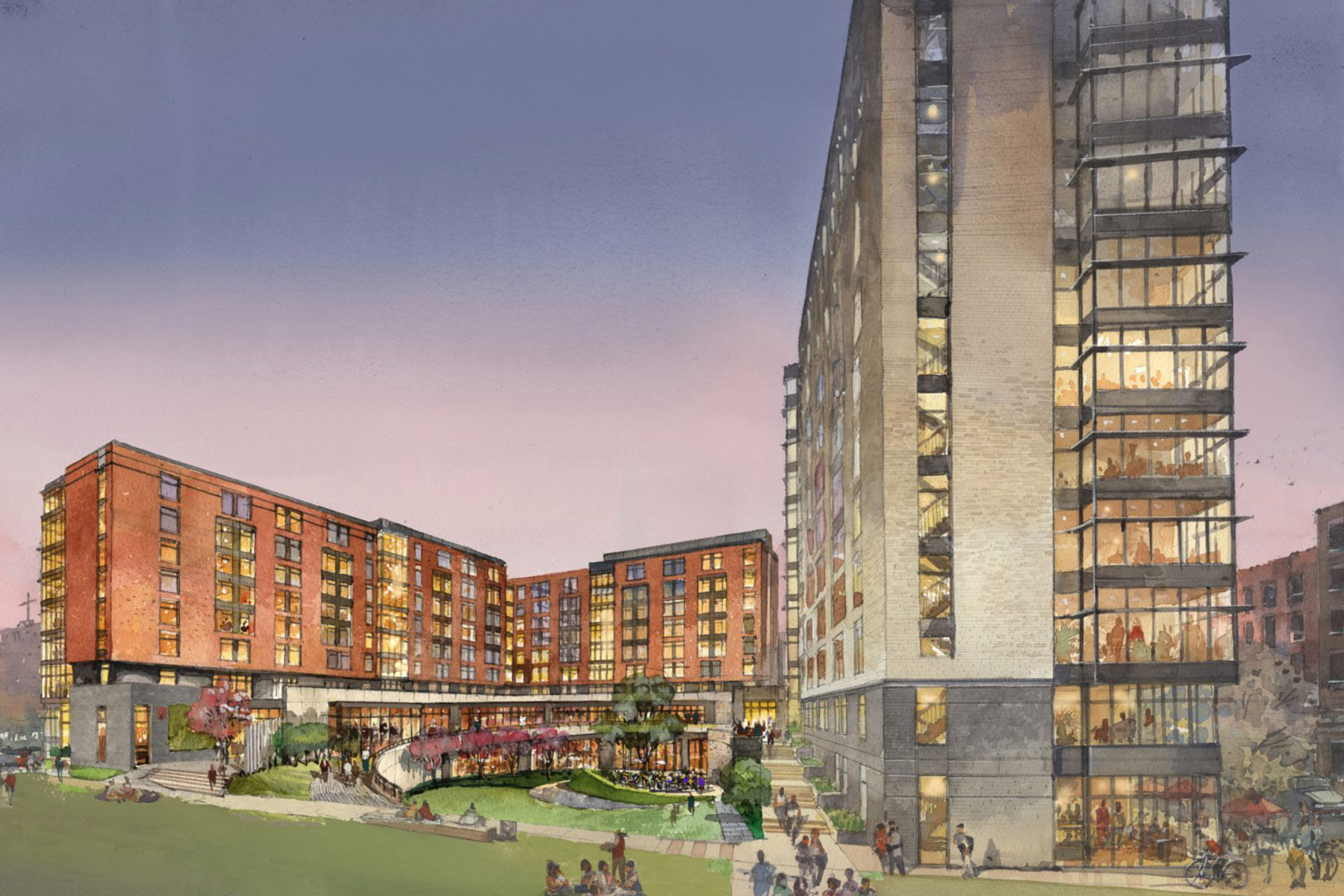 © Image
Marquette University and Design Collective, Inc.