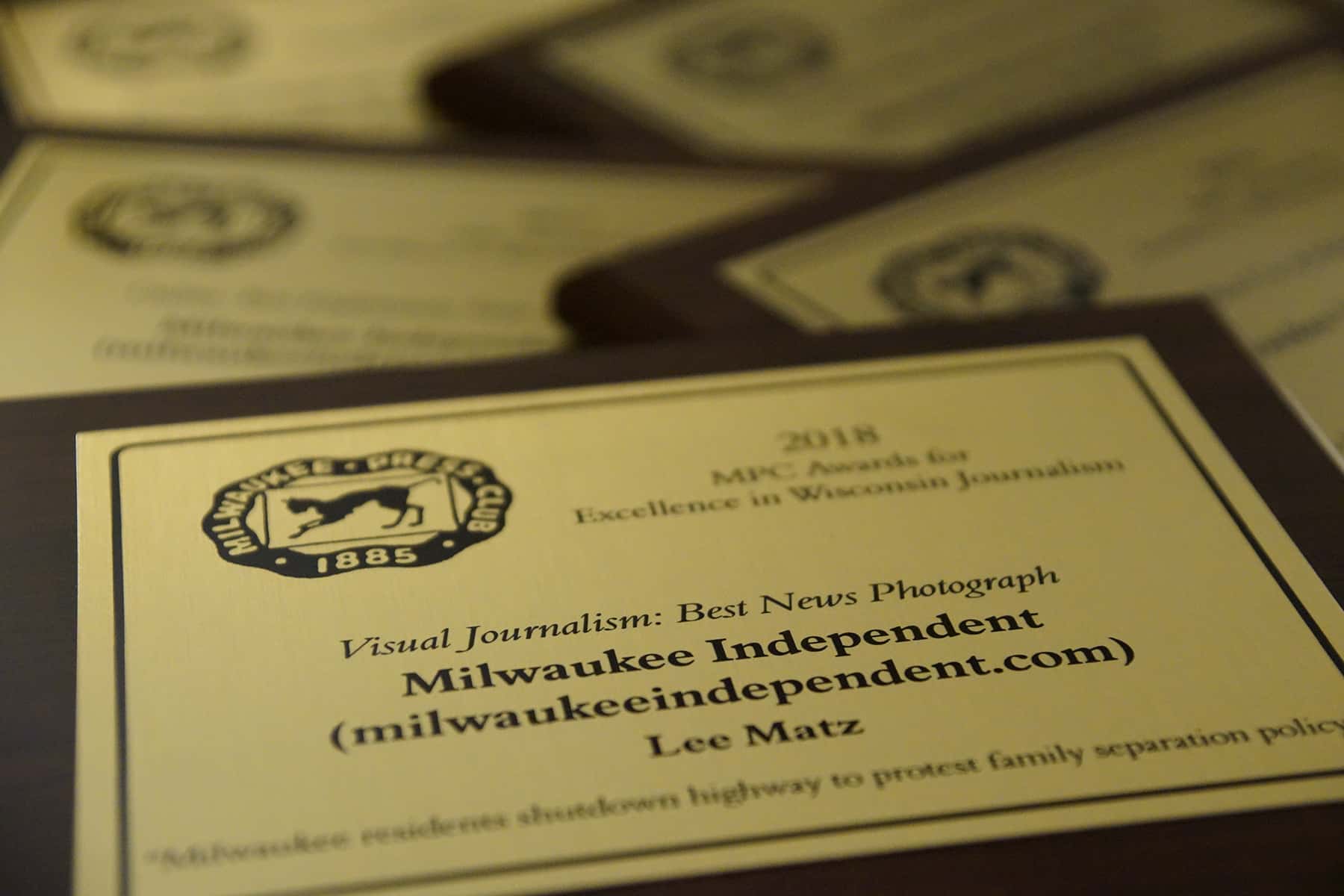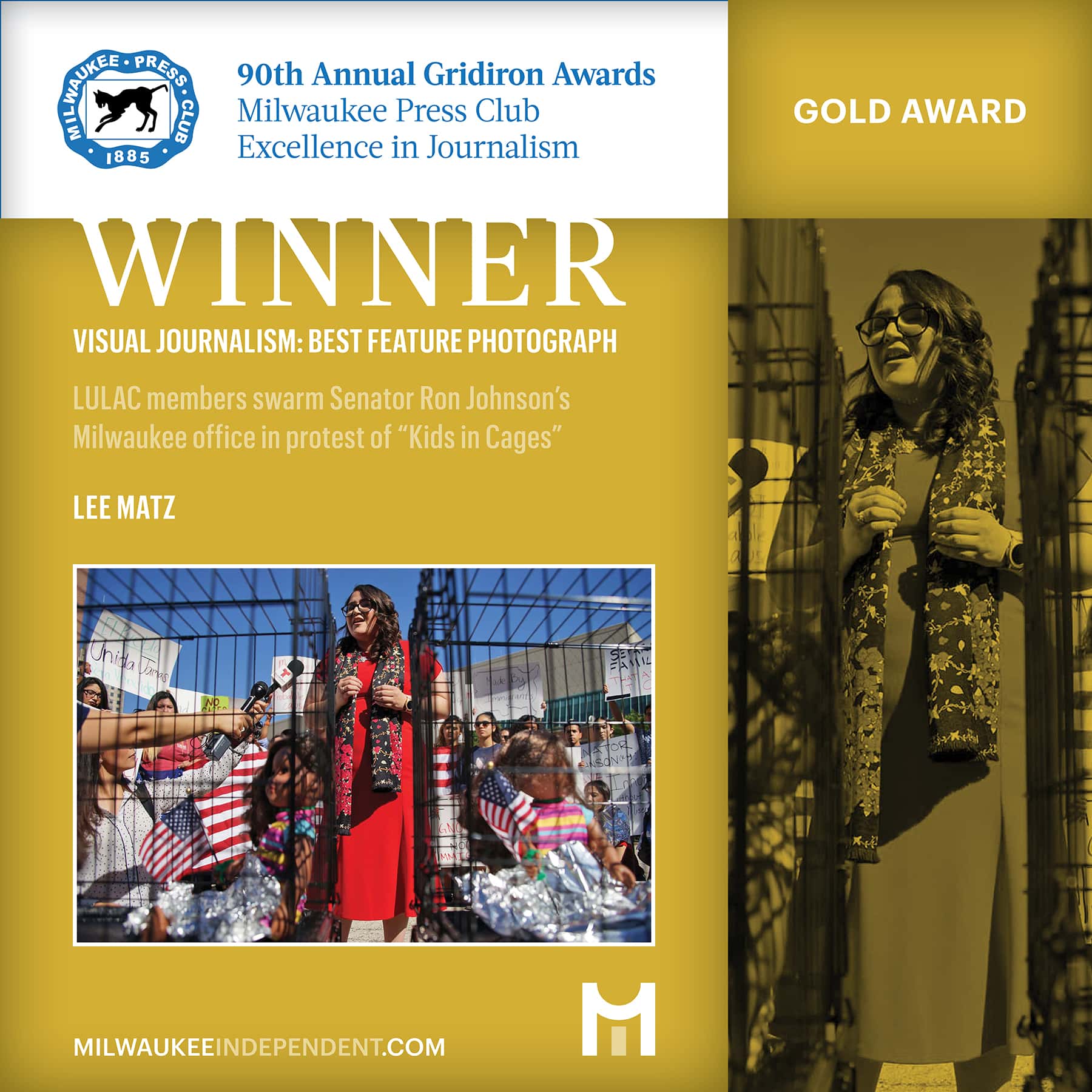 Winners of the Milwaukee Press Club's 2020 Gridiron Awards for Excellence in Wisconsin Journalism were recognized on May 29 at a virtual ceremony, with 13 significant honors going to the Milwaukee Independent.
After the COVID-19 pandemic halted plans to hold the 90th annual dinner event, the oldest continuously operating press club in North America decided to host a virtual awards ceremony as the only safe option to present the special recognition.
The virtual awards ceremony was presented live on the Milwaukee Press Club's YouTube channel to recognize professional and collegiate winners. The staff of Milwaukee Independent won 13 honors for photojournalism and editorial writing on a range of social justice issues. That earned the news outlet a total of 30 Milwaukee Press Club Awards for Excellence in Wisconsin Journalism since 2016.
This year's contest drew more than 750 entries from throughout Wisconsin in professional. The competition was judged by professional journalists from press clubs throughout the United States, including statewide clubs in Alaska, Arizona, Florida, Idaho and Southeast Texas and metro area clubs in Dallas, Cleveland, Houston, Los Angeles, New Orleans, Orange County, San Diego, San Francisco, and Syracuse.
"The real reward comes from giving genuine voice and depth to people and issues facing our generation and communities." – Pardeep Singh Kaleka
GOLD AWARD – VISUAL JOURNALISM: Best Illustration or Cartoon
Knezelism: Light (Knezelism of the Week: November 25)
This "Knezelism" an inspirational illustration by local artist Sherrill Knezel. It is part of a single-panel cartoon series published weekly that explores different aspects of self-identity and community building in Milwaukee.
GOLD AWARD – VISUAL JOURNALISM: Best Photo Essay or Series
Lake Michigan's freezing waves wallop participants at 2019 Polar Bear Plunge
Hundreds of people braved the frigid shores of the Great Lake at Bradford Beach to take the annual January 1 Polar Bear Plunge and usher in the New Year, with a wind chill of -14° and in spite of 2-foot waves.
SILVER AWARD – VISUAL JOURNALISM: Best News Photograph
Milwaukee Stands United Against Hate: Interfaith vigil mourns massacre at New Zealand mosques
This image was taken when faith and civic leaders joined with hundreds of members of the public at the Islamic Society of Milwaukee in support of the local Muslim and worldwide communities. The somber vigil came in response to the twin terror attacks in New Zealand by a white supremacist, who killed 51 worshipers at two mosques in Christchurch.
BRONZE AWARD – VISUAL JOURNALISM: Best News Photograph
Controlled roof demolition leaves Bradley Center topless
For 30 years, concert bands raised the roof at the Bradley Center. On January 13, demolition crews razed the roof in 30 seconds. This image was taken as part of a sequence that showed the historic detonation of explosives that brought down the roof's superstructure.
GOLD AWARD – VISUAL JOURNALISM: Best Feature Photograph
LULAC members swarm Senator Ron Johnson's Milwaukee office in protest of "Kids in Cages" at border
On the same morning that President Donald Trump arrived in Milwaukee for a fundraising event, members attending the national convention of the League of United Latin American Citizens (LULAC) marched in protest to the office of U.S. Senator Ron Johnson at the Federal Courthouse on Wisconsin Avenue. The crowd of almost one hundred protesters chanted calls to "free the children" for nine blocks from the Wisconsin Center.
SILVER AWARD – VISUAL JOURNALISM: Best Sports Photograph
Fear the Deer: Milwaukee paints the town green to celebrate Bucks NBA playoffs
An image of the Bucks mascot "Bango" and Milwaukee Streetcar "The Hop" taken during the downtown "Bucksification" event that celebrated the basketball team's participation in the NBA playoffs.
GOLD AWARD – VISUAL JOURNALISM: Best Sports Photograph
Need for Speed: Motorsports returned to Milwaukee Mile for first major auto race in 5 years
A motorsports image from a classic car competition, taken during an ARCA Midwest Tour event at the Milwaukee Mile, the first major race held at the speedway since 2015.
BRONZE AWARD – ONLINE: Best Use of Multimedia
88Nine Radio helps 10 Milwaukee bands produce Tiny Desk videos for NPR music contest
Lee Matz and Lodi Broekhuizen
The set of news features presents an intimate and behind-the-scenes look at when Radio Milwaukee filmed 10 local artists to produce a music video for each, assisting them in the submission process to compete in National Public Radios's Tiny Desk contest. Extensive photography, video segments, and audio recordings of the music performances documented the process for entering the nationwide music competition.
BRONZE AWARD – ONLINE: Best Use of Multi-Platform Reporting
Crochet Away: Fiber artist Jonah Larson unites communities with hope and healing in accidental hobby
Wisconsin-native Jonah Larson is child prodigy in the world of crocheting, and this series documented his visit to Milwaukee to share his personal story, creative gift, and connect with the local African American community. A 360° video of his process for developing fiber art was produced to give viewers a full experience of his talent.
BRONZE AWARD – ONLINE: Best Sports Story
Surfing Comes Home to Milwaukee: Forging friendships in the frigid freshwater waves of Lake Michigan
Kenneth Cole and Lee Matz
When the public thinks about surfing waves, Lake Michigan rarely comes to mind – let alone as a winter recreation. However, the Milwaukee area is recognized as a prime spot for the sport, and many area surf clubs participate in the competitive activity. This article and its accompanying photography were produced literally on the last day of the 2019 winter season, a day before a winter storm hit Lake Michigan and the water began to freeze. It highlights the athletic enthusiasm of individuals, regardless of weather conditions and Wisconsin's typical subzero season.
BRONZE AWARD – ONLINE: Best Investigative Story or Series
From Mississippi To Milwaukee: My Journey To 53206
Reggie Jackson and Lee Matz
This special series by Reggie Jackson explores the 53206 zip code of Milwaukee, in an effort to educate about the historical context and social process that drove the once thriving part of the city into its current problematic condition. Milwaukee's zip code 53206 has come to epitomize the social and economic distress facing inner city neighborhoods in this hyper-segregated metropolitan area. It is a neighborhood of concentrated poverty, pervasive joblessness, plunging incomes, and mass incarceration. But there was a time when it was a warm, loving, and vibrant community to grow up in. This in-depth series shares personal stories from that forgotten era, and details the chronology of events and influences that accelerated its decline over a decade and have left it unable to rebound since.
GOLD AWARD – ONLINE: Best Column
Dominic Inouye: Exploring Milwaukee on foot to understand the social relationships between place and space
Dominic Inouye reflects on his various creative experiences in Milwaukee each month, as a social commentary of what diverse groups encounter on a number of subjects. His column focuses on his activities within the community, observations of cultural complexities, and offers solution driven remedies that any reader can engage with.
SILVER AWARD – ONLINE: Best Column
Reggie Jackson: Racism in Milwaukee suburban schools and the constant struggle for social equality
Reggie Jackson details the dynamics of the African American community in Milwaukee, with a fact-based and compelling narrative that educates and informs all of the city's ethnic cultures. From the reckless driving epidemic to entitlements that promote and restrict different demographics, this column articulates a black voice not only for the black community but all residents of Milwaukee, in an effort to bring healing and advance the quality of life for everyone who calls the city their home.