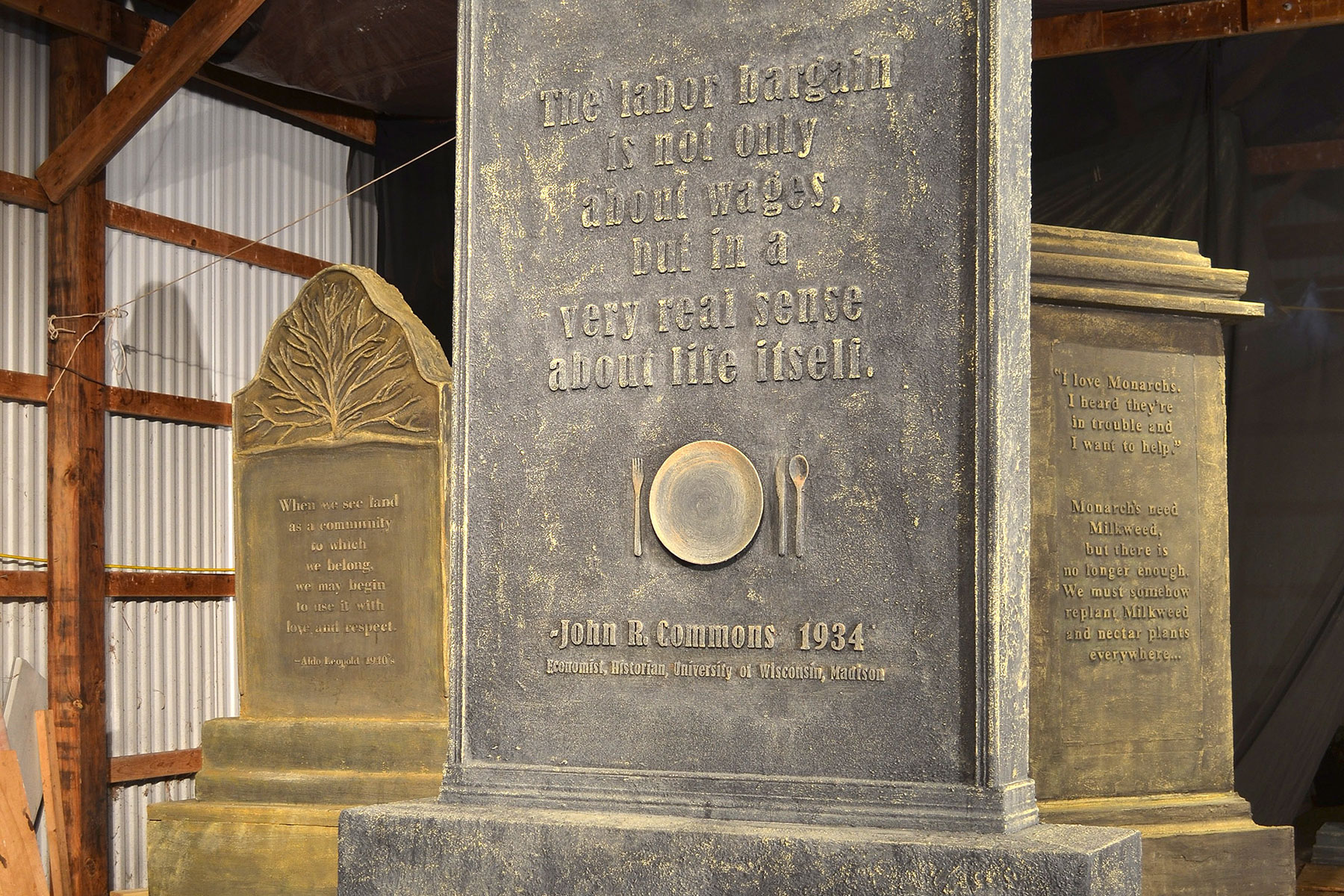 Redline Gallery and renowned Wisconsin artist Terese Agnew announce a monumental art experience: Writing in Stone, a collaborative multi-media installation, will travel the state.
Redline Gallery, an innovative artist-run exhibition, studio, and force for arts education in Milwaukee, and renowned artist Terese Agnew today unveiled plans for Writing in Stone, a compelling multi-media art experience that will have state-wide impact.
A large-scale, collaborative work that incorporates the work of dozens of artists, writers, historians, performers, and skilled craftsmen, Writing in Stone is an immersive art experience that honors transformative ideas and events from Wisconsin's past. The exhibit will travel over the course of two years, beginning at Redline Gallery, 1422 N. Fourth St., on January 20, 2017, and moving to a series of other locations across the state through November 2018.
"To say that Agnew is an artist who has incredibly ambitious ideas is an understatement, yet she always manages somehow to exceed expectations by pouring her heart and soul into her work. Writing in Stone is no exception. Join us at RedLine for this powerful immersive art experience honoring transformative ideas and events from Wisconsin's past."
– Jeff Redmon, Exhibition Manager, RedLine Milwaukee
Writing in Stone takes viewers through a setting of towering monuments, painted as if by the soot of ages, with trailing vines and gathering moss. The sculptures serve as an evolving stage set for a multi-media experience that incorporates storytellers, actors, sound recordings, and even audience members themselves.
"From a distance, the monuments may evoke a cemetery," said Agnew, "but up close they're surprisingly vital." As viewers walk among the monuments, pondering engraved texts, history comes to life around them. They meet figures from the past, such as Caroline Quarlls, the first known person to escape slavery through Wisconsin's Underground Railroad, and Walter Bresette, the beloved Ojibwe leader and activist. Viewers also encounter speaking trees and sounds that seem to come from another age: A wood thrush calls, wind rustles the forest canopy, an elder begins to speak.
"Writing in Stone began with walks through the tiny hilltop cemetery near my home," Agnew said. "It grew from a deep awareness that in these times of sweeping change and uncertainty it's more essential than ever not to forget the best and most honorable people and ideas of the past. The axis of the future spins on what we remember, and what we choose to honor as a culture and community."
Agnew, a highly-regarded sculptor and fiber artist, has delighted Milwaukeans with many large-scale public sculptures, beginning in 1985 with The Dragon Project, in which she installed a 350-pound dragon sculpture on Milwaukee's North Point Water Tower for one week. She may be best known for her monumental art quilt, Portrait of a Textile Worker, a powerful commentary on the treatment of sweatshop laborers. To make the quilt, Agnew painstakingly stitched together thousands of clothing labels gathered by hundreds of students, friends, relatives, and a widening circle of people from across the globe, who turned to their own closets to find labels to contribute.
Writing in Stone is equally labor-intensive and community-based. Agnew and a "small army" of collaborators, including Diane Dahl, Dick Blau, and Gene and Lynette Lombard, have taken more than two years to create the first 18 monuments. In selecting material for inclusion, they drew heavily on works published by the Wisconsin Historical Society Press. Invitations were sent to members of book clubs across the state to read from a list of selected titles and to identify the stories and ideas that spoke to them most personally and forcefully. "The project is a really innovative connection of these voices of the past with viewers of the present," said Kathy Borkowski, WHS Press director. "It's an important work for our times."
The Project is sponsored by Pieper Electric, Ideal Mechanical, The Kickapoo Cultural Exchange, and a generous RedLine Milwaukee 2016-17 Artist Residency and Exhibitions grant provided by the Greater Milwaukee Foundation.
Writing in Stone will be open to the public at Redline Gallery from January 20, 2017, through March 25th, 2017. It will be exhibited at Viterbo University in La Crosse September 8th-13th, 2017 and The Watrous Gallery in Madison from September 16th to November 5th, 2017.