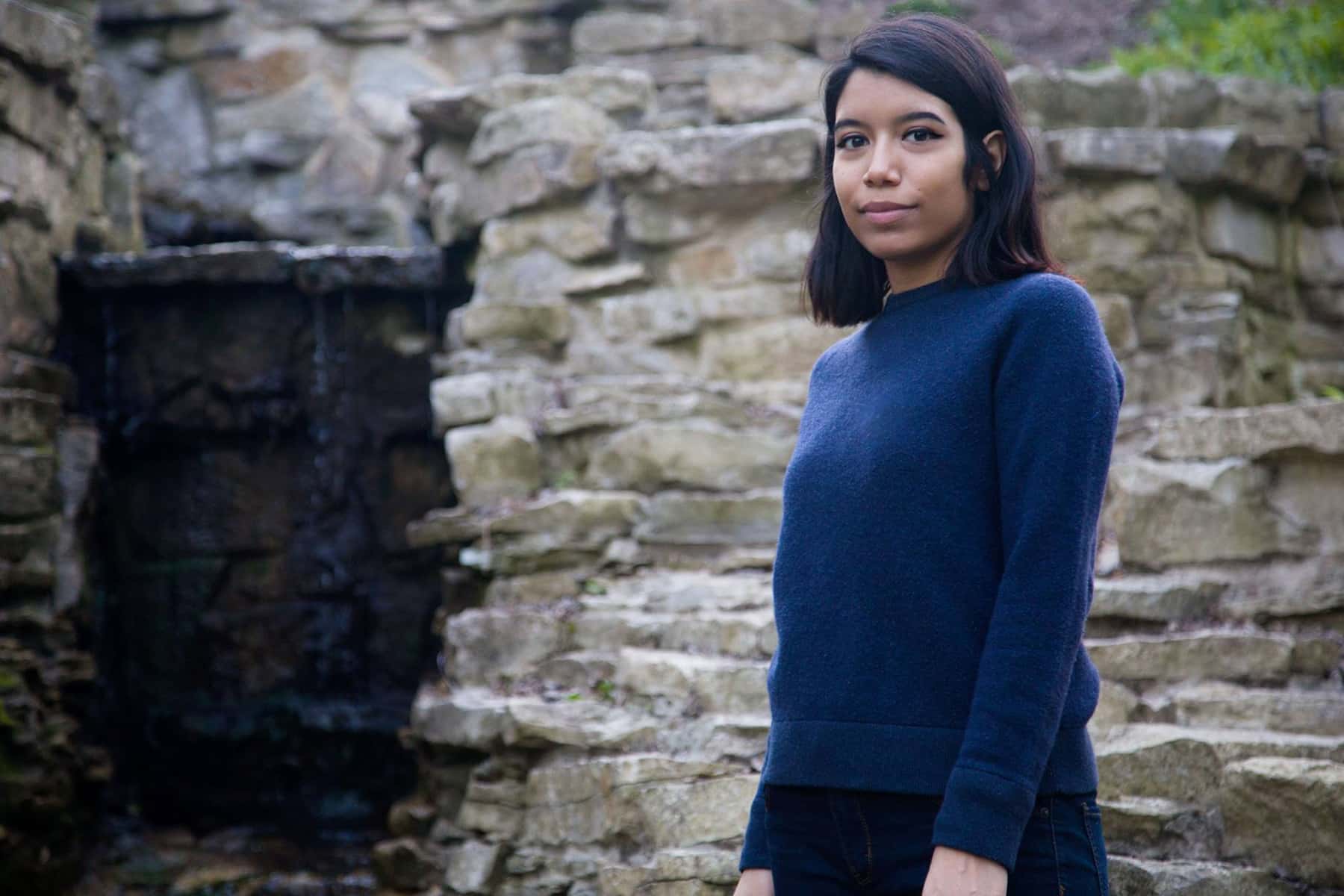 Milwaukee Film revealed a dynamic and colorful campaign theme in July designed to invite audiences to "Look for More" at the 11th annual Milwaukee Film Festival. Milwaukee-based digital artist Whitney Salgado created a lush visual reality from the simple concept, with her colorful illustration style inspired by nature, dreams, and surrealism.
What was your life like growing up and how did you get involved in the arts?
Whitney Salgado: Outside of the 10 years I've lived in Milwaukee, I've spent most of my life just north of Madison, WI. I was always doodling in school but never really took art seriously until I was about 15 and thinking about careers. I made sure to take as many art classes as I could and, if I had time to kill, I was always in our art room. At some point, I remember hearing about the Milwaukee Institute of Art & Design (MIAD) and just knew that's where I was going to study. Without MIAD, I wouldn't be the artist I am today. I learned a lot there, and developed my sense of style.
What is your creative process for transforming realistic visuals into surrealistic illustrations?
Whitney Salgado: I consider myself mainly a digital painter, so I work with programs like Photoshop and paint on my Cintiq. It's essentially a giant tablet connected to my computer that has pressure sensitivity to simulate painting. Before I discovered the magic of tablets, I worked mainly with colored pencils or acrylics. With the way I work, I'm constantly changing sections of my pieces or redoing areas, so working digitally has really helped me work faster and waste less paint. It's really the only medium that felt natural for me to work in. Once I see an image in my head and before the sketch phase, I always, always, always create a moodboard. Whether it is a folder on my desktop or a collection on Pinterest, I always have a group of images to reference when I get lost during a project. It's important to me to find pieces that inspire me and have a similar feel to what you're trying to accomplish. Then, I sketch out the piece a few times and always work on faces or eyes first. I'll spend a long time playing with colors and keep working on it and experimenting until it feels right. When I work on a piece, I try to complete it within a few days so the idea is still fresh. My favorite feeling is when you leave a piece alone for a few days and come back to it with ideas or a better direction.
What was the creative process like for producing the #MFF2019 campaign and how did it compare to your other work?
Whitney Salgado: This project was a little different because it came with a tough prompt: "Between the Lines," which is very vague. I had a hard time figuring out how to visualize that and put it into a 2D form. It was fun to explore some concepts, and I wanted to create something where you didn't see the whole picture right away. I think in the end we made something special that kind of forces you to really look it at to absorb everything.
Where do you find some of your sources of inspiration, either within or outside the realm of visual arts?
Whitney Salgado: It's hard to say because there are so many! I do spend an absurd amount of time browsing Pinterest and Instagram for inspiration. That's something I try to do daily because I think it's really important to feed your brain images to keep you inspired. Artists that I've always followed and admired are James Jean, Sachin Teng, Loish, Bao Pham, and Erik Jones to name a few. Music is always an inspiration too! EDM, Lo-Fi, Synth-pop, and shoegaze fuel my creativity. I particularly enjoy music that has a strong beat or is kind of trance-like because I find that it helps me focus on painting.
What is it like to be a Milwaukee-based creative artist and the local community unique?
Whitney Salgado: When I moved here I didn't know art would be so prominent in the city. I mean, you have sculptures all around the Third Ward, murals popping up all over the city, Gallery night, ect. A big part of Milwaukee is art and I've really enjoyed blossoming as a creative here. I've made posters and art for different events around Milwaukee and it just feels like a tight-knit community.
What is the hope for your career path as an artist and is there a dream project you would like to produce?
Whitney Salgado: I would really like to play with 3D rendering programs to create more surreal GIFs and videos. Thinking in 3D is different than 2D and think it would be a fun exercise to learn something new. Another project I've always wanted to do is paint a large mural. It would be fantastic to leave a lasting mark on Milwaukee, have something that's always on display, and give back to the community.
Do you enjoy other hobbies and what other goal in life are you still striving for?
Whitney Salgado: Aside from painting, I try to travel and hike whenever I have free time. One of my goals is to visit as many national parks and state parks as I can. Everytime I go to a new city I always look for places to hike or walk around looking at murals. I grew up in a country town that was surrounded by cornfields and a lot of trees. I've always felt close to nature because of that and have the need to get off the grid every now and then. There's something about being outside that relieves so much stress.
How have films influenced you as a person and your creative work, and what movies are most memorable to you?
Whitney Salgado: Film has helped me realize that the best stories are usually the stranger ones, it's a fun experience to drive into strange worlds. It's hard to pick just a few, but a few movies that have stuck with me are: The Cell, Spirited Away, The Matrix, and The Fall for their ability to take you away into a fantasy world. They're visually stunning movies that captivate you with their story and hold onto you scene by scene. (500) Days of Summer, Kill Bill, and Hot Fuzz because I enjoy how they are filmed. Each is clever in its own way and has a strong style.
Whitney Salgado and Kate Wash