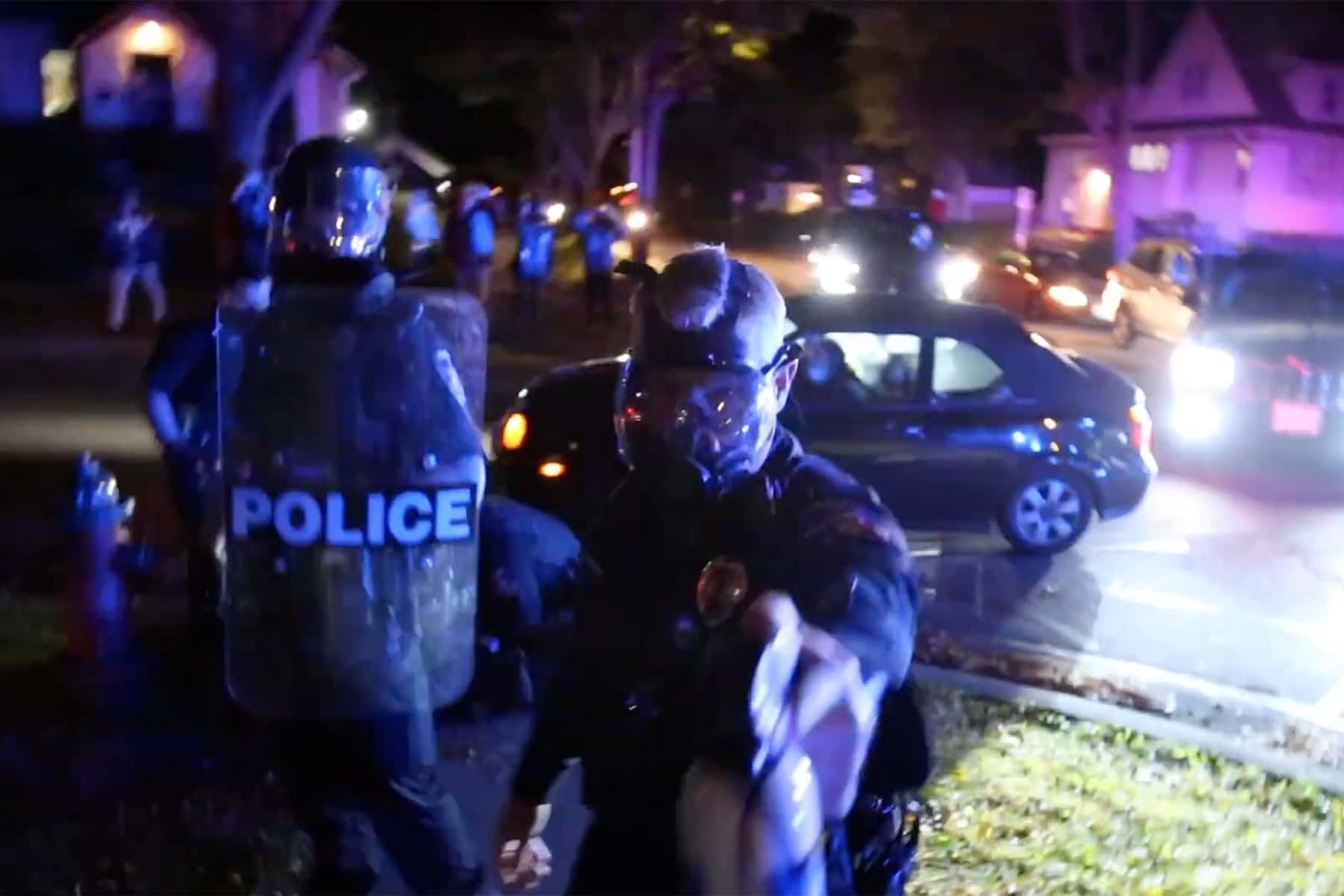 The city of Wauwatosa issued a legally questionable curfew on Wednesday, October 7 after Milwaukee County District Attorney announced that no criminal charges would be filed against Officer Joseph Mensah in the shooting death of 17-year-old Alvin Cole outside of Mayfair Mall on February 2.
Over the following days, Wauwatosa Police – with the support the Wisconsin National Guard and other unidentified law enforcement units that were militarized – brutally clashed with peaceful protestors. Clearly identified news reporters were detained without provocation and ACLU legal observers were targeted with chemical weapons.
Numerous media accounts, eyewitnesses statements, and livestream videos, reported that an ulterior purpose of the curfew was as a pretext by Wauwatosa Police for reprisals against the Cole family, and as an intimidation tactic to punish demonstrators exercising their Constitutional right to assemble.
The curfew was set to expire on Monday, October 12, and no steps were taken to extend it. Earlier that day, during a press conference with Wauwatosa Police Chief Barry Weber, Wauwatosa Mayor Dennis McBride was criticized for his response and denials.
"Curfews were not put in place to suppress people. Most people were white," Mayor McBride said. "The curfew was put in place because we wanted to protect and make sure no one got hurt."
The Mayor added that as far as city officials were concerned, it would be business as usual moving forward and "hopefully people will remain calm and peaceful like they have the last few nights, and we get back to living our lives as citizens."
On the evening of Tuesday, October 13, protesters remained calm and peaceful, yet were met with what critics described as an institutional viciousness by the Wauwatosa police. One documented altercation took place at Meinecke Avenue and 65th Street, one block north of North Avenue and 5 blocks west from the City of Milwaukee's municipal boundary.
"After appearing in blacked out vehicles at 68th and North, and declaring an unlawful assembly, the group decided to take the side street to Center Street to get out as fast as possible. We were told if we didn't disperse in three minutes we would be subject to arrest. We were trying to leave. They blocked the streets with their cars, we were forced to continue making turns, taking us in a circle until the three minutes was up. They then took down a bike scout, throwing him on the back of my car, then around to the front, tossing him across the hood of my car then tasing him once on the ground. He was incapacitated. From the start he was incapacitated. You can hear officers telling him to stop resisting. There were around seven officers on him, there was no way to resist.
Lt. Jeffery Farina attacked media that was with us, threatened to mace him, after one of his officers had knocked him repeatedly with his riot shield. Which again, why are you in riot gear? Prior to this incident, we had been marching, and chanting, and driving, and honking our horns. We are nonviolent and have shown that. They try and get us for protecting our marchers with our cars, then they should be blocking streets for us the way Milwaukee PD does." – Sonora Larson
Sean Kafer, a Lecturer and Project Director of UW-Milwaukee's documentary media center, filmed part of his personal experience – when he was struck by a law enforcement officer while filming the police assault of female bicyclist. The segment was posted to social media around 9:00pm and went viral shortly after.
"After a promised 'return to normal,' walking, chanting protesters were attacked and gassed by the Wauwatosa Police Department. This is NOT normal." – Sean Kafer
These headline links feature the daily news reports published by Milwaukee Independent about the George Floyd protests, the revival of the Black Lives Matter movement that followed, and their impact on the local community in for 8 months from May to December of 2020.