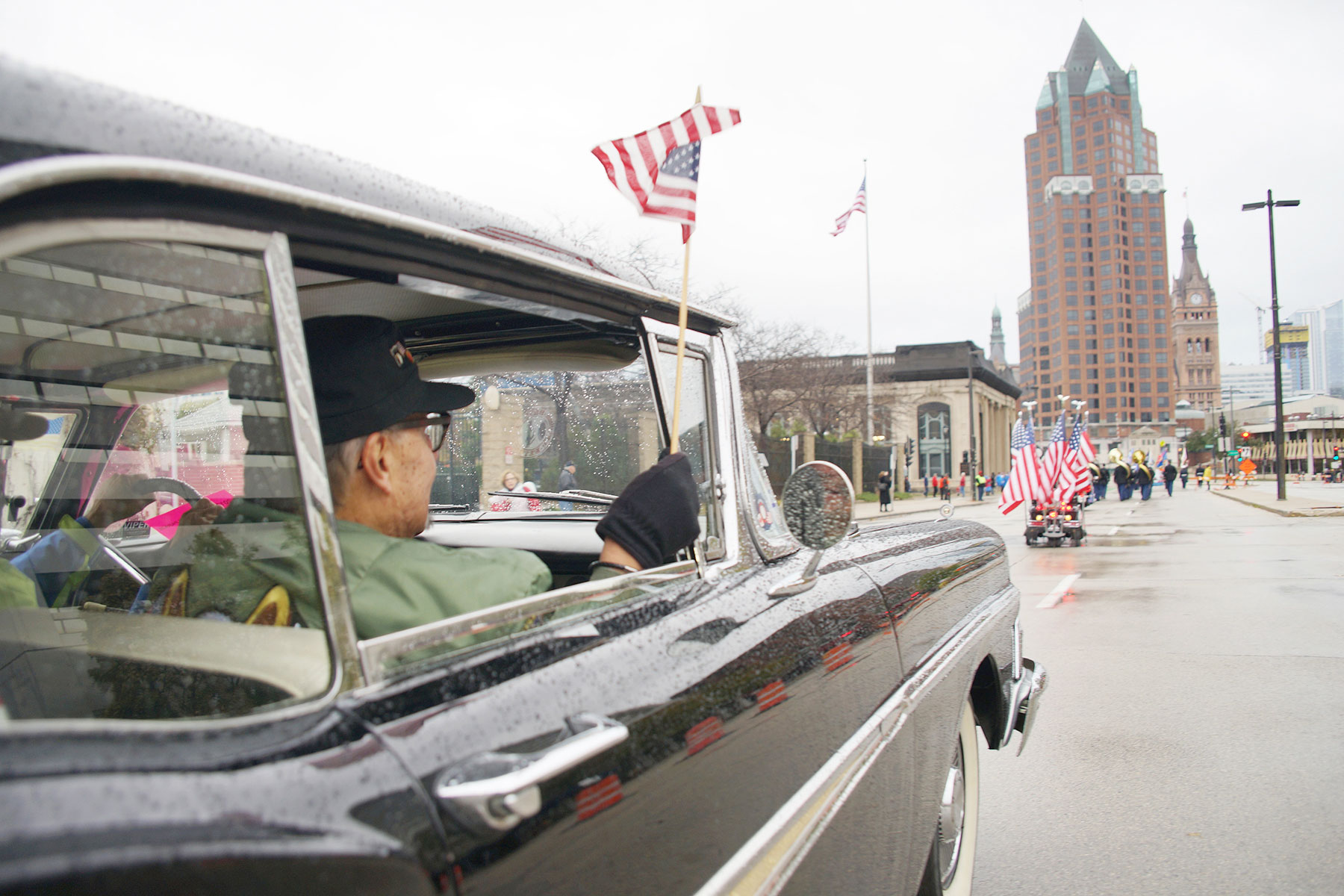 Milwaukee may hold its last Veterans Day Parade this year due to fading financial support and dwindling interest from the public. The 2019 Day of Honor for local veterans will take place on November 16 at the Milwaukee County War Memorial Center.
The annual celebration recognizes all veterans, but this year features those who served in World War II. The men and women who fought in that global conflict are in their 80s and 90s, now involved with the battle of aging. According to U.S. Department of Veterans Affairs statistics, only 496,777 of the 16 million Americans who served in World War II were alive in 2018.
What does it say about the patriotism of Milwaukee and Waukesha corporations, and the general public interest, to actually honor its hometown veterans and active duty members, when a foreign company has to fund our local Veteran's Day Parade to keep a half century tradition alive?
That was the question Milwaukee Independent asked in late October of 2017, during the NFL flag kneeling controversy. It came from the observation that members of the local community were willing buy expensive tickets and travel far to attend an outdoor entertainment event, and in an incidental moment show the measure of their patriotism by standing for a song that barely lasted a minute. However, those same people failed to make any time for a free event in their hometown to actually honor American heroes by simply showing up to wave and smile.
This year the Milwaukee Independent spoke with Mary Ann D'Acquisto, president of the nonprofit that organizes the annual Veterans Day Parade in Milwaukee, to take a pulse on the condition of the event and its future.
Q&A with Mary Ann D'Acquisto
Milwaukee Independent: How did you become involved with Honor Our Military Inc., and why was the organization created?
Mary Ann D'Acquisto: In 2000 the Veterans Day Parade in Milwaukee was cancelled due to health problems of the veteran organizing the event. My father and two of his brothers served in WWII. He was very patriotic and instilled in me a passion for our veterans. When I heard the parade was cancelled, I called the veteran who had organized it previously and told him I was willing to give it a try. After a series of meetings I was given the "blessing" to take it over. As luck would have it, I was taking care of a Vietnam veteran at my job as a nurse who had a friend he thought would be interested in helping out. I made a cold call to Prentice Jones, who was also a veteran, and he immediately said yes. We formed the non-profit now known as Honor Our Military, Inc. to bring the parade back and try to keep it going. Prentice was a behind-the-scenes kind of person, and most people don't realize how instrumental he was in bringing this event back and keeping it going. I could not have done it without him.
Milwaukee Independent: In addition to marching along Kilbourn Avenue to the War Memorial Center, what are the other aspects of the parade's activities?
Mary Ann D'Acquisto: I don't know if most people realize it, but we put on a parade and Day of Honor for our veterans. The Day of Honor portion consists of heated shuttle buses to transport them to and from parking, coffee, and donuts in the staging area, commemorative dogtags, posters and programs, a Memorial Service, flyover, and luncheon with reception for all veterans registered in the parade. The luncheon includes a hot meal, entertainment, and door prizes.
Milwaukee Independent: What factors have you seen affect interest and attendance in Milwaukee's Veterans Day Parade since you first started attending?
Mary Ann D'Acquisto: That is a very difficult question – we have always struggled with getting people to attend the event. We have tried to get the word out as best we could – press releases, posters, e-mail, Facebook, and such, but it was never enough. The first year we took over the event was 2001 and it was just post 9/11, so everyone was very patriotic and we had a huge crowd. In the 18 years since, we have seen less and less attend every year. I have heard many reasons from people for not attending, like 'it is too cold, I take my kids to the Christmas parade instead, I don't have any veterans in my family, I donate money to the veterans,' and the list goes on. I don't think people realize how much it means to many of our veterans to have a show of public support. When no one is on the street watching the parade it makes them feel as though they are forgotten.
Milwaukee Independent: Has the elderly condition of World War II veterans altered plans for the 2019 parade, and what will the new format look like?
Mary Ann D'Acquisto: Yes, 2019 is the 75th Anniversary of D-Day and many other major battles in WWII. Consequently the WWII veterans are our Special Guests of Honor for this year's event. All veterans will be honored and participate, however the WWII vets are our featured guests. In the traditional parade format – veterans are outside for almost 4 hours and the last several years the weather has been less than favorable. That lead us to plan an event that was warmer and drier with more indoor time for our veterans.
The agenda for the day is as follows, this is open to the public: November 16 at the Milwaukee County War Memorial Center. 0900: Displays – military related groups and a special WWII display and performances by some of our favorite parade units. 1030 – Memorial Service. Veterans Day Parade will consist of an Honor Walk and Motorcade, it will not be the traditional 1.5 mile parade route. 1100 – Honor Walk to let our veterans know how much we appreciate them as they parade from the War Memorial over the Mason Street Bridge to Prospect Avenue. 1200 – Veterans Motorcade leaves the War Memorial to take our veterans to a reception at Potawatomi Hotel and Casino. Motorcade Route – leaves Prospect and Mason and heads west down Wisconsin Avenue to 6th Street, south on 6th Street to Canal Street, west on Canal Street to Potawatomi.
The veterans will have their coffee and donuts indoors at the War Memorial and can watch the performances from inside the building. The reception and luncheon for veteran participating in the Honor Walk will be at Potawatomi this year, so that we can have a sit down lunch where there is more room. Also, everyone can watch a documentary we are putting together profiling some of our local WWII veterans.
Milwaukee Independent: For the veterans who participate in the parade each year, what do they enjoy most about the experience?
Mary Ann D'Acquisto: The general consensus is the camaraderie of everyone being together – whether at the breakfast, parade, or luncheon. I do know, however, it has been very disappointing for them to see less and less people coming to the parade to cheer them on.
Milwaukee Independent: Do you have a memorable story about how the parade impacted a Milwaukee veteran?
Mary Ann D'Acquisto: I have two that always immediately come to mind. Several years ago we got a call that a veteran on hospice wanted to be in the parade. He was a Vietnam veteran and very ill, but really wanted to attend. We put him in the parade with the other Vietnam veterans groups. I never got to meet him that day but I saw him on the video, he was in full uniform and smiling from ear to ear waving to the crowd. Despite that you could tell he was gravely ill. I talked to one of the veterans on our Board who stated he spent some time with him on parade day, and the veteran told him it was a great day. He had very much enjoyed that time being with his fellow Vietnam veterans. I received a call from my Board member later in the week, asking me if I had seen the paper, I told him I had not. He said there was an obituary for this veteran in the paper, he passed away the day after the parade.
One year I received a call from a man who lived outside of the Milwaukee area requesting for his father, a WWII veteran, to be in the parade. He also had a friend who was a Vietnam veteran who would accompany his father. We made arrangements and both men participated in the parade. I received an e-mail from this man stating what an impact the day had on him, his father and his friend. After his father was done riding in the parade they stood on the sidewalk to continue to watch the rest of the event. The day had turned suddenly colder and his father has not brought his coat, another veteran – a stranger, came up and put his coat around his fathers shoulders. He stated it was the first time he thanked his father and his friend for their service, and he wished he had done so sooner. The event had a big impact on this man and he saw his father and friend in a whole new light. He was so grateful he was able to do this with them. I don't think people understand how an event like this can a lasting impact for people because it is just a parade.
Milwaukee Independent: Do you have concerns for the future of the Veterans Day Parade, and how can Milwaukee get involved to help?
Mary Ann D'Acquisto: It appears that parades in general are becoming a thing of the past. The Christmas parade shut its doors last year due to multiple issues. It seems that no one has an interest in bringing it back either. We are experiencing some of the same issues, so we are just taking one year at a time. I guess Milwaukee has to decide what traditions are important to keep.