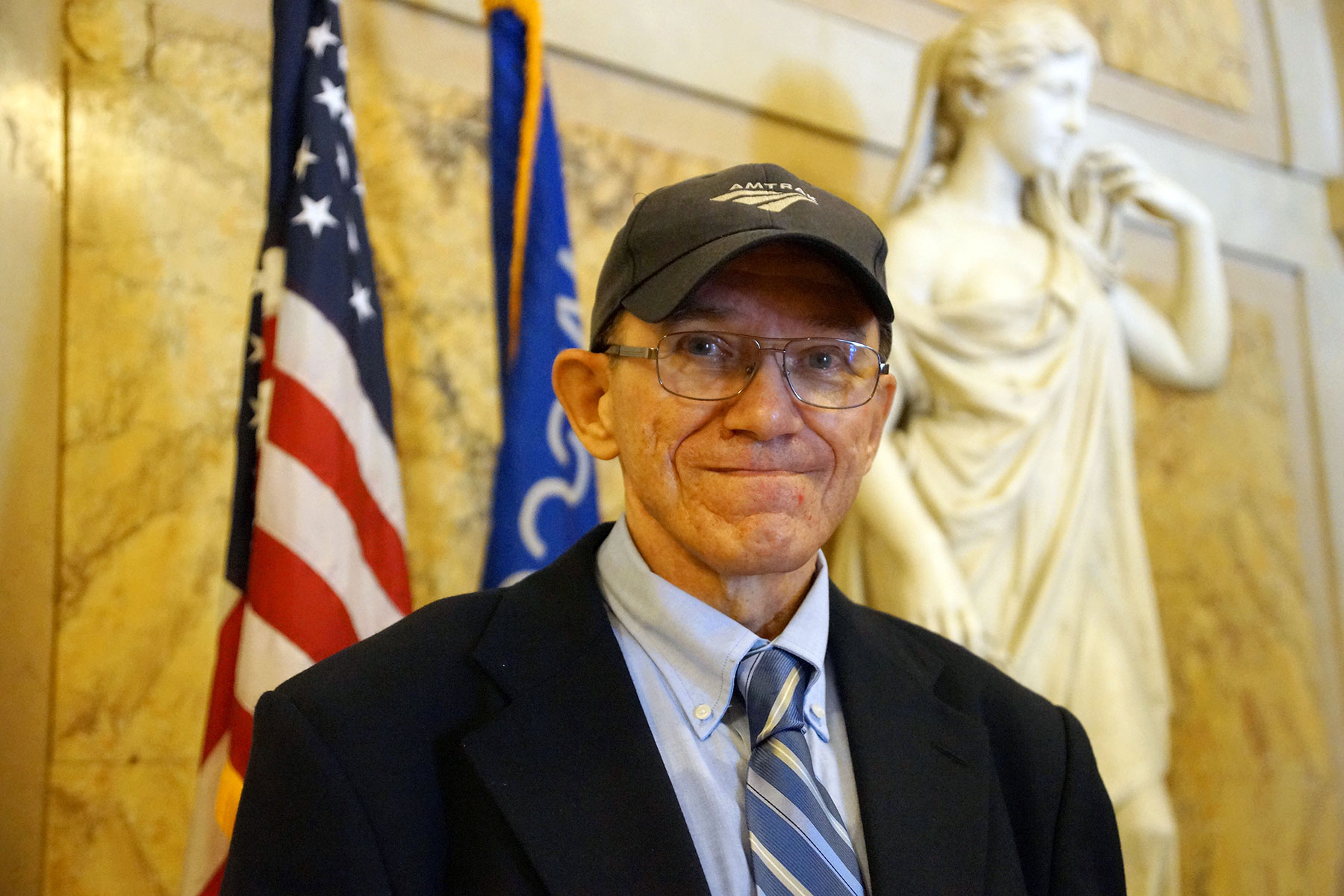 Milwaukee had a fast and efficient public transportation system that sustained residential need for travel and fueled economic sustainability, until city planners got a glimpse of the future.
Originally built in the 1960s, the Marquette Interchange was rebuilt over four years from 2004 to 2008 and is the main transportation hub for downtown Milwaukee. Commuters use it every day and is one of downtown Milwaukee's most prominent architectural landmarks.
Over the years, millions of motorists would come to know the interchange as part of their route to work, around town, or across the state. Yet mostly forgotten from the public memory was the vast transportation system that the city had enjoyed for decades, which fell victim to the automobile and the economics of modernization.
"Urban Rapid Transit? Say that to anyone in Milwaukee today and you'll get a blank stare, said author Larry Sakar. "They have no idea that we had anything like that from the 1920s to the 1950s."
The Milwaukee Public Library's summer series of lectures included one on June 25 about the history of Rapid Transit interurbans in the Milwaukee area. It was presented by Sakar, who has spent nearly 50 years researching the largely unknown segment of Milwaukee transit history. His book "Speedrail: Milwaukee's Last Rapid Transit" detailed a romantic period of time when rail was king, until the service ended 65 years ago.
"Speedrail's line from downtown Milwaukee west to Waukesha, along with a branch line to suburban Hales Corners, was the remnant of the Milwaukee Electric Rail & Light system that radiated from the Cream City's Public Service Building into much of southeastern Wisconsin," said David Hart Nelson.
After World War II, the survival of electric transit was already failing in Milwaukee. Operations to keep the Speedrail going were lucky to brake even. Insurance problems, bus competition, steady decline in ridership, and a disastrous Labor Day crash in 1950 hastened the end for the area's public rail network.
The original rapid transit lines included #2 Local Rapid Transit (West Junction), #91 Milwaukee-Racine-Kenosha (MRK), #92 East Troy/Burlington, #93 Watertown, and #94 Sheboygan. Speedrail was the last remnant of Milwaukee's once vast and proud interurban rail system, begun by the Milwaukee Electric Railway and Light Company in the early 1900s.

Timeline of Milwaukee's Rapid Transit system:
1896-1909: The Milwaukee Electric Railway & Light Co. (TMER&L, predecessor of We Energies and Milwaukee County Transit System (MCTS)) built interurban lines to Watertown, East Troy, Burlington and Kenosha (MRK).
1907-1908: Milwaukee Northern Railway opened interurban line to Sheboygan.
June 14th, 1926: First leg of Rapid Transit grade-separated right-of-way (ROW) opened from N. 40th St. to West Junction (today's Zoo Freeway (I-894/I-41/US 45) and W. Burnham St.) to remove Watertown, East Troy and Burlington interurbans from increasingly congested streets.
1928: TMER&L bought the Milwaukee Northern Railway interurban to Sheboygan.
1930: Construction started on Downtown subway, but was suspended during the winter and never resumed as the Great Depression worsened.
September 22nd, 1930: Rapid Transit grade separated ROW extended east to W. Clybourn and N. 8th Sts.
June 28th, 1934: Power line dynamited and fell on East Troy line track at Vernon Center during the TMER&L carmen (motormen, conductors, drivers and mechanics) strike that left 1 dead, 50 injured and 97 arrested.
1935: The Public Utility Holding Company Act mandated utility corporations to divest public transit operations.
1938: TMER&L was reorganized as the Wisconsin Electric Power Co. (Wisconsin Electric/Electric Co.), which spun off its public transit operations into a newly created subsidiary, The Milwaukee Electric Railway and Transport Co. (Transport Co.). Burlington line abandoned.
1939: Watertown line cut back to Oconomowoc. East Troy line cut back to Hales Corners.
1940: Oconomowoc line cut back to Waukesha. Sheboygan line cut back to Port Washington.
1943-1946: Transport Co. sold Rapid Transit interurban lines to Kenosha Motor Coach Lines (KMCL).
January 30th, 1947: Only public transit service operating during the second day of the 1947 Blizzard.
1947: MRK line abandoned.
1948: Port Washington line abandoned. Northland Greyhound Lines bought KMCL.
1949: The Milwaukee Rapid Transit and Speedrail Co. (Speedrail) bought remaining West Junction, Waukesha and Hales Corners lines.
1949: The Wisconsin Legislature passed Chapter 620 to allow the creation of a Metropolitan Transit Authority (MTA) for public ownership and operation of public transit systems.
1949-1951: The Common Council failed to pass Mayor Frank Zeidler's request to create a MTA to buy the remaining Rapid Transit lines and eventually the Transport Co.
September 2nd, 1950: Head-on collision between a 2 heavyweight car train and a 2 lightweight car train at W. National Ave. on the Hales Corners line killed 10 riders and injured 47 passengers.
November 1950: Speedrail went into receivership.
June 30th, 1951: Last remaining lines to West Junction, Waukesha and Hales Corners abandoned.
January 27th, 1962: First section of the East-West Expressway (I-94) opened on former Rapid Transit right-of-way from N. 13th to N. 26th St. and paralleling former high tension towers right-of-way from N. 26th to N. 68th St.