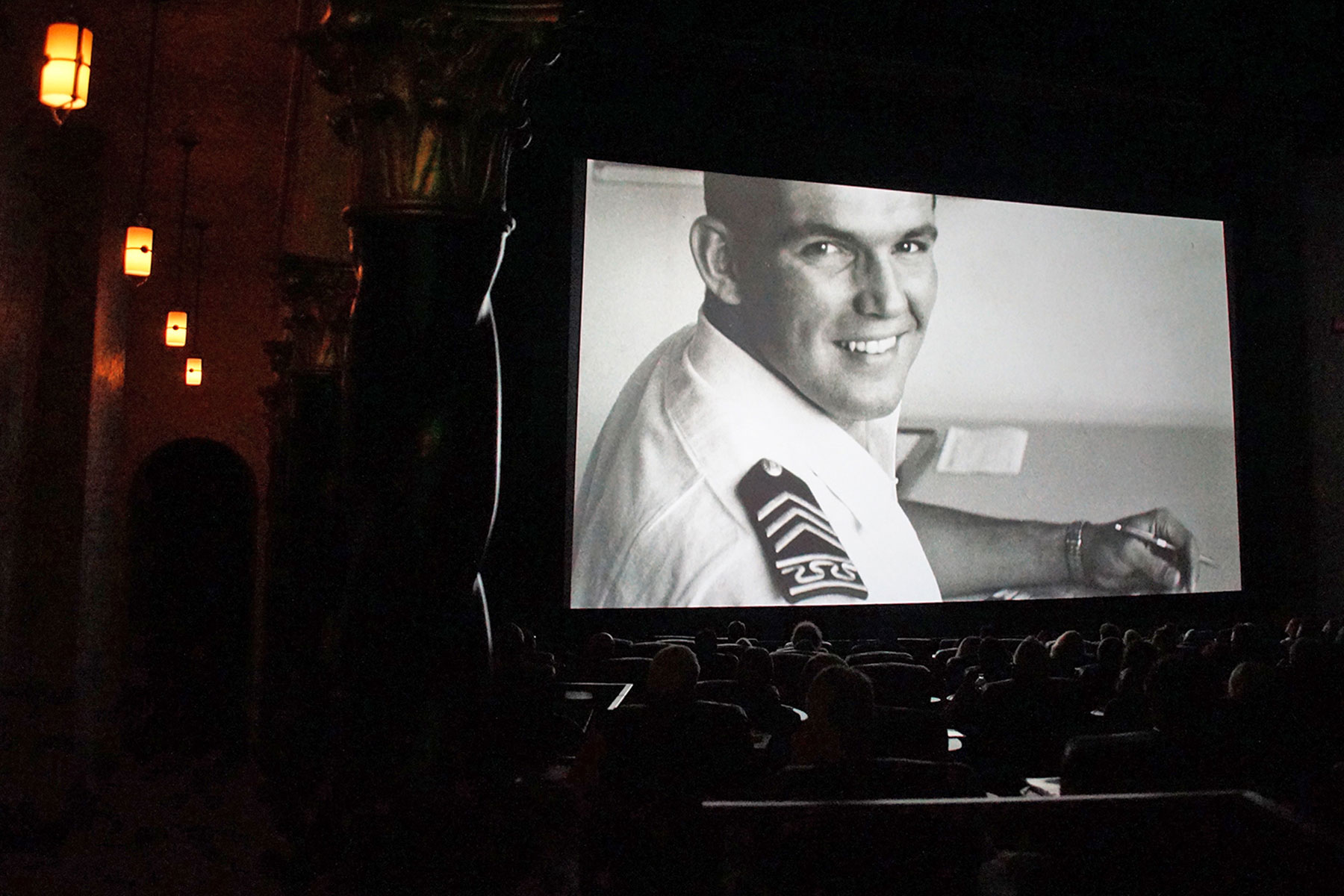 Milwaukee Film recently announced its first wave of programming for the 10th Annual Festival, including the World Premieres and new Das Kino, GenreQueer, and Teen Screen program categories.
Programmed by teens and for teens, Teen Screen includes four features, including the award-winning hip-hop musical My Name is Myeisha. Notably, the Teen Screen program category was developed over the course of a year through Milwaukee Film's partnership with Public Allies and will expand to year-round teen audiences, including through the Teen Film Council.
Diving into the complex topics in LGBTQ+ lives, works by both emerging and established filmmakers are represented in the new GenreQueer program, including Andrew Fleming's comedy-drama Ideal Home, starring Paul Rudd and Steve Coogan.
Taking inspiration from Milwaukee's own culturally rich German roots, Das Kino explores contemporary German cinema through films such as the critically acclaimed Western and Christian Petzold's Transit.
World premieres include local filmmaker Chip Duncan's newest feature documentary, The First Patient, which was created in close collaboration with and support from the Mayo Clinic School of Medicine. Thought provoking and surprisingly soulful, The First Patient follows first year medical students as they tackle a rite of passage – the dissection of a human body in gross anatomy class.
PREMIERES
Ayotzinapa, El paso de la Tortuga
(Mexico / 2018 / Director: Enrique García Meza)
Program: Cine Sin Fronteras
US Premiere! On September 26, 2014, 43 student activists from Ayotzinapa were violently detained by local police, and soon thereafter disappeared. The facts soon became plain to see – this was an act perpetrated by members of the army, government, and local police colluding with organized crime. A sobering documentary that examines the government corruption at both state and federal levels that allowed this, as well as the massive worldwide protests it sparked, reminding the families seeking closure that their pain and desire for justice were shared the world over.
The First Patient
(USA / 2018 / Director: Chip Duncan)
Program: Spotlight Presentations
World Premiere! Local filmmaker Chip Duncan takes us behind the scenes as first year medical students are introduced to the first patient they'll ever work on – human cadavers to be dissected during the medical rite of passage that is gross anatomy. Granted unprecedented access to this previously exclusive world, we follow the students, faculty, and body donors on a dramatic and emotional journey into the human body -receiving a true education into their chosen profession as well as a crash course in what it means to be human.
Invisible Lines
(USA / 2018 / Laura Dyan Kezman, Nate Imig, Vianca Fuster)
Program: Spotlight Presentations
World Premiere! In this special feature-length presentation of 88Nine Radio Milwaukee's acclaimed web series, we see discussion of the divisions that exist in our city – frank, unscripted conversation about segregation, racism, and discrimination from a diverse pool of Milwaukeeans (activists, artists, students, and historians all participate). Springing forth from the notion that there can be no community building without genuine dialogue, Invisible Lines is a much-needed conversation surrounding topics long forced to the periphery.
Lake Michigan Monster
(USA / 2018 / Director: Ryland Tews)
Program: Cream City Cinema
World Premiere! An eccentric ship captain and a group of specialists attempt to hunt down the wiliest creature of the deep – the Lake Michigan Monster. Banned in four lakes, this madcap comedy (filmed in black-and-white) harkens back to creature features of yore with a briny aesthetic all its own, harkening to the absurdist fantasy stylings of Guy Maddin.
This Little Light
(USA / 2018 / Director: Ada Mcmahon, Wendi Moore-O'Neal)
Program: Cream City Cinema
World Premiere! Wendi Moore-O'Neal, Black Feminist organizer and freedom singer from New Orleans, is fired from her community organizing job after marrying her wife Mandisa due to a homophobic celibacy policy held by her non-profit employer. A portrait of the power of love, community, and the living legacy of the Black Southern Freedom movement, we follow Wendi on her inspiring journey, calling all of us to rethink how we approach work and building a beloved community in the Era of Trump.
Sijan
(USA / 2018 / Director: Tim Seymour, Janine Sijan Rozina)
Program: Cream City Cinema
World Premiere! The inspiring story of Capt. Lance Peter Sijan, Sijan covers the unbelievable yet true circumstances that led to his being a Medal of Honor recipient. While on a mission over Laos on November 9, 1967, a 25-year-old Lance Sijan was forced to eject from his disabled aircraft into the thick jungle environs below. Miraculously surviving for 45 days without food, water, or the hope of rescue, Lance somehow evaded enemy capture. A moving reminder of the value of honor and integrity in an era where we need it most.
Yen Ching
(USA / 2018 / Director: Yinan Wang)
Program: Cream City Cinema
World Premiere! This incisive documentary takes a fresh look at the family dynamics in play at the Chinese restaurant of the film's title. Intimate footage captures how the restaurant owner, Chen, and his children pursue the American dream in distinctly different ways. As we learn Chen's life story, we see the dilemma he faces – for very different reasons, each of his sons are not interested in following the traditional Chinese-American path in which they inherit the family business.
TEEN SCREEN
Program philosophy: Hand-picked by our Teen Selection Committee, this series of fresh stories about contemporary teen life and issues that matter to young audiences in our city are perfect for anyone who cares about what teens care about.
Blue My Mind
(Switzerland / 2017 / Director: Lisa Brühlmann)
We all go through changes during our teenage years, but Mia's are more pronounced than most. Feeling estranged from her parents and lashing out through experimentation with drugs and sex, Mia's body begins to change. Whether it's the hunger for extremely raw seafood and salt water, or the bruises that cover her legs, it's clear a change is occurring whether Mia likes it or not. A pitch-perfect allegory surrounding the transformations in a young woman's body, Blue My Mind is an incredible debut from director Lisa Brühlmann.
High Fantasy
(South Africa / 2017 / Director: Jenna Cato Bass)
Freaky Friday meets The Blair Witch Project as four friends on a South African camping excursion wake up to realize they've all swapped bodies. A canny examination of race (one of the party is white), gender (one is male), and social mores filmed with a nervy energy (the film was entirely shot on an IPhone), High Fantasy is a standout post-apartheid examination of the body politic, fearlessly examining identity in our modern era through richly authentic performances and dialogue from its teen leads.
My Name is Myeisha
(USA / 2018 / Director: Gus Krieger)
Taking the 1998 police shooting of teenager Myeisha Taylor as its starting point, My Name is Myeisha weaves a hypnotic musical from her dying moments, as Myeisha experiences both her past and potential futures in a dreamlike state. This is cinema as ferocious elegy, blending hip-hop, spoken word poetry, and dance, taking the senseless tragedy of a life cut needlessly short and turning it into a dazzling and unforgettable musical journey, a much-needed reminder that black lives always have, and always will matter.
Personal Statement
(USA / 2018 / Directors: Juliane Dressner, Edwin Martinez)
Follow Karoline, Enoch, and Christine, three college-bound Brooklyn-based high school seniors who want to bring all of their classmates along with them. Recognizing the lack of college guidance support in their classrooms (much the same across the country), they become the change they seek, counseling their peers through the college entrance process. An inspiring look at social justice in action, Personal Statement reminds us of the immense change we are all capable of creating around us.
GENREQUEER
Program philosophy: Spotlighting the best in documentary and fiction filmmaking that explores LGBTQ+ lives, GenreQueer amplifies both new and established voices from cinema's rich queer tradition.
Bixa Travesty (Tranny Fag)
(Brazil / 2018 / Directors: Cláudia Priscilla, Kiko Goifman)
Meet Linn da Quebrada, a black transwoman from São Paulo whose bold performance art spreads an activist message of inclusivity and empowerment that seeks to shake Brazil's heteronormative order to its core, one electric performance at a time. Bouncing between impossibly energetic performance footage (Linn performs along with her childhood friend Jup do Bairro, also trans) and intimate, gentle home video of her home life, a winning portrait of a genderqueer artist/activist whose body serves as a canvas on which her message of individuality is writ large.
Chedeng and Apple (Si Chedeng at si Apple)
(Philippines / 2017 / Directors: Rae Red, Fatrick Tabada)
Two lifelong friends take to the road on a madcap Thelma and Louise-style road trip in this bawdy and touching dark comedy. Upon the passing of her husband, Chedeng announces to her family that she is a lesbian and sets out reunite with her very first love, Lydia. Along for the journey is her best friend Apple, who recently relieved her abusive husband of his head (toting it along for the ride in a Louis Vuitton bag) while attempting to stay one step ahead of the law.
Ideal Home
(USA / 2018 / Director: Andrew Fleming)
Celebrity chef Erasmus (Steve Coogan) and his long-term partner Paul (Paul Rudd, cinema's Dorian Gray) live a life heavy on extravagance, low on consequence until the surprise arrival of a 10-year old grandson at their doorstep, the product of Erasmus' "experimental phase". Forced to take in this surly youngster with an affinity for Taco Bell (lest he be entered into child services), the couple find their lives and relationship invigorated by this crash course in parenthood, in this eminently charming comedy from director Andrew Fleming (The Craft).
Rafiki
(Kenya, South Africa / 2018 / Director: Wanuri Kahiu)
Both the first Kenyan film to screen at Cannes while also being banned in its home country, Rafiki is a tenderly realized tale of forbidden teenage love bursting with bright color. Despite their fathers being political opponents in the upcoming local election, Kena and Ziki have immediate chemistry while bonding over their shared desire to be more than just "typical Kenyan girls". But when word gets out that theirs is more than just a friendship, they must contend with backlash from a town (and country) where such relationships are illegal.
When the Beat Drops
(USA / 2018 / Director: Jamal Sims)
By day, they are teachers, doctors, and professionals making a living in Atlanta. But by night, they join their chosen family as members of an elite fraternity united by the electric and subversive underground dance style known as 'bucking'. Initially created by gay African American men in the deep South in response to exclusion, bucking is now forcing its way into the mainstream, an explosive party of kinetic energy. Learn of its incredible history and meet the performers who dedicate their lives to this craft in this documentary celebration.
DAS KINO
Program philosophy: Showcasing the wide array of cinema produced in Deutschland and the multi-faceted contemporary and historical German experience, allowing Milwaukee audiences to reflect on our own rich cultural heritage and leave the theater with a strong feeling of gemütlichkeit.
3 Days in Quiberon
(Germany, Austria, France / 2018 / Director: Emily Atef)
One year before her untimely passing in 1982, Romy Schneider (one of Europe's greatest stars) gave her final interview to a German journalist while staying at a spa hotel in Quiberon, attempting to sober up out of the spotlight. That delicate cat-and-mouse game between the unvarnished diva and the ambitious writer forms the basis for this stirring biopic, lensed in sumptuous black-and-white. A look at the perils of fame through the lens of a "real, flawed, open-hearted, and very human" (Variety) protagonist, captured brilliantly by Marie Bäumer.
Bye Bye Germany
(Germany, Luxembourg, Belgium / 2017 / Director: Sam Garbarski)
Frankfurt, 1946. Having successfully survived the holocaust and Nazi regime, David Bermann and his Jewish friends now have their sights set on immigrating to America. Sensing an opportunity in their war-torn locale, the men become "luxury" linen salesman, going door-to-door and selling their wares to guilt-ridden Germans through sheer chutzpah. But as their business booms, questions linger about David's wartime activities. Such as: why does he have two passports? And why did he visit Hitler at Obersalzberg? Bye Bye Germany is a high-wire balance of intrigue, drama, and comedy.
In the Aisles
(Germany / 2018 / Director: Thomas Stuber)
Shy Christian (Franz Rogowski) takes on a job at a German superstore. He is taken under the wing of Bruno from beverages, who tries to teach him how to operate a forklift as well as the complicated web of workplace rivalries and alliances. But it's the relationship he develops with the kind Marion from sweets (Toni Erdmann's Sandra Hüller) that truly makes his heart sing (even if Marion is married). What follows is the German equivalent of Jim and Pam from The Office, a richly empathetic and gentle human drama.
It Must Schwing: the Blue Note Story
(Germany / 2018 / Director: Eric Friedler)
In 1939 New York City, two German refugees from Berlin came together to found the most iconic Jazz label in music history, Blue Note Records. Miles Davis, John Coltrane, Thelonius Monk, Quincy Jones, and more all came through their doors to create incredible recordings that thrummed with unique energy and urgency. In an era where black musicians were subject to discrimination and segregation, Blue Note provided an outlet through which to showcase their mastery. Learn more about this integral moment in music history, peppered throughout with artiful animated recreations.
Transit
(Germany, France / 2018 / Director: Christian Petzold)
Narrowly escaping occupied Paris, Georg (Franz Rogowski, the patron saint of Das Kino) hunkers down in Marseilles, waiting for an escape to Mexico, only to find himself embroiled in a strange love triangle. Christian Petzold's (Barbara, Phoenix) queasily beguiling quasi-contemporary adaptation of Anna Seghers 1944 story of refugees trapped in a Kafka-esque blizzard of bureaucracy cleverly set in a place outside of time, creating a masterful sense of unease while reminding us via this story of immigrants stripped of their humanity as fascists encroach from all sides that time is a flat circle.
Western
(Germany, Bulgaria, Austria / 2017 / Director: Valeska Grisebach)
A German construction team begins the arduous work at a remote building site in the Bulgarian countryside. And while the soft-spoken Meinhard sees this as an opportunity to get to know the Bulgarian people despite their language barrier, his macho-to-a-fault co-workers do not share his cultural curiosity. As tensions escalate between the rowdy Germans and unwelcoming Bulgarians, the stage is set for a showdown with Meinhard stuck right in the middle. Simultaneously exploring toxic masculinity and toxic nationalism, Western is a critically acclaimed portrait of testosterone-fueled discord.