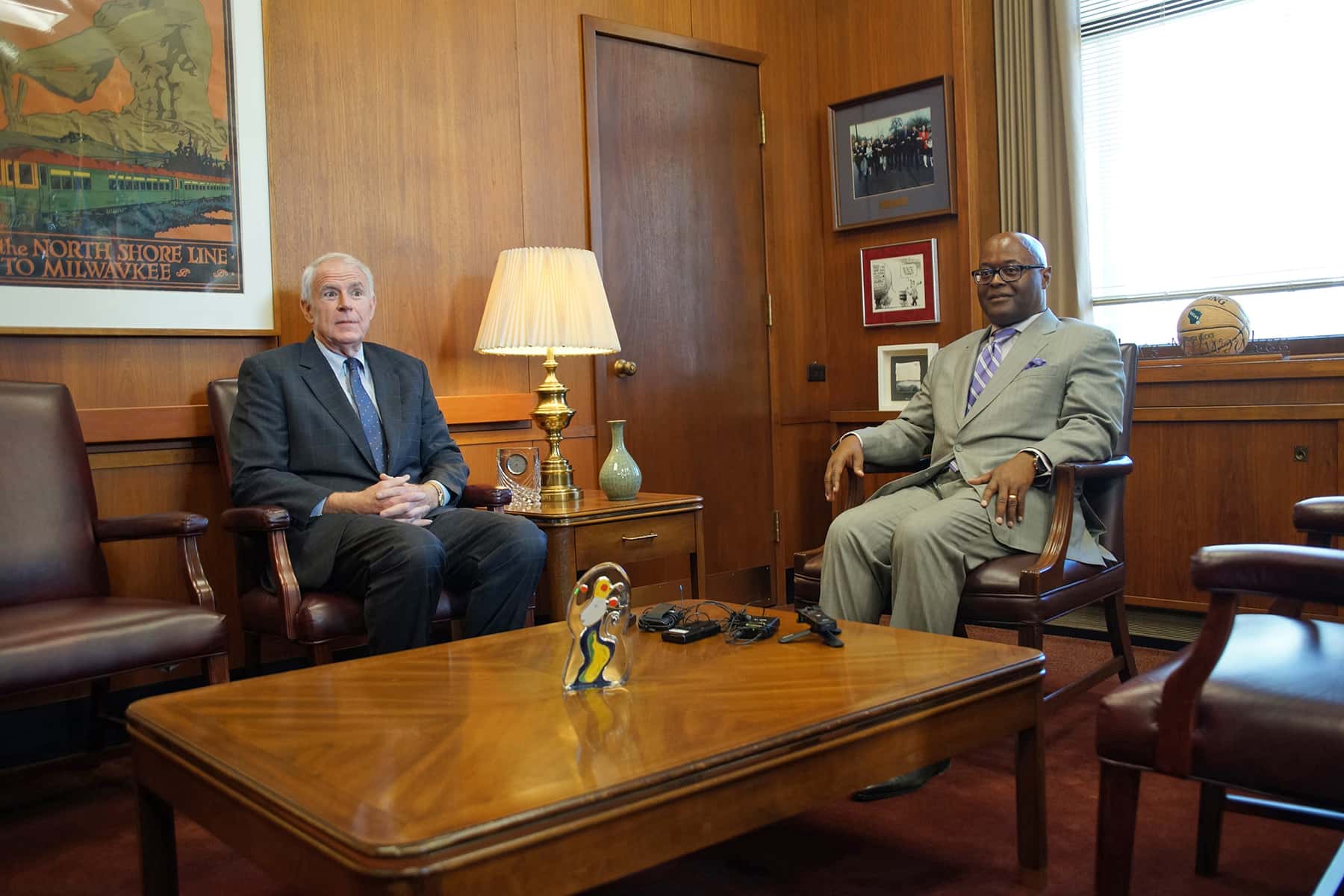 In his office at City Hall on November 7, Mayor Tom Barrett expressed his excitement to sit down and talk with the newly elected Sheriff of Milwaukee County about their new partnership, and moving forward together to address community challenges.
Lucas won a decisive victory in August's Democratic primary with 57% of the vote. For the general election he faced no opposition on the ballot. In his campaign, Lucas promised voters a break from the past administration of former Sheriff David A. Clarke Jr. and a fresh start for the Sheriff's Office.
"It is such a breath of fresh air to have a professional in this position who understands the concerns of this community, and most importantly, who wants to make positive and substantial changes in order to improve public safety and improve chances for young people and their lives," said Mayor Barrett, who has known Lucas for years. "I think you're going to be inspirational for a lot of people in this community."
Since he won the primary, Lucas been traveling around Milwaukee and speaking with community members as he prepares to take office. By state statutes, he becomes Sheriff on the first Monday in January, so he will assume the office on January 7, 2019.
A proud product of the Milwaukee Public Schools system, Lucas has very deep roots in Milwaukee. Lucas was born at the Hillside Housing Projects and grew up there until his family moved after the disturbances of 1967, to the what is now known as the Harambee neighborhood. Shortly thereafter, his mother passed away.
"My grandmother was domestic help all of her life in a small town outside of Birmingham, Alabama. She raised four children of her own, and gave up everything she had worked for to moved to Milwaukee and raise for young boys," said Lucas. "Being the youngest, I took her lessons of hard work and dedication, and went on to graduate from Rufus King High School."
At a young age, Lucas joined the Milwaukee Police Department and almost made the ultimate sacrifice in 1982, when he was shot in the line of duty. But he went on to serve as a police captain before accepting a job in professional sports.
"I walked into an opportunity that a young boy from the central city of Milwaukee never gets – an opportunity to join Major League Baseball," added Lucas. "In that position now for the past 16 years, I've been able to watch young man play a game and ensure that 75 million fans enjoy that game. But the opportunity to come home and serve this community, to change the course of the dialogue, to inspire young men and women to be their best, that is my highest honor."
The Milwaukee County Sheriff's Office is responsible for administering the county's jail, maintaining safety at the courthouse and Mitchell International Airport, as well as patrolling freeways and County parks. Lucas will conclude his position with Major League Baseball in December.
This audio was recorded live during the short meeting and press conference afterwards, and the images document the historic event.