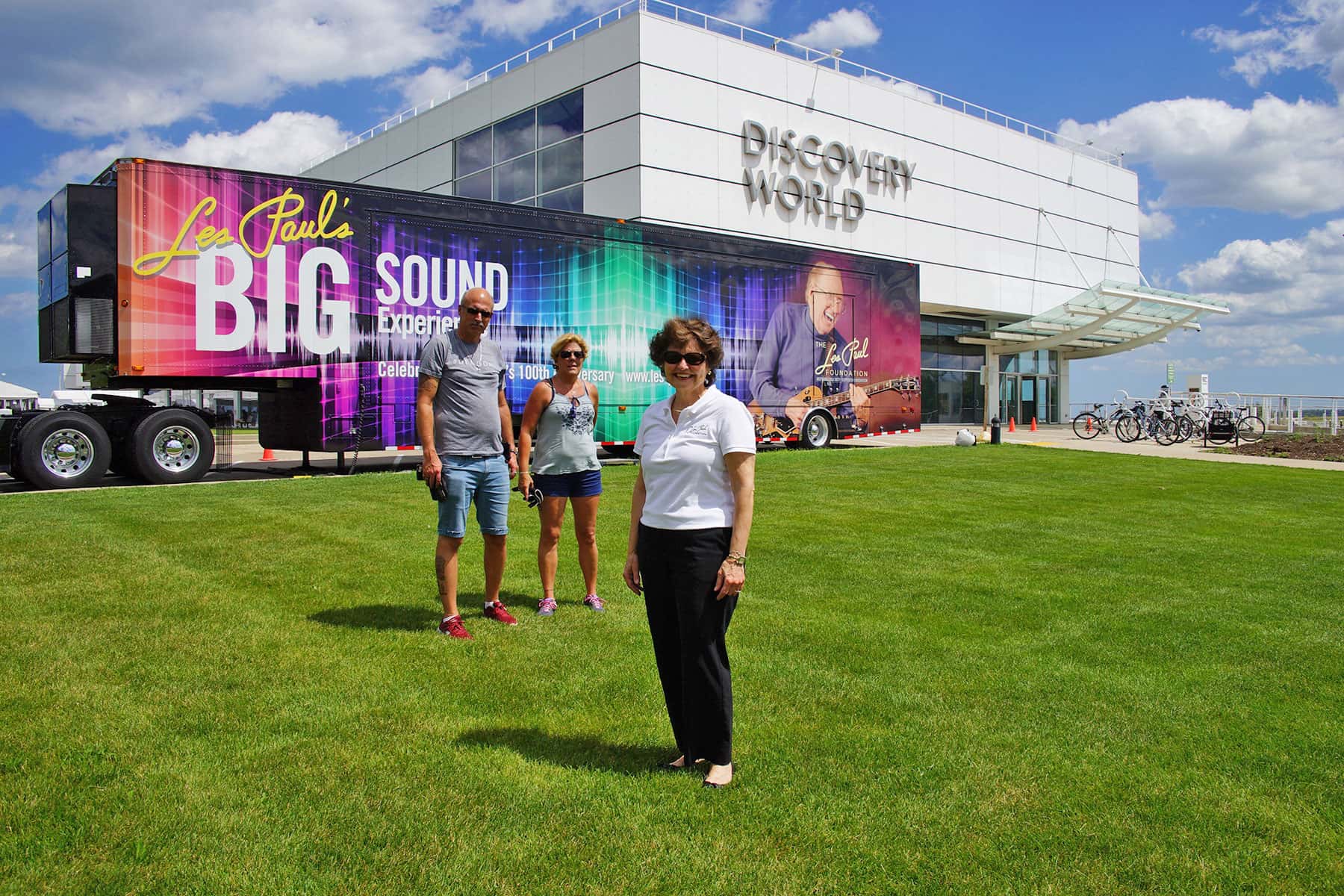 Installation of Les Paul's Big Sound Experience is currently underway at Discovery World, with a special grand opening event scheduled for July 16.
A dozen new interactive experiences will be unveiled within Discovery World's Les Paul House of Sound exhibit. The new features include all the elements from an exhibit called Les Paul's Big Sound Experience, which finished a year-long tour of locations throughout the United States.
Discovery World has the honor to be the long-term stop for the exhibit elements. Previously the collection only stopped for a few days along its nation-wide tour. Opening in partnership with the Les Paul Foundation, the exhibit features experiences aimed at introducing visitors to the groundbreaking sound technology and techniques created by Paul. His enhancements revolutionized the music industry.
"By bringing all the interactive aspects of Les Paul's Big Sound Experience to Discovery World, Discovery World and the Les Paul Foundation will further Les' legacy while unlocking innovation and creativity in kids around the region," said Discovery World President and CEO Joel Brennan. "Visitors will have a unique opportunity to try some of Les' techniques, see his magic in action, and put their own personal touch on sound technology."
The addition of Les Paul's Big Sound Experience will bring new hands-on activities to Discovery World. Some of the features include an area where visitors can mix and share music, a state-of-the-art listening station to become immersed in the music of Les Paul, a musical playground that showcases the evolution of solid-body electric guitars, and a virtual photo booth.
"Les would be smiling to know that this highly interactive experience will be in his home state, where everything began for him," said Sue Baker, Program Director of The Les Paul Foundation. "For one year the people of the upper Midwest will have easy access to Les Paul's recording inventions by visiting Discovery World. Les Paul wanted people to be able to try his recording techniques."
Known as "The Wizard of Waukesha", Les Paul was an innovator, an inventor, a Grammy Award winner, and the only person to be included in both the Rock and Roll Hall of Fame and the National Inventors Hall of Fame.
Les Paul's Big Sound Experience launched in 2015 as a way to share some of his greatest innovations and success. It embarked upon a year-long tour across America to celebrate the 100th anniversary of the legendary inventor and musician. The popular experience has now made its way to Milwaukee's Discovery World, which also serves as home to Les Paul's House of Sound exhibit.
About The Les Paul Foundation
The mission of the Les Paul Foundation is to inspire innovative and creative thinking by sharing the legacy of Les Paul through supporting music education, engineering and innovation as well as medical research. The Les Paul Foundation is an approved IRC 501(c) 3 organization.
About Discovery World
Discovery World is Milwaukee's premier science and technology center that's fun for the whole family. The 120,000-square foot facility is home to interactive exhibits such as Les Paul's House of Sound, fresh and saltwater tanks in the Reiman Aquarium, live theater shows, and a multitude of educational programs. Located on the shores of Lake Michigan, Discovery World is also home to Wisconsin's Flagship the S/V Denis Sullivan.
Read the article and view the photo essay that was produced as companion features for this news report.