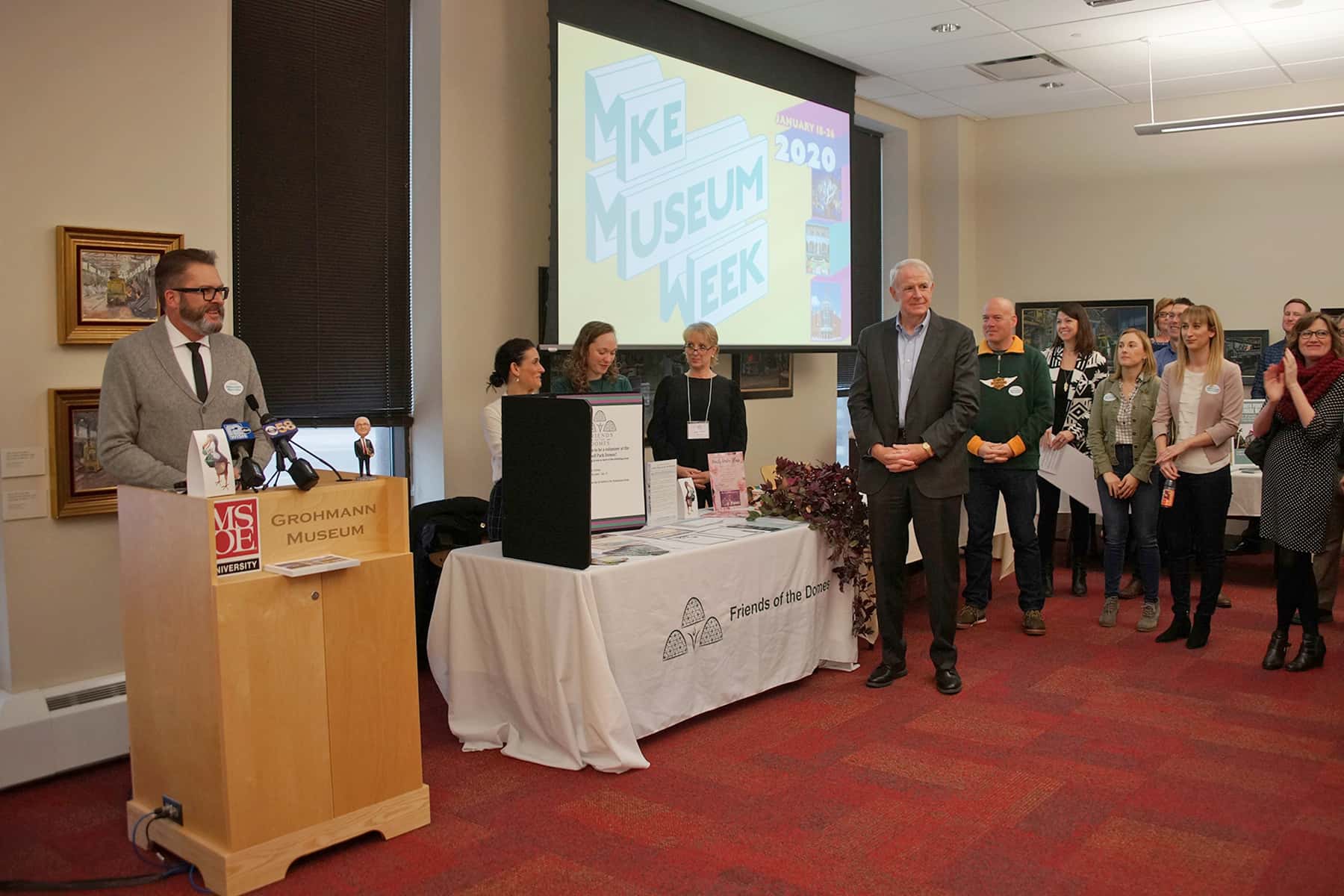 Organizers and participants of the Milwaukee Museum Week held a preview event at the Grohmann Museum on January 17, to kick off the second annual program that takes place from January 18 to 26.
In its first year, Milwaukee Museum Week was a success and welcomed thousands of people to participating museums. Whether for events, programs, or just to see the museum for the first time or on a repeat visit, Milwaukeeans showed support for their hometown museums.
During the kick off event, Wisconsin Department of Tourism Secretary Sara Meaney presented a check for $18,000 to Milwaukee Museum Week for JEM grant in funding support.
The special week was created to bring to light the meaningful impact these museums have for local residents, tourism, and the economy, and to forming Milwaukee's well-rounded cultural community. More than a hundred programs or events will be offered during the week and people are encouraged to support their local museums by participating.
For 2020, the public can again expect events and programs such as behind-the-scene tours, lectures, specialty tours only offered during Museum Week, children's programming, and some museums are offering reduced or free admission on select days.
The 17 museums are participating in Milwaukee Museum Week 2020 are Betty Brinn Children's Museum, Charles Allis Art Museum, Chudnow Museum of Yesteryear, Discovery World, Grohmann Museum at MSOE, Haggerty Museum of Art at Marquette University, Harley-Davidson Museum, Jewish Museum Milwaukee, Milwaukee Art Museum, Milwaukee County Historical Society, Milwaukee Public Museum, Mitchell Park Domes, North Point Lighthouse, The Pabst Mansion, The Warehouse, Villa Terrace Decorative Arts Museum, and Wisconsin Black Historical Society and Museum.
New this year, each museum will offer at least one lunch-time program that is free to attend, in addition to the array of events that will happen throughout the week – like behind-the scenes tours, curator's talks, and hands-on programs.
Sponsored by the Greater Milwaukee Foundation, Milwaukee Museum Week was created as a result of conversations between area museum directors and staff in recent years. Milwaukee is rich in cultural assets and our museums and cultural institutions contribute to a vibrant and well-rounded community in a significant way. However, Milwaukee's museums cannot be here without the support of the community.
Museum Week is an opportunity to call attention to Milwaukee's wonderful collection of museums, to promote our shared missions as well as our distinctive focuses, and to ignite new interest from the public. The shared hope is to spur awareness and patronage of these community treasures and to ultimately celebrate what this segment of our community means to education, inspiration, and quality of life.
Milwaukee Independent is an award-winning and advertising-free daily news magazine that advocates for inclusive social understanding by publishing positive news content that covers a wide range of topics as a catalyst for community development. Our content is open to the public, with no access restrictions. As a nonprofit news organization, we are supported through charitable contributions from organizations and individuals in order to produce our activating, engaging, and solution-focused coverage of news in Milwaukee. Please consider supporting our work or making a donation.