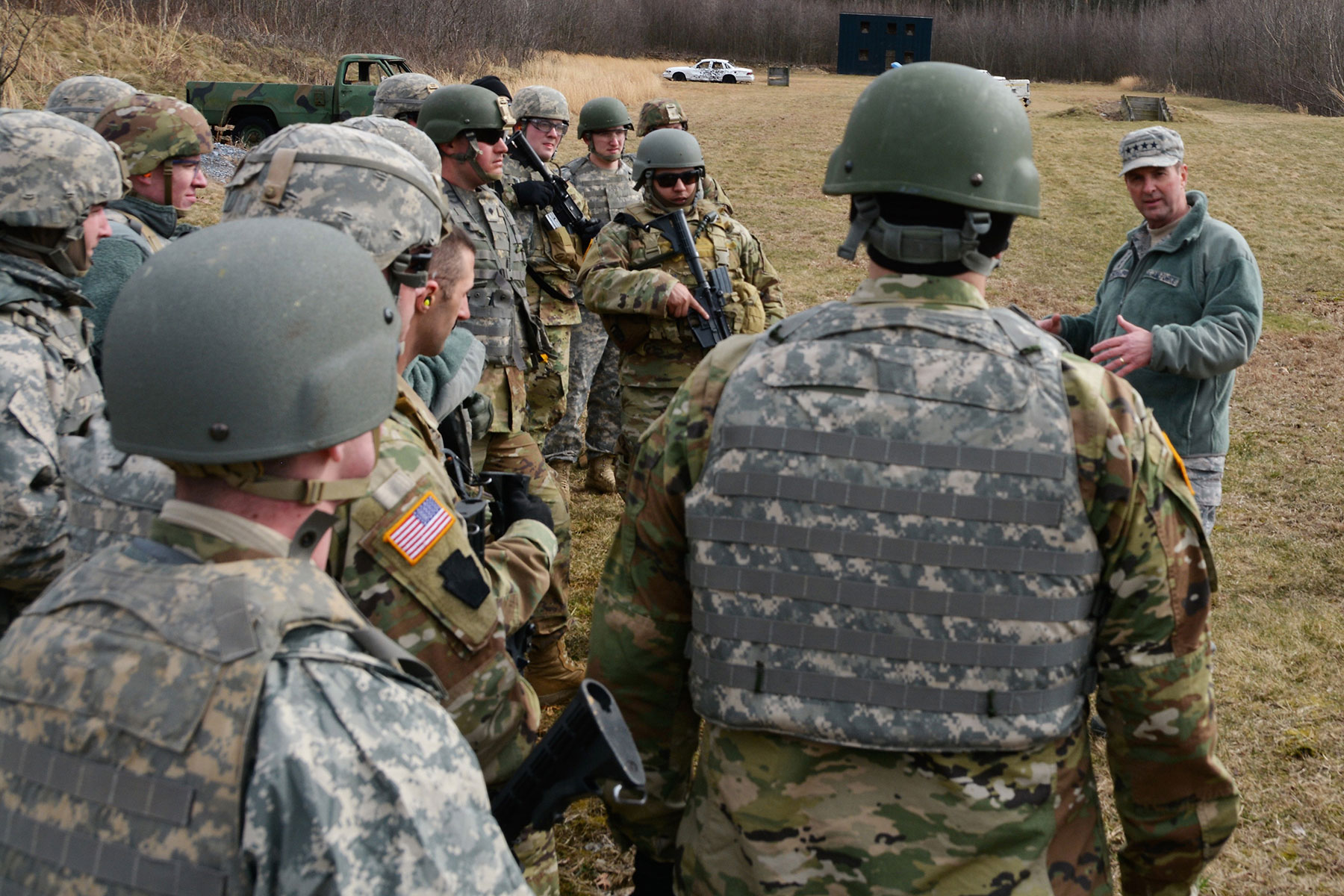 A diverse coalition of community leaders from Southeastern Wisconsin voiced their opposition on April 10 over the pledge by Governor Scott Walkers to send the men and woman who serve in the Wisconsin National Guard to patrol the United States and Mexico border if asked by Donald Trump.
Facing overwhelming opposition on his proposals to build more walls and further militarize border communities with Mexico, President Trump recently took steps to send up to 4,000 American troops to the border as support federal agents.
On April 9, Wisconsin Governor Scott Walker spoke on a conservative radio program, and said that he would send Wisconsin National Guard troops to the US–Mexico border if requested by President Trump.
"The only purpose of Trump's absurd demand to send troops to the southern border is to fuel fear and hatred of people from Mexico, and Latinx people in general," said Christine Neumann-Ortiz, Executive Director of Voces de la Frontera. "For Governor Walker to cater to Trump's white nationalist rhetoric and policies is irresponsible and disgraceful. If Walker wants to send the National Guard somewhere, he should send them to help with reconstruction in Puerto Rico."
Mexico is Wisconsin's second largest trading partner after Canada, and the growing Mexican-American community in Wisconsin has become a critical economic and labor resource. Wisconsin is well over one thousand miles from the Mexican boarder, where communities are already over-militarized by Border Patrol agents engaged in drug trafficking operations.
"As Governor, I want to ensure the safety of all of our citizens, and I want to reduce access to illegal drugs as part of a comprehensive strategy in dealing with opioid and illegal drug addiction," Governor Walker said in a statement. "Therefore, I welcome President Donald Trump's aggressive actions to secure our nation's southern border."
Trump's plan to deploy National Guard troops has drawn resistance from some governors, most of them Democrats. U.S. Representative Mark Pocan of Wisconsin sent Governor Walker a letter urging him not to deploy troops if asked, calling Trump's plan "grossly irresponsible" and would politicize their service.
"President Trump is not sending troops to the southern border to stop the flow of drugs from Mexico. It is clear that his goal is to apprehend migrants, many of whom are children fleeing violence in their home countries," said Representative Pocan in his letter to Governor Walker. "Sending members of the Wisconsin National Guard to militarize the border against unarmed men, women, and children is absurd. Further, you will cause undue harm to the families of Wisconsin National Guard members as your actions are only being done for political purposes."
Representative Pocan then went on to suggest that solving Wisconsin's opioid crisis would be more effective if Wisconsin joined lawsuits like those from other states against the nation's top opioid manufacturers.
Governor Walker noted examples of when former presidents George W. Bush and Barack Obama sent troops to the border to help fight the drug trade.
"The State of Wisconsin has not been asked to assist with any southwest border missions at this time," said Walker spokeswoman Amy Hasenberg. "If our assistance is needed, Major General Donald Dunbar, Wisconsin's Adjutant General and homeland security adviser, will brief Governor Walker and plans of support will be made at that time."