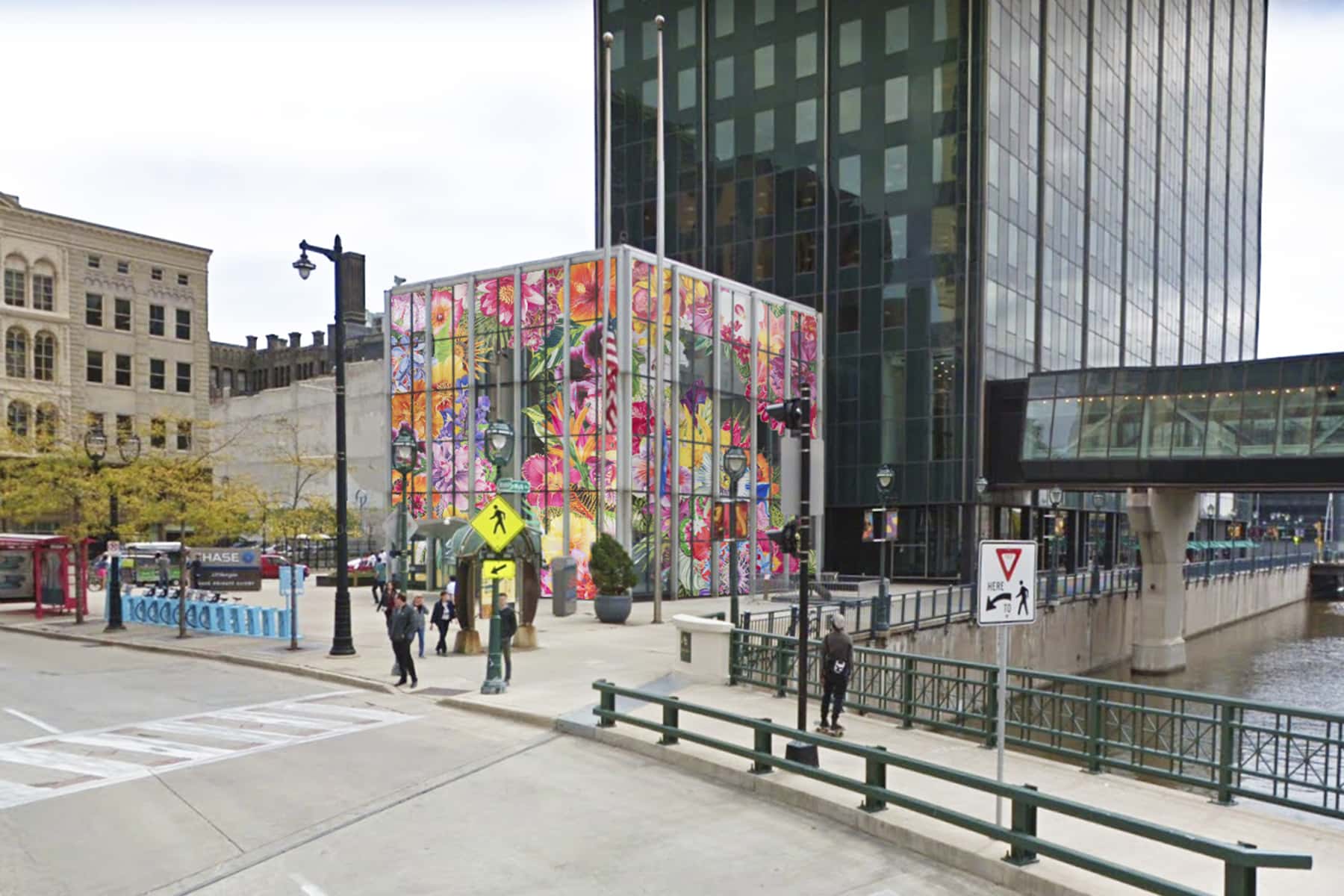 The city's annual outdoor art exhibition, Sculpture Milwaukee, rounded out its list of artists for 2019 with an additional seven participants, for a total of 23 sculptures that will be installed along Wisconsin Avenue in a few weeks.
In a first-ever building installation for Sculpture Milwaukee, Carlos Rolón will transform the Chase Bank atrium on the corner of Water Street and Wisconsin Avenue into the largest of the 23 artworks with his Gild the Lily (Caribbean Hybrid I, II, III), 2019. The bank's two-story atrium windows will be sheathed in vinyl from the inside in a translucent diorama of local flora.
"Rolón's installation will turn the transparent lobby into a glowing cube, or jewel box, both day and night," said Marilu Knode, Sculpture Milwaukee's director of exhibitions and programs. "The installation will be like a flame that attracts us to a key city intersection, where east meets west, north meets south, and where water meets street."
In a specially commissioned work by Sculpture Milwaukee, Milwaukee native and graduate of UWM's Peck School of the Arts, John Riepenhoff, will design, build, and install a working oven in his Untitled (The Oven on Wisconsin Avenue), 2019. As an artist, curator, and community builder, Riepenhoff will organize a series of cooking activities, working with local chefs and various local ethnic communities.
According to Russell Bowman, art advisor and co-curator of Sculpture Milwaukee, "Once again, my colleague Marilu Knode and I have attempted to bring a wide range of sculpture to Milwaukee. From historically established artists to mid-career, and from national and international figures to the best of regional artists gaining national reputations, this mix makes each year of Sculpture Milwaukee an exciting index into the creative possibilities of sculpture today."
Each year, Sculpture Milwaukee reimagines the character of Wisconsin Avenue from Fifth Street east to O'Donnell Park with an engaging selection of artworks from both established and emerging artists. Co-curators Russell Bowman, art advisor and former director of the Milwaukee Art Museum, and Marilu Knode, Sculpture Milwaukee's director of exhibits and programs and former director of Laumeier Sculpture Park in St. Louis, work throughout the year to seek out artworks from around the world that reflect a range of artistic expression with wide appeal to residents and visitors alike.
"Sculpture Milwaukee's success comes from the enormous efforts of a team of passionate individuals, from curators to city engineers, marketing professionals, docents, the staff of Milwaukee Downtown BID #21, and many more," said Brian Schupper, Sculpture Milwaukee executive director. "In the coming weeks, we'll be sharing news about fun and informative tours, interactive events, hands-on educational workshops, creative collaborations with local employers and organizations, and rolling out Sculpture Buffs, a new program offering insider scoops, unique opportunities, and early access to special offers."
Sculpture Milwaukee will be on view from June 7 to October 27. Works to be installed include: Angela Bulloch's colorful, geometric-shaped tower, Heavy Metal Stack of Six: Trichrome Blue, 2016; Sam Durant's two electric signs, Empathy for Everyone, 2018, and We Are The Ones We've Been Waiting For, 2018; Max Ernst's enigmatic Seraphine-cherubin from the series Big Brother: Teaching Staff for a School of Murderers, 1967; Barry Flanagan's playful Large Boxing Hare on Anvil, 1984; Actual Size Artworks' (Gail Simpson/Aris Georigiadis) upturned magician's hat, Magical Thinking, 2019; Tony Matelli's perspective on classical statues, Hera (half), 2018; William J. O'Brien's totem-like monument, Sun & Moon Protector, 2016; Red Grooms' colorful, pop art Hot Dog Vendor, 2005; Tango Dancers, 2005; the Haas brothers' solar-powered light installation, Handy Darling and Handy Warhol, 2019; Arlene Schechet's Tilted Channel from Full Steam Ahead, 2018; Sean Scully's heavy metal building blocks, Black Stacked Frames, 2017; B. Wurtz' whimsical found-object tree, and Untitled from Kitchen Trees, 2018.
As in previous years, Sculpture Milwaukee is curated by Marilu Knode, Sculpture Milwaukee's director of exhibitions and programs and former director of Laumeier Sculpture Park in St. Louis, and Russell Bowman, art advisor and former director of the Milwaukee Art Museum.
"Once again downtown Milwaukee will shine with eye-catching, thought-provoking sculpture all along Wisconsin Avenue. Residents, downtown workers, students, and visitors alike can look forward to a wide range of activities, including social events, tours and educational opportunities," said Beth Weirick, CEO of Milwaukee Downtown, BID #21 and Sculpture Milwaukee executive committee member. "We are thrilled to host these captivating works year after year and look ahead to the international exposure our vibrant downtown will receive as we welcome the DNC and the world to Milwaukee next summer."
Installation of all 23 sculptures will take place throughout May. All of the artworks are available for purchase with a percentage of each sale going toward Sculpture Milwaukee's future installations.
The 2019 Sculpture Milwaukee installation will culminate in a public opening celebration on June 7 at 11:30 a.m. in the parking lot next to 600 East Café. The party will feature interactive artistic activities, live music, and free lunch to the first 500 guests.