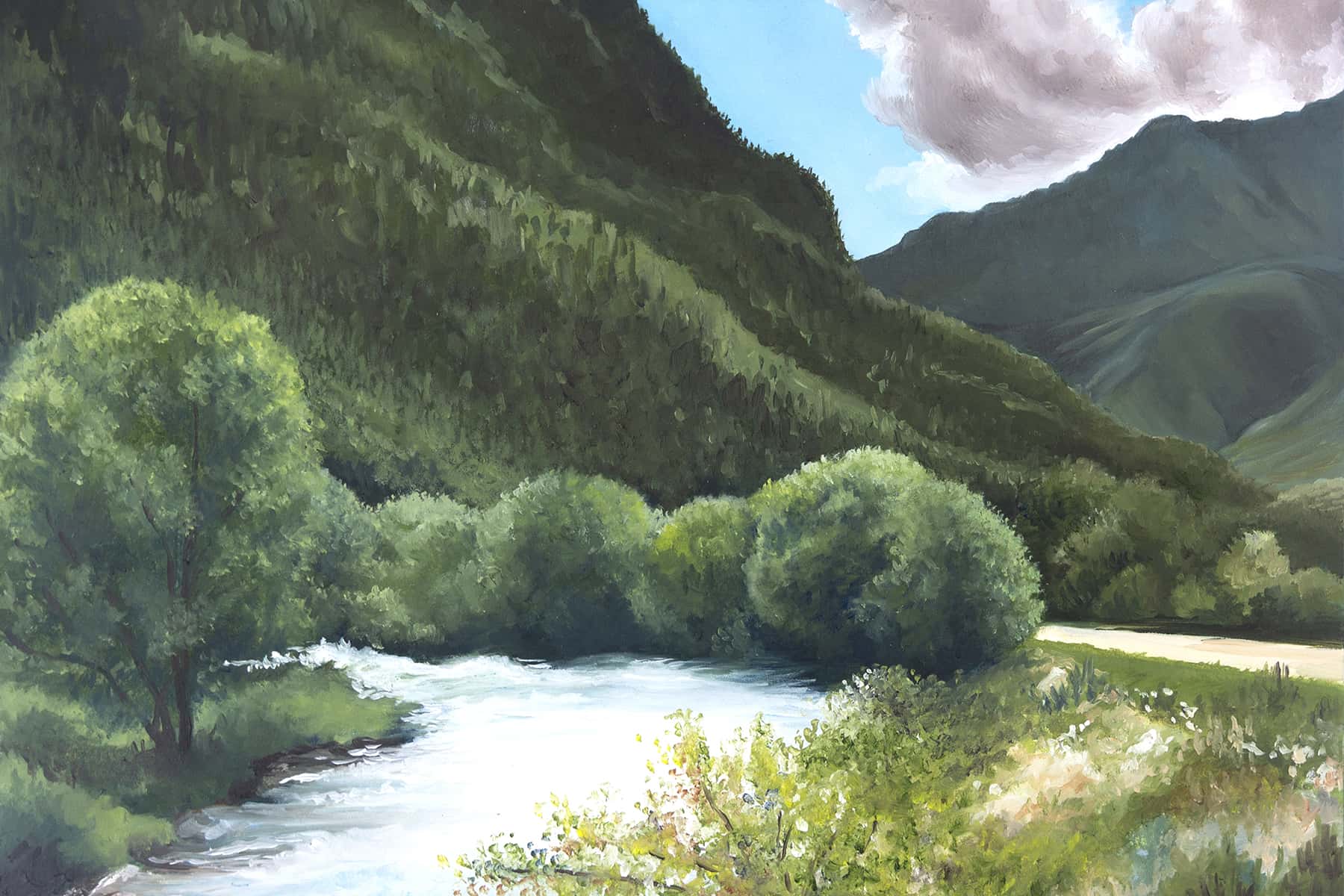 This multi-part editorial series was based on the "Rise and Thrive: A Lives in Landscape Exhibition" created by Milwaukee artist Brianna Joy Seipel. The project was produced in partnership with LOTUS Legal Clinic and the Untold Stories program. https://mkeind.com/riseandthrive
This portrait of the vast green mountains brought me peace, safety, and tranquility while living in Tajikistan (Central Asia) during the summer of 2018.
A simple image like this could mean anything to anyone. This painting could be interpreted as the expansive mountains we have in the States, but to me it speaks more about the power and courage it took to leave the U.S. In Tajikistan I lived a life surrounded by nature—waking up each and every day to what the most high created.
It was a summer of many first: The first time I ever lived out of the U.S. The first time I had ever traveled to this part of the world. The first time let myself go and put full trust into the decision I had made to live in this country and leave everything that I know. Also, it was the hottest summer in history!
Looking at this portrait makes me yearn to value peace in my life, and reminds me that I found a place in this world that gave me the happiness I longed for and deserve in life! This also shows the beauty of stepping out of one's comfort zone, and being surprised at what is on the other side of fear!
Brianna Joy Seipel: Artist Response: I spoke with several writers throughout this process about how we as artists find a "creative flow"—those magical, elusive times when our work tells its own story, and paintings seem to make themselves. This piece was one of those paintings. As she mentions in her statement, people will naturally interpret landscapes through their own personal experiences, and I immediately thought of Colorado when first viewing her photograph of these vast and foreign mountains. I was not surprised to hear that many Tajikistani immigrants choose to move to Colorado. It makes sense culturally that we seek to surround ourselves with the landscapes that speak to us, that remind us of home, and seem to secure our sense of belonging within this world. When asked, "What does courage mean to you?" Tiffany's eyes sparkled, and she answered with a single word: TRAVEL. To me, her story is one of finding "home" and "our truest selves" when we leave our comfort zones behind. She has found true empowerment, freedom, and peace here in these mountains that somehow feel both faraway and nearby.
Vast, green mountains of Norak city, traveling between Tajikistan and Afghanistan.
Brianna Joy Seipel
Through her
Lives in Landscape™
Project,
Brianna Joy Seipel
has worked collaboratively, curating exhibitions that honor the stories of remarkable human beings in Milwaukee. By telling their stories through "landscape narratives," her work highlights the wild beauty of the natural world that is a reflection of the true self we all share.
LOTUS Legal Clinic
empowers survivors of sexual violence and trafficking. They provide direct, comprehensive legal services, advocacy, and community education, and they invest in survivors as change agents. Serving the state of Wisconsin since 2013, their vision is to create a national model for restoring the dignity, rights, and voices of survivors. As of 2019, Legal Clinic has served 117 survivors through the Untold Stories project, empowering men and women alike to bear witness and share their stories as vehicles for powerful personal and social change.
Rise and Thrive: A Lives in Landscape Exhibition
is supported in part by a grant from the Wisconsin Arts Board, with funds from the State of Wisconsin and the National Endowment for the Arts.