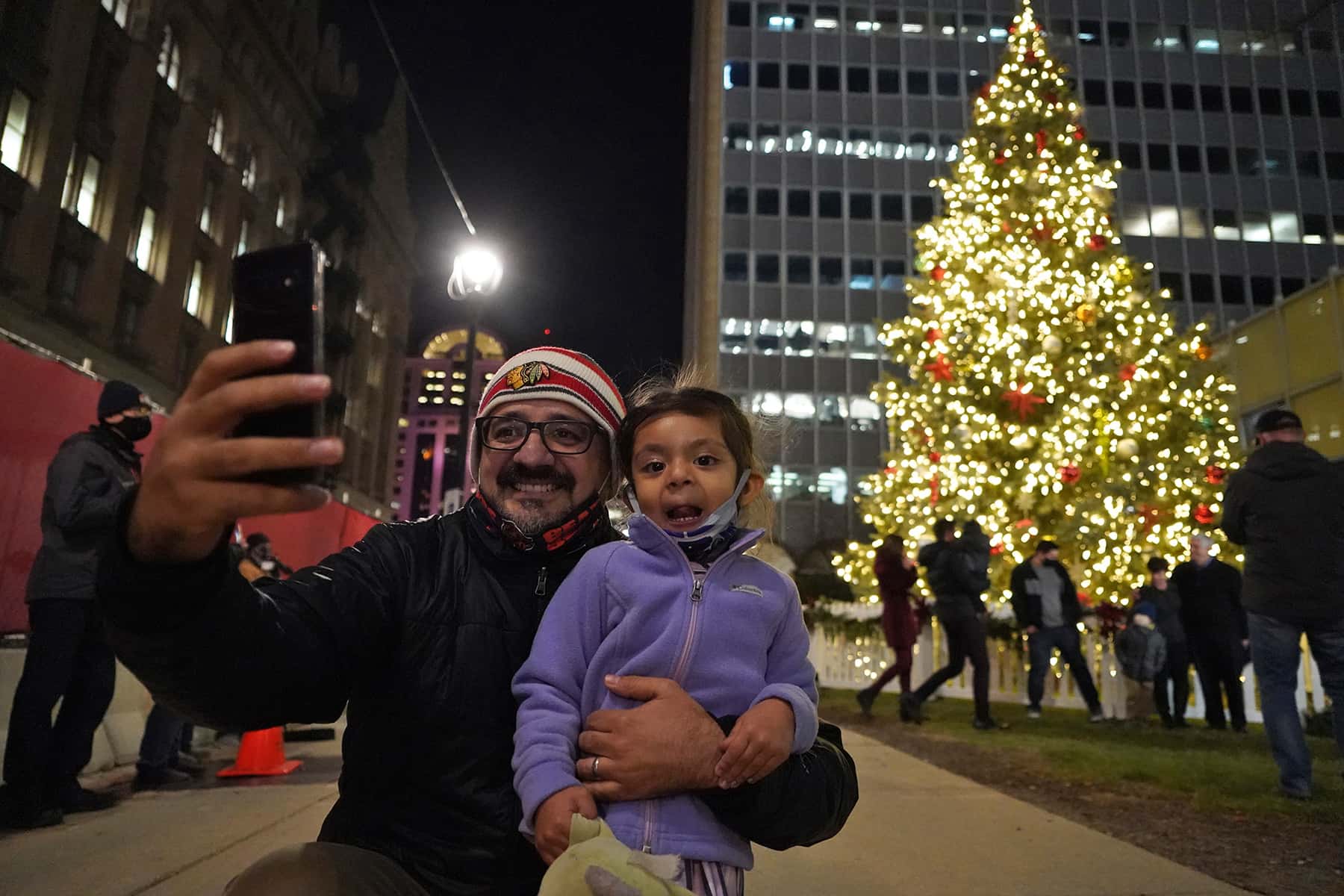 Milwaukee Mayor Tom Barrett officially welcomed the 2020 holiday season by lighting the City of Milwaukee Christmas Tree. On November 23, Mayor Barrett dedicated this year's tree to essential workers who have worked tirelessly throughout the pandemic.
"I'm proud to kick off the holiday season with this annual tradition so many Milwaukeeans cherish. The holidays is truly about peace on earth. With the challenges of this year, now more than ever we need to embrace this idea. The holidays is also about family and friends. While you may not be able to gather in-person with loved ones this year, we're hoping you find creative ways to safely show your love and support to all those you hold dear," said Mayor Tom Barrett.
The "snowcially distanced celebration" was presented by Pick 'n Save and Metro Market.
"On behalf of the over 13,000 Pick 'n Save and Metro Market employees in the State of Wisconsin, we proudly support this year's City of Milwaukee tree lighting. Our associates have been on the frontlines during the pandemic as essential workers helping to keep Wisconsinites fed. We are proud of our heroes and all the other frontline heroes who have responded to the challenges faced this year. We wish everyone a safe and joyous holiday season. Stay safe, stay well and enjoy this special time of the year with family and friends," said James J. Hyland, VP Communications and Public Affairs, Roundy's Supermarkets Inc.
This year's tree is a 35-foot Colorado Blue Spruce graciously donated by Edward and Kathy Gill from their home on the far northwest side in the 9th Aldermanic District. The Gills planted the tree 22 years ago in loving memory of their oldest son Eddie, 19, and affectionately refer to it as "Eddie's Tree."
City of Milwaukee Forestry Services harvested the tree November 9 but not before boughs were extracted for a partnership with Black Husky Brewing, owned by Tim and Toni Eichinger. Spruce harvested from the tree is an essential part of the brewing of Sproose, a seasonal double IPA being released at Black Husky's taproom on Small Brewery Sunday, November 29.
"The annual City of Milwaukee Christmas Tree Lighting holds a special meaning to us as Toni's sister, Ms. Ferguson's choir from Lincoln Center of the Arts performed at the annual tree lighting for 10 years. This was our inspiration in making a beer from the City of Milwaukee Christmas tree. While this year looks different from previous years, the dedication and love for this occasion and the memories we hold remain the same. We are thankful to Mayor Barrett, the City of Milwaukee Forestry Services and especially the Gill family for including us in this celebration and letting us make a special beer to commemorate this event. In the spirit of giving these occasions represent, proceeds from this beer will support the Milwaukee Urban Forestry Fund," said Tim Eichinger.
Proceeds from the sale of Sproose will go to support the Milwaukee Urban Forestry Fund which supports tree planting projects across the city at schools, local parks and green spaces and in neighborhoods and commercial districts.
The City of Milwaukee Christmas Tree is adorned with 3,500 lights and more than 200 ornaments all decorated by Forestry Services, within the Department of Public Works.
"I am fortunate to lead an organization that has so many dedicated, essential workers who help the city continue functioning. Whether in electrical services, streets, sewers, forestry, sanitation or those in our water division – these employees have worked non-stop throughout this health emergency to provide some of the City's most essential services that contribute to the overall wellbeing of the community," said Commissioner of Public Works Jeff Polenske.
This year marks the 107th year of a City of Milwaukee tree, the longest running official tree in the United States other than New York City's.