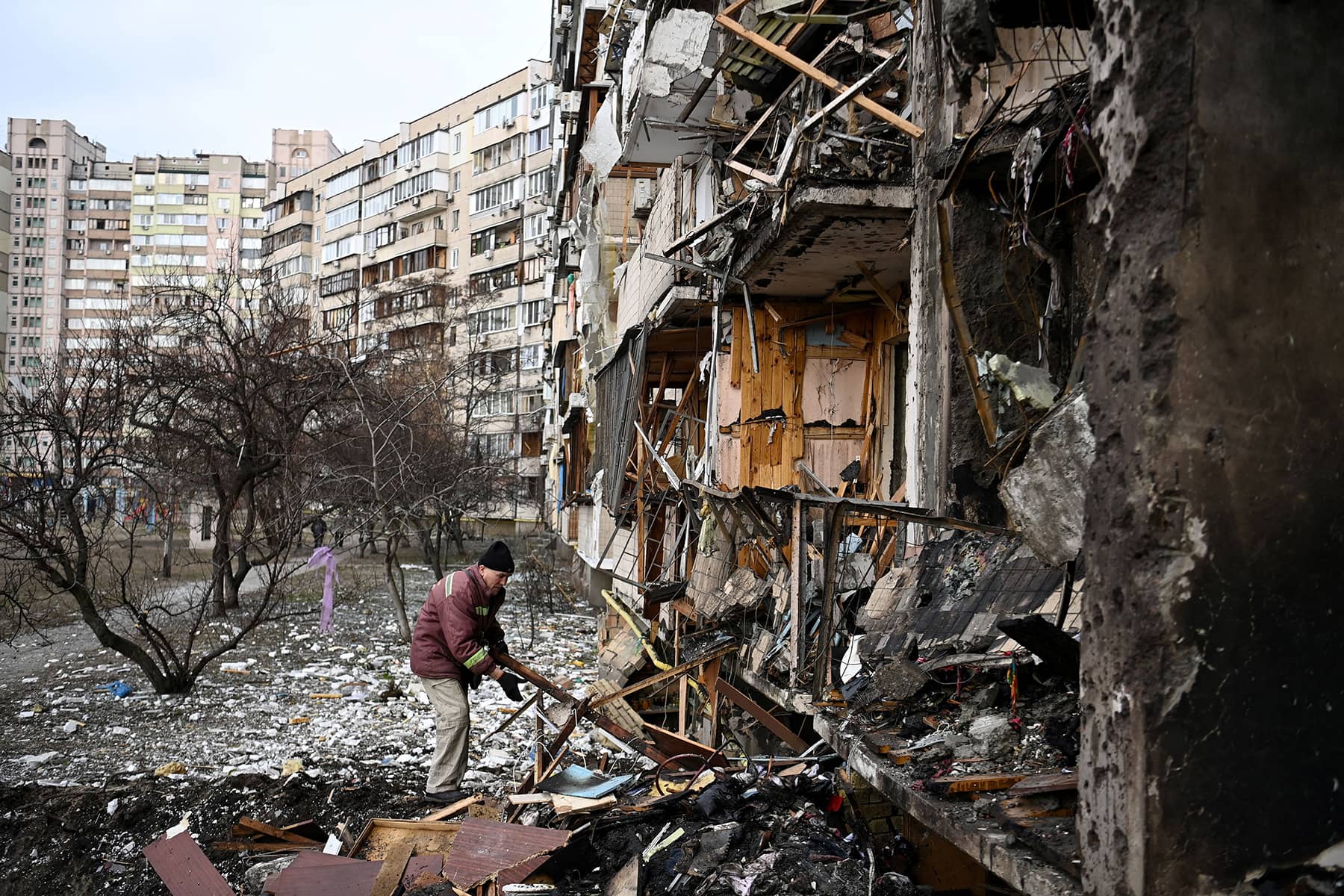 Russia's all-out war in Ukraine has subverted a lot of prophecies, doomsday omens and bright hopes alike. It has now been a month of this new reality since Russia's attacks began early in the morning on February 24, 2022. Yes, the Kremlin really did launch a World War II-level military offensive against Ukraine. Their invasion is full of war crimes and barbarities, and lacks an obvious voice of reason. No, Ukraine did not turn out to be frail and did not kneel before the invading army.
Instead, after a month of hostilities, tangible results indicate that Ukraine has sustained the war's first major blow. It defeated the Kremlin's initial, most dangerous plan of a quick, shock-and-awe invasion.
Now, the war is entering a new phase — a grueling longer-term war of attrition, and a new, difficult test for the Ukrainian military and the nation.
But thanks to important early victories, as well as broad international support, this new phase opens a wide window of opportunity for inflicting a full-fledged military defeat upon Russia.
No breakthrough
As of March 25, Russia still had no strategic success with any of its five key axes of the Ukraine campaign: Kyiv, Kharkiv, Donbas, Mariupol, Mykolaiv. Except for Donbas and Mariupol, where the invaders are making very limited, slow, and painful gains, all major Russian advancement has been halted for more than two weeks.
Throughout the initial, very active phase of advances, Russia managed to secure broad territorial gains in Ukraine's north (near Kyiv and Chernihiv), northeast (near Kharkiv), and south (Kherson, Berdyansk, Mariupol). The "operational pause," as dubbed by the Ukrainian defense community, unfolded throughout the country after March 8-11.
It was believed that Russia took this short breathing spell to possibly regroup its forces and improve its logistics which had caused massive troubles in terms of food and fuel supplies. However, the lull continues. International monitors do not indicate Russia successfully making major improvements in its logistics or reorganizing its forces that have demonstrated unexpectedly low performance so far.
Moreover, in many areas, such as west of Kyiv, Russian forces have been seen entrenched in urban battlefields, going on the defensive to possibly hold on to what they gained in the earliest days.
Numerous and fierce attempts to advance have resulted in little to no progress in almost each of the principal axes. West or east of Kyiv, there have been almost no territorial gains for nearly two weeks, be it the Irpin-Hostomel-Bucha triangle or the vast areas east of Brovary.
In Mykolaiv, numerous frontal attacks from occupied Kherson also resulted in nothing but severe Russian casualties. By March 22-23, Russians effectively halted their attempts to advance toward the city. Attempts to bypass Mykolaiv and toward the city of Voznesensk or threaten Kryvyi Rih have also not proven successful.
As a result, in the south, Russia is not even close to threatening Odesa by land, despite enjoying full supremacy at sea. It is not even attempting to attack Odesa by way of the beach with an amphibious landing force, since it would be a guaranteed failure given the circumstances.
In the northeast, despite hard isolation and a horrific humanitarian situation, Sumy, Kharkiv, and Chernihiv are successfully withstanding Russian assaults. In many ways, when it comes to Sumy and Chernihiv, this fierce and unending resistance relieves a lot of pressure from the areas east of Kyiv.
And again, Russia has made no principal gains in those axes over the last two weeks. When it comes to Chernihiv and Sumy oblasts it still has very infirm control of the long supply lines running along the E95 and H07 highways between the Russian border and the area east of Kyiv.
In the south, Russia has managed to gain footholds in Kherson, Nova Kakhovka, Melitopol, Energodar, and Berdyansk, where it met little resistance in the earliest days. But even there, it has been making little to no progress for days and weeks.
Russia is also making attempts at two axes of attack — one trying to advance north from Zaporizhia Oblast and one trying to advance south in Kharkiv Oblast — to meet each other somewhere in the middle.
Such a rendezvous would isolate a large Ukrainian military grouping of forces in central Donbas (Slovyansk, Kramatorsk, Sieverodonetsk, Lysychansk), where Ukraine holds most of its combat-potent units. But to do so, the advancing Russian axes would have to endure a total of at least 250 kilometers of roads amid fierce Ukrainian resistance at every strong point on the way.
The northern Russian group in this theater is not even close to being ready to advance further south. It has been stuck in extremely hard fighting in the city of Izium in Kharkiv Oblast for weeks and still faces numerous obstacles in its way. In Donetsk and Luhansk oblasts, there also have been no major territorial gains since mid-March.
The Ukrainian military opted to retreat to the vicinity of the region's key cities, such as Sieverodonetsk and Lysychansk, turning these areas into giant urban fortresses, where Russian air supremacy loses the upper hand.
In this region, Russia's few territorial gains came at extreme costs. Having seized Volnovakha between Donetsk and Mariupol in a series of extremely costly attacks, Russian-led militants have barely made any new advances, getting stopped in intense fighting near the small town of Ugledar just northwest.
Even from these current positions, after a month of fighting, the enemy still faces several heavily-fortified Ukrainian points, such as Kurakhove, Mariinka, or Avdiivka, not to mention large key cities.
Reports on the ground indicate numerous frontal attacks against Avdiivka and Mariinka north and southwest of Donetsk, respectively, in which Russian-mobilized militants sustained extreme losses for weeks, with no results.
Poor results amid severe casualties stir resentment among many Russian observers, even such as Igor Girkin, the infamous warlord of the early days of the Donbas campaign in 2014. In his numerous interviews with pro-Kremlin media outlets, the former high-ranking terrorist says at such a pace the Donbas militants, much of the Russian force in the region, will shortly run out of manpower for any further offensive operations.
Mariupol remains the worst hellscape. The city's garrison, despite the full blockade and relentless Russian bombardment, has continued waging block-by-block warfare for over 20 days, making Russian advances extremely slow, hard, and costly.
Even if Russia, having paid a high price, finally seizes the city in the coming weeks, it will effectively end up conquering nothing but barely habitable heaps of ruins, similar to Volnovakha, which was also razed to the ground.
Mariupol's giant industrial cluster has been destroyed, along with its housing stock and vital infrastructure. Since Russia seized the northwestern coast of the Azov Sea, the besieged Mariupol has barely had any clear or immediate significance for Russia other than a symbol of a stubborn Ukrainian fortress.
In fact, with Mariupol blocked and the south of Donetsk Oblast seized, Moscow has already established its fabled "land corridor between Russia and Crimea."
But Russia's obstinate attempts to take the city by assault at any price, despite extreme casualties, indicate nothing but Vladimir Putin's utter desire to put his own emotional, political objectives over military necessity — not a good foundation for the whole campaign.
No reserves
Yet another thing is the very initial lack of Russian manpower and vehicles deployed for military action on such a scale. Upon various estimates, Russia deployed between 150,000 and 190,000 troops, including maritime and air components, for the Ukraine invasion. And according to any estimate, this past month of hostilities has resulted in severe Russian manpower losses.
According to Ukraine's general staff, Russia as of March 25 has sustained over 16,000 casualties. On March 23, NATO said it believes between 7,000 and 15,000 Russian service members may have been killed, which means that, in compliance with the general practice rule, a total of 30,000-40,000 personnel might have been killed, wounded, and missing in action.
According to the Kyiv-based Center for Defense Initiatives, between one-third and a half of Russia's over 120 battalion tactical groups deployed against Ukraine could be rendered ineffective in combat.
Fierce and highly-organized Ukrainian resistance, in addition to poor Russian logistics, communications, morale, and inadequate leadership, have precipitated such a casualty rate of nearly 1,000 service members a day, which Russia has not seen since World War II.
Very telling is the fact that a cohort of Russian senior officers, even generals, have been killed in combat or reportedly assassinated by Ukrainian special operations forces. Some of the hits have been confirmed on the Russian side.
In many instances, high-ranking Russian officers were killed solving organizational issues on the ground or while trying to prove themselves to superiors in combat operations. And their deaths wreak even more havoc in the ranks of Russia's military forces.
After the initial early rush, the Russian military exhausted its grand offensive capability for all five key axes.
It never expected to fight a hard, protracted war in hostile territory against a combination of huge, regular armed forces and numerous motivated paramilitaries. And its initial plans quickly fizzled out, facing no improvements in terms of supplies and coordination, as well as a lack of combat power for securing its inadequate goals.
Very obvious also is the fact that Russia has already used its full manpower stock prepared against Ukraine. And, as numerous indications suggest, it has no serious reserves ready.
It is also struggling to collect low-quality and low-readiness reserves, particularly from Russian military bases in Armenia and the unrecognized breakaway South Ossetia, as well as from unprepared units from the Far East.
Russian-led militants have recently expanded their "mobilization draft age" from 18 to 65, in an attempt to conscript even more local males in Russian-occupied Donbas to substitute their manpower losses. Russia's latest failed attempts to bring up to 16,000 "volunteers" from Syria or other countries also indicate nothing but the Kremlin's despair.
Nonetheless, even despite the dire situation, Putin has stopped short of declaring an all-out or at least a partial mobilization in Russia for his "special operation," most likely due to the severe political costs such a step could entail. When it comes to the possible direct involvement of the Belarusian military in western Ukraine, the momentum of shock and awe is also gone.
According to the Conflict Intelligence Team, an open-source investigations project, the Belarusian military still serving dictator Aleksander Lukashenko, is capable of deploying no more than between four to six battalion tactical groups. Having neither any combat experience nor motivation, the Belarusian military would have to fight against a prepared Ukrainian western military group in complicated woodland terrain supported by local paramilitaries.
According to many observers, including the ISW, the possible direct Belarusian intervention to support Russia is unlikely to happen or be successful. In other words, what was deemed a short lull to regroup and fix supply shortages turned quickly into Russia having to switch to stationary warfare due to the defeat of the initial offensive campaign and a lack of manpower.
Unable to achieve any military gains, it has largely switched to terrorizing the civilian population with massive airstrikes and bombing campaigns. This is now the new phase of the war.
The fight continues
Meanwhile, Ukraine enters this new stage in better shape than many expected. Ukraine had to yield some territory in the initial days. But it has managed to preserve the overwhelming majority of its Armed Forces, including its air fleet, through the initial crushing Russian attacks, and effectively stop all of their axes of advancement.
The stubborn resistance of Kyiv, Kharkiv, Sumy, Chernihiv, Kherson, has bought a lot of time for the rest of the country to wake up, launch the mobilization of Ukraine's abundant combat-experienced reserves, and get cities and regions prepared for multilayered defense.
At least 100,000 Territorial Defense units have been up in ranks as well, relieving the military of auxiliary missions across the country, but also getting involved in actual hostilities beyond cities.
The initial shock of invasion is dead and gone — the more time that passes by, the more prepared the country becomes. Many regions, mostly in Ukraine's west, are seeing their local economy and businesses resuming active work, which is also essential.
After a month of fighting, none of the large Ukrainian units have been decisively forced out of action or destroyed. Even the air force, according to Western estimates, has managed to preserve nearly 80% of its fighter jets fleet, despite Russia's quality and quantity advantage.
Russia has also failed to establish full supremacy in the air or suppress Ukraine's mobile and stationary air and missile defense grid. As of March 25, Ukraine reported nearly 100 Russian aircraft downed or destroyed on the ground, and scores of pictures illustrating fresh Russian losses emerge every day.
Ukraine's land units have demonstrated effective mobile defense tactics, especially when it comes to Russian supply lines and convoys moving along highways in the woods of north Ukraine. Using the complicated terrain, well-coordinated Ukrainian units disrupt and destroy columns, denying larger Russian military groups supplies and reinforcements.
The Ukrainian military has also been careful and savvy in urban combat, inviting Russian mechanized forces into close quarters rather than confronting them in the open, when Russian close air support is still strong.
And while the Russian military goes on the defensive in almost all directions, Ukrainian forces present new limited and careful counter-offenses. A possible large success is currently brewing in the hot area northwest of Kyiv, the Bucha-Irpin-Hostomel triangle.
According to the latest reports, Ukrainian forces, following a series of advancements, took nearly 80-85% of the Irpin city territory and also gained a foothold in the key town of Makariv some 30 kilometers west of Kyiv. Fresh Ukrainian progress against towns of Borodyanka and Ivankiv, key supply points on the roads to Belarus, might further deteriorate the position of the Russian troops northwest of Kyiv, which reportedly includes two undermanned infantry brigades.
In general, the new phase of war sees Russia forced into halting its exhausted advancements and Ukraine saving and expanding its full combat potential. The key factor now is Ukraine's ability to keep exhausting the Russian military for as long as possible. As such, Western suffocation of the Russian economy is vital.
As is unprecedented, vast defense assistance in all regards possible — from simple firearms and munitions to anti-tank and, even more important, air dense systems, both short-range man-portable and stationary medium-range. In achieving victory, the next big mission is to eliminate the Russian presence in the air.
Dаnіеl Lеаl, Аrіs Mеssіnіs, Rоdrіgо Аbd, Еfrеm Lukаtsky, Wоjcіеch Grzеdzіnskі, аnd Mіnіstry оf Dеfеnsе оf Ukrаіnе
Help maintain a reliable news source in Ukraine by supporting the Kyiv Independent, an English-language media outlet created by journalists who were fired from the Kyiv Post for defending editorial independence. Donations can be made via patreon or gofundme.
Milwaukee has a small but thriving Ukrainian American community, and Irpin is a sister city. Follow the special coverage by Milwaukee Independent for updates on the Russian invasion, and about how the fight by Ukraine's people to preserve their democracy is having an impact on the families and businesses here in Milwaukee. mkeind.com/ukraine