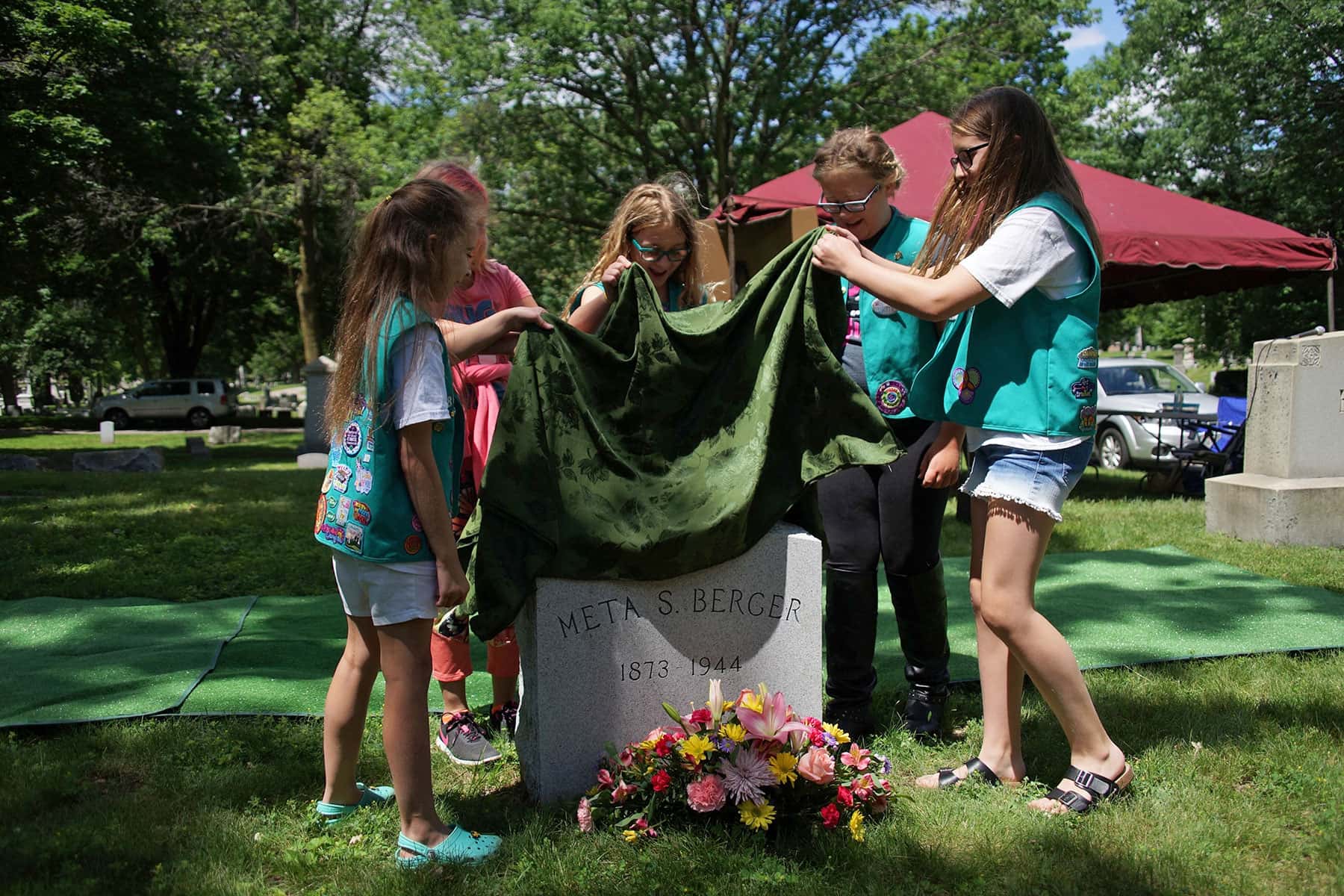 The transformative political activist Meta Schlichting Berger was remembered by a new generation of young girls, who memorialized the prominent educator's lasting influence with a new memorial at Forest Home Cemetery on June 24.
The members of Cudahy Girl Scout Troop 8617 worked over the past two years to raise the $800 needed to install a stone marker at Berger's gave site. Buried alongside her husband and socialist politician Victor, she was documented by historians as expressly forbidding any memorials to her as "a frivolous expense." But to the girls who were in the fourth grade at the time, when they sat around her grave during a tour of famous Milwaukee women, she was a hero and they felt it was not right that she lacked a memorial marker.
"The girls decided that day that they would figure out a way to earn their Bronze Award, the highest award a Girl Scout Junior can earn, by buying a headstone," said Becky Osse, leader of Troop 8617. "It took them almost two years, but they did it. They sold comic book bracelets made out of water bottles and comic books. They made Christmas cookies, and they sold hot chocolate filled ornaments. The girls even took some of proceeds from their cookie sales."
Anita Pietrykowski was a tour guide at Forest Home. She originally developed the tour "Women of the 1800s: Untold Stories of Accomplishment" a couple of years ago, because she felt that female leaders of Milwaukee interred at the cemetery needed more public attention.
"When the Girl Scouts approached us for a special notable women tour, as the troop was working to earning badges, Anita put that tour together," said Jan Van Rens, Director of Forest Home Cemetery. "And she took it a step further by developing a program for the entire Girl Scouts council. In the past year, more than one hundred girls have come through for the tour."
One of the tours highlights is the grave of Alice Chester, who founded the Milwaukee Chapter of Girl Scouts of America in 1921. Forest Home also waved their service fees if the Girl Scout troop could pay for the marker, saving the girls an additional 30% in cost.
"We serve 29,000 girls in Southeastern Wisconsin," said Sue Molina, Director of Girl Scout Leadership Experience for Girl Scouts of Wisconsin Southeast. "Girl Scouts champion leadership roles for girls through community service. Which is one of the things that these girls felt very passionately about, to do something that they recognized a need for. They took action to fulfill that need, and to really make an impact in the community."
The memorial marker comes 73 years after Berger passed away at her home in Thiensville in 1944. Of her many accomplishments that established Milwaukee's educational system, the Girl Scouts of Troop 8617 shared some details of Berger's memorable work at the dedication ceremony.
Berger helped establish playgrounds, penny lunches, and medical exams for children at Milwaukee schools. She also helped teachers by working for tenure, a fixed salary schedule, and pensions. She was on the Wisconsin State Board of Education and University of Wisconsin Board of Regents. At her first School Board meeting, Berger gave a speech that was so persuasive that she won the fight for women to hold positions on the Board equal to men. Her friend Dr. Charles Kissling left his seat smoking cigarette after cigarette saying, "I knew it was a mistake to elect women to the board."
The Girl Scouts program helps young girls recognize that each has the power to change the world, empowering them to discover, connect, and take action. Field trips offer visits to locations that many of members would never get to see without involvement in the organization. Forest Home Cemetery was originally selected by Osse, because the girls of her troop wanted to earn an educational badge.
"I have followed several self-guided tours of the cemetery, and fell in love with the grounds and the endless amount of history," said Osse. "Anita was an amazing guide, and she was a great storyteller. She even made workbook for the girls fill out while taking their tour."