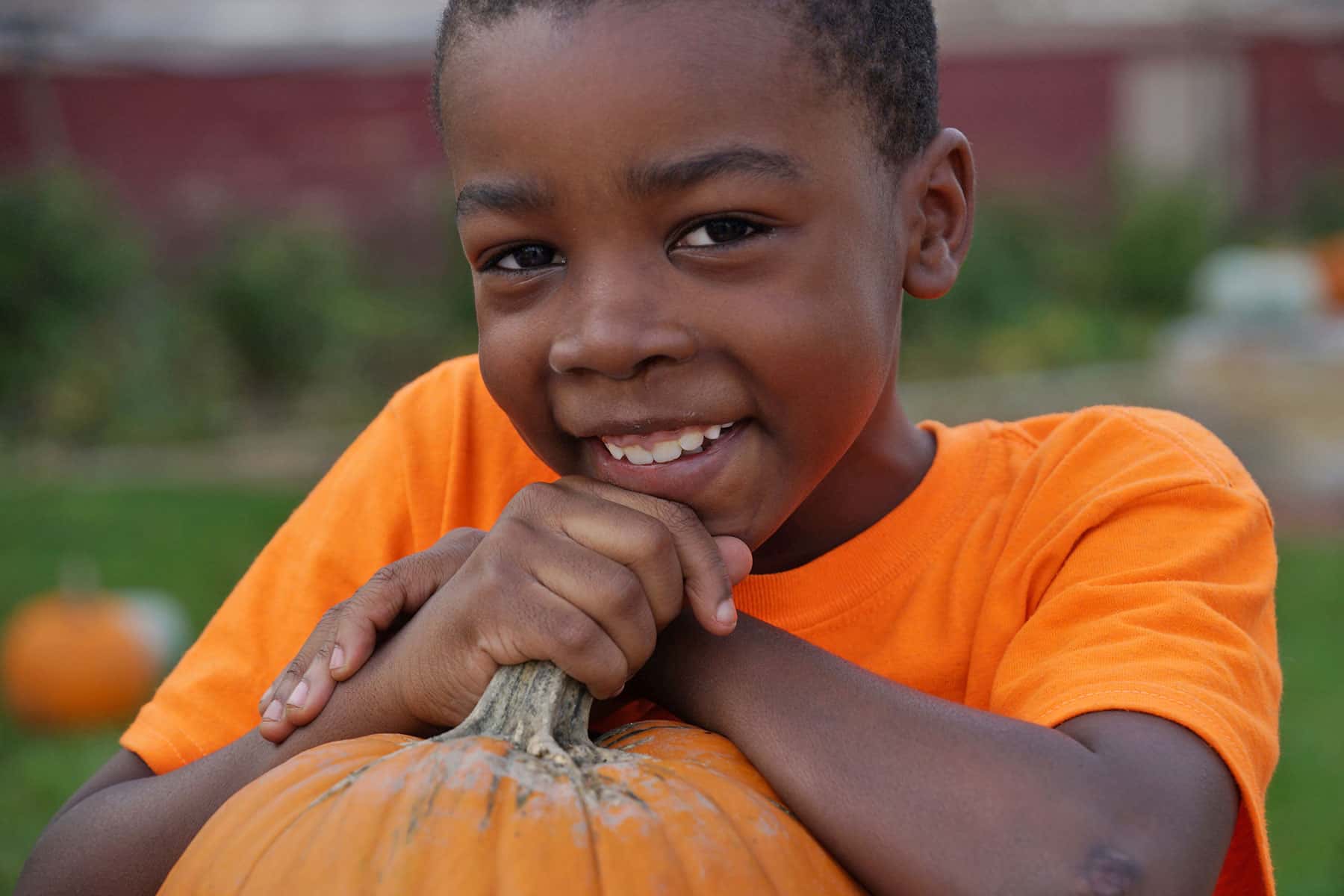 "The second question people ask is, 'are the pumpkins free?' And the first question people ask is, 'are the pumpkins free?' They just can't believe we're sitting here and giving away pumpkins all day. So it's really fun." – Tim McCollow
Residents of the Lindsay Heights area enjoyed a special Halloween treat again this year, as free pumpkins were distributed at Sunshine Park on October 29.
The event was organized by a collaboration between Outpost Natural Foods Co-op and HOME GR/OWN, a City of Milwaukee program supported by Mayor Tom Barrett to improve the quality of life for neighborhood residents.
"This is our Second Annual pumpkin patch giveaway at 14th and North, and this year we are distributing over 300 pumpkins," said Tim McCollow, HOME GR/OWN Project Manager at the Milwaukee Environmental Collaboration Office (ECO). "We know of no other event like it, and we have a number of HOME GR/OWN sites around town that will feature pop-up pumpkin patches later today."
Sunshine Park was developed in 2015, two blocks south of the Ezekiel Gillespie Park which won the LISC MANDI Award for Best Public Space, the Mayor's Design Award, and the SXSW ECO Places By Design Competition in the same year.
Pumpkins of every shape and size were distributed to residents who usually do not have the ability to visit pumpkin patches in rural areas like Mequon, Menomonee Falls, or Waukesha.
"Kids walk by and pick a pumpkin, and it's just a wonderful event for them and for the Lindsay Heights neighborhood," said McCollow. "Last year there were a lot of screeching brakes as people pulled over, and the word spread out into the neighborhood. Alderman Russell Stamper came by, and Mayor Barrett spent about two hours talking with people from the area."
Mayor Barrett attended again this year, on an unseasonably warm day for late October, and participated in activities with a couple hundred parents and children as they carved pumpkins. Mayor Barrett's HOME GR/OWN Initiative has worked to increase demand for and access to healthy foods in low-income neighborhoods, in close collaboration with a wide array of community stakeholders.
The event's supporting partner, Outpost Natural Foods, has been deeply involved in the area. Last year it opened a pop-up store called The Market at the Innovation & Wellness Commons on 16th Street and North Avenue. The Market came about from the Outpost's long-term partnership with the Walnut Way Conservation Corp. Founded in 2000 by Sharon and Larry Adams, Walnut Way has been a vital force in revitalizing the community along the busy North Avenue corridor.
"The Walnut Way communities are such a cornerstone in this neighborhood, because of the work they've done. It's just a wonderful partnership to have our missions align so nicely," said Margaret Mittelstadt, Community Relations Director for Outpost Natural Foods. "We're looking to bring greater access to healthy foods in all our communities, and this is really a great place to be. So were happy to be a part of the Wellness Commons project, and hopefully we can be helpful as things progress going forward."
Outpost's pop-up store is currently undergoing a transformation. The pilot program showed that there was more need for an education and event center, which is expected to open in December.
"We found out that a lot of people who shop at the Wellness Commons really did most of their grocery shopping in our larger format stores," said Mittelstadt. "So it was a good lesson for us, we learned a lot of really great things, plus we grew ownership in the community."
Residents have seen changes along North Avenue, between 8th and 27th street for the past couple years and will continue to see more developments by HOME GR/OWN and other community partners into 2018.
"It's wonderful to celebrate the growth and the continued evolution of North Avenue," said McCollow. "There's a lot of very positive energy looking to create economic development, increase the quality of life, and create jobs along the stretch of North Avenue."