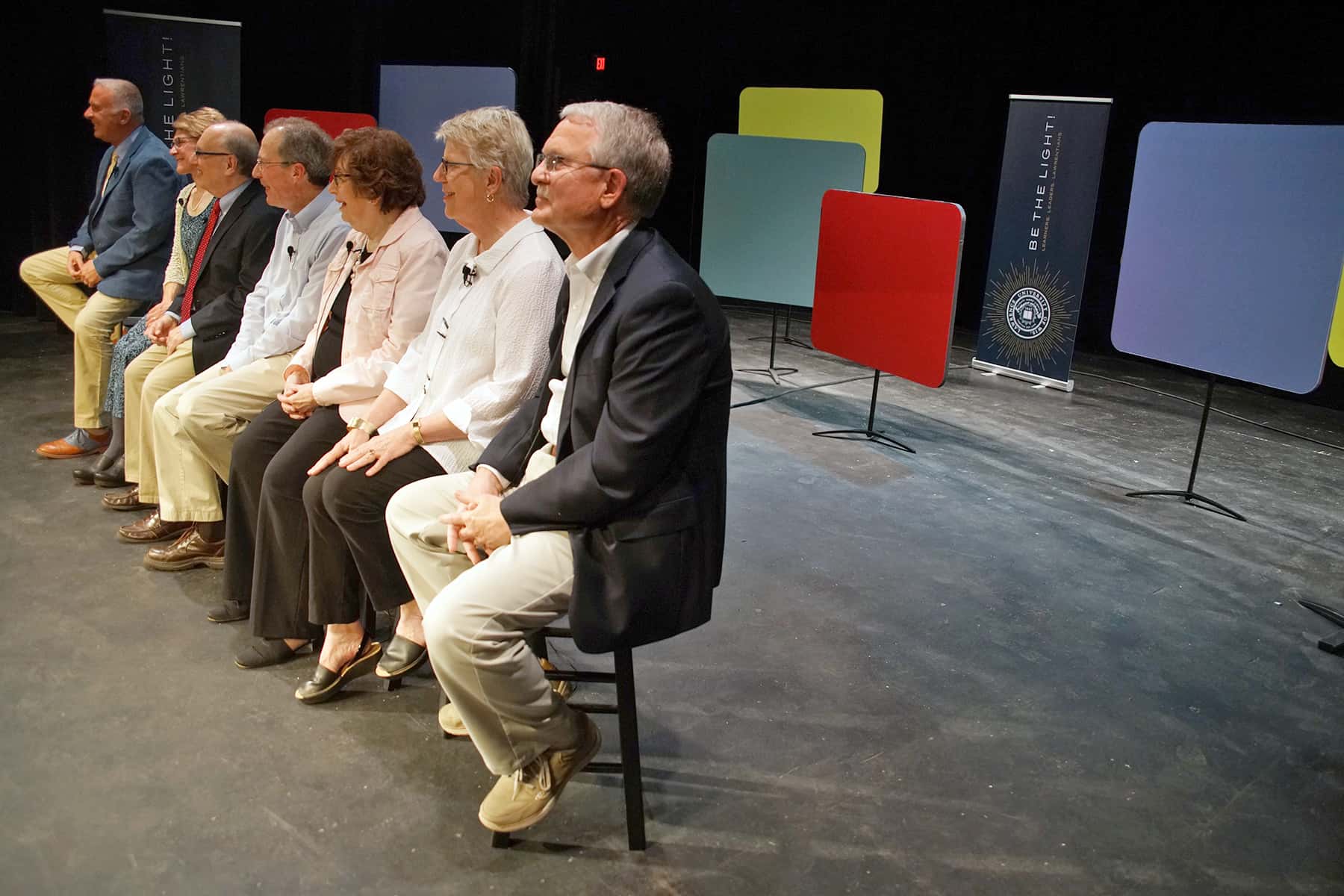 The Milwaukee PBS show "Next Avenue Community Conversations" began production in April, under the direction of the creative team responsible for the nationally syndicated Emmy-award winning program "Around the Corner with John McGivern," and recently broadcast its last episode for the 2019 season.
As the first and only national journalism service for America's booming 50+ population, this year's shows were produced and directed by Lois Maurer, with John McGivern as host in a new talk-show format. McGivern moderated the panels of experts and facilitated the conversations with members of the public, who attended the live productions.
Topics ranged across issues like health and well being, money and security, work and purpose, living and learning, and caregiving. The Milwaukee Independent traveled with the Milwaukee PBS crew for the filming of three of the five episodes to document behind-the-scenes photos of what is required to make the popular program. These images were taken in Appleton and Sheboygan Falls.
"You're Never Too Old to Learn" was filmed at the Lawrence University Stansbury Theatre in Appleton on June 4, and broadcast on Milwaukee PBS channel 10.1 on July 18. Experts from Lawrence University and Learning in Retirement offered their perspectives on the unique benefits of academic education and experiential education.
Panelists included Lawrence University faculty members Marcia Bjornerud, Professor of Geology; Jerald Podair, Professor of History; and Robert S. French Professor of American Studies. Panelists also include Learning in Retirement faculty members Mary Bayorgeon, Past President of Learning In Retirement, UW-Oshkosh; and Bill Bracken, President of Learning In Retirement, UW-Oshkosh. Linda Laarman, Bjorklunden Learning In Retirement student and volunteer; and Don Ellingson, Learning In Retirement participant and Treasurer.
"Be Fit & Engaged at the Same Time" was filmed at Sheboygan Falls High School in Sheboygan Falls on June 11, and broadcast on Milwaukee PBS channel 10.1 on August 15. The panelists offered their perspectives for the health, social, and emotional benefits for people over 50 years old.
Panelists included Mike Gustafson, Executive Director of the Sheboygan Falls YMCA; Dr. John Reitz of Better Life Chiropractic and Wellness; two local Pickleball enthusiasts; and a registered nurse at the Health and Human Services Aging and Disability Resource Center.
The Next Avenue website remains an important resource for viewers to get more information on subjects covered in the PBS series. Its daily content delivers vital ideas and perspectives on issues that matter to people as they age. No plans have been announced yet for the show's 2020 season.